Welcome to the Thursday Coffee Hour here on Street Prophets. This is an open thread where we can hang out and talk about what's going on in our worlds. Since michelewin can't post today, you are going to have to put up with a lecture from professor Ojibwa to get the creative juices flowing.
The prophet Mani was born in southern Babylon in 216 CE. When he was 24 years old he had a vision in which an angel appeared to him. This vision prompted him to establish a new religion which would be superior to all of the earlier religions. He felt that these earlier religions were confined to local areas and languages and he envisioned his new religion as being universal, as being able to cut across geographic, cultural, and language barriers. The new religion borrowed heavily from the earlier religions of Judaism, Christianity, Buddhism, and Zoroastrianism.
Mani set forth his new doctrines in a series of texts which included The Gospel of Life, The Book of Secrets, and The Book of Giants. One of the important concepts of this new religion was the dualistic nature of the universe: light and dark, spiritual and material, above and below.
Mani preached that spiritual knowledge of the self could overcome the fundamental tragedy of human existence. Gaining this knowledge required adherents to avoid meat, wine, and the pleasures of the flesh. Those who obtained spiritual knowledge and followed this strict path would go to paradise following death, while others would be condemned to continue the cycles of birth, death, and rebirth.
Manicheism included a rich mythology of personified attributes, such as the Mother of Life, and the Father of Light. It also included figures from other religions, including Jesus Christ, Eve, and Hormizd. The religion included many visual images and Mani himself created the first Manicheism picture book.
While Mani was killed by the Persian state in 274, his religion spread across North Africa, but was crushed by the Christian Church and the Roman state in the fifth century.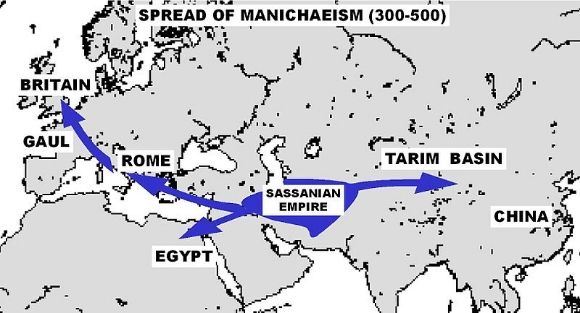 The religion spread east into East Central Asia where it flourished. Manicheism was embraced by the Uyghurs as their state religion during the eighth century.
Up until fairly recently, Western knowledge of Manicheism was based totally on Christian accounts which opposed the religion. Archaeological discoveries at Tarim in western China, however, have uncovered numerous Manicheism texts written in Middle Persian, Parthian, Sogdian, Bactrian, Uyghur, Coptic, and Chinese. As these ancient documents—most were written in seventh and eighth centuries—are translated our knowledge of this ancient religion should increase and become more balanced.
This is an open thread. It's your turn to lecture, rant, share poetry or pictures, and tell us what's happening. As always, one of the questions here is always: What's for Dinner?