Additional information about Syrian rebels and a continuation of Regarding the Syrian Rebels, Regarding the Syrian Rebels II, Regarding the Syrian Rebels III and Regarding the Syrian Rebels IV.
------------------------------------------------------------------------------------------------------------

Rebel Numbers
On Tuesday September 3, 2013 at the Senate Foreign Relations Committee hearing on Syria, Secretary of State Kerry said:

... in terms of the opposition numbers, you see ranges up to 80(,000), 90,000, 100,000 in total opposition. You see ranges from -- well, I don't want to go into all the numbers, but in the tens of thousands in terms of operative, active combatants. The -- I've seen some recent data on the numbers of the extremists in al-Nusra. They're actually lower than former expectations.
On Wednesday September 4, 2013 at the House Foreign Affairs Committee hearing on Syria, Secretary of State Kerry said:
I just don't agree that a majority are al Qaeda and the bad guys. That's not true. There are about 70,000 to 100,000 oppositionists ... Maybe 15 percent to 25 percent might be in one group or another who are what we would deem to be bad guys.
The number of rebels ('oppositionists' to SoS Kerry) is often reported to be around 90,000.
I believe that the number of rebels is between 40,000 and 50,000 - perhaps the 'tens of thousands' of 'operative, active combatants' SoS Kerry mentioned.
I also believe that the number of rebels the Obama Administration 'would deem to be bad guys' is between 10,500 (15% of 70,000) and 25,000 (25% of 100,000) - depending on whether the number includes only the global jihadi-salafi bloc of rebel groups or the global jihadi-salafi bloc of rebel groups and the Islamist, salafi, local jihadi-salafi bloc of rebel groups.
The Obama Administration has decided not to 'deem to be bad guys' the bloc of soft Islamist, mainstream Islamist, and pragmatic salafi rebel groups.
This simple graphic illustrates the five main rebel blocs and how they overlap each other.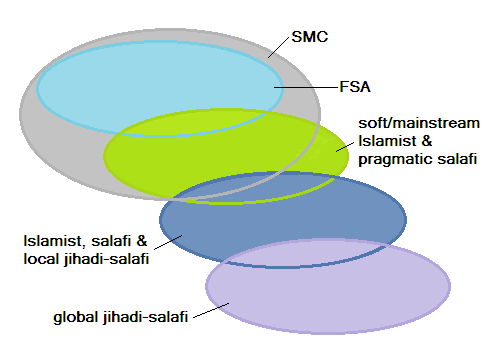 This year the number of rebels has been decreasing due to deaths, desertions, and a lack of new recruits.
Rebel and pro-opposition web sites put the number of rebel deaths so far this year at over 12,000.
I have been hearing, for about six months, that a significant number of rebels have just walked, or run or sneaked, away from the rebel groups they were in.
The number of rebel deserters has increased as public support for the rebels in Syria has decreased. There is still wide-spread anti-Assad sentiment but there is also a great deal of anti-opposition and anti-rebel sentiment, and this growing anti-rebel sentiment has also resulted in a major decrease in the number of Syrians who are willing to join the rebel forces.
Constant battles for supremacy between rebel groups, looting by some rebel groups, attempts by several rebel groups to impose their interpretations of Sharia on local populations, and many rebel groups' inability to care for, or lack of interest in caring for, the local populations in the areas they control have caused many Syrians to ask 'What are we fighting for?'.
In the past month I have heard about a sudden significant decline in public support for the opposition and rebels. Promises of rebel advances and promises to improve conditions in rebel controlled areas have not been kept, and the approaching winter has begun to loom menacingly in the minds of many people.
The winter of 2011-2012 was, relatively speaking, not very difficult. Syria had a one-year stockpile of food which carried the country through that winter. The winter of 2012-2013, though, was very difficult. Agricultural production was down about 50% in 2012 and there was essentially no stockpile to make up the deficit. Food imports, and aid brought in from Turkey helped keep people alive, but the rivalries between rebel groups often made it difficult for food to be effectively delivered in rebel controlled areas.
Now as the winter of 2013-2014 approaches, the people of Syria, especially those in areas under rebel control, are anxious, very anxious. They know that agricultural production this year has been low and remember the rebel and opposition infighting and incompetence of last winter.
Where are the Rebels?
This map gives a fairly good indication of the situation in Syria.
The rebels are concentrated in northern Syria, west and north of Aleppo and east of the Euphrates. There are few Syrian government forces in these areas, a few locations north of Aleppo, a few locations in the ar-Raqqah Governorate, and in, around, and north of the city of al-Hasakah. Kurdish groups are also concentrated in the same areas, along the Turkish-Syrian border in northern Syria.
In western Syria Syrian government forces are predominant. There are large areas in western Syria which are shown on the map as 'contested', but the question is 'How contested are these areas?'.
According to the information I have, Syrian government forces are much stronger and much more in control in these contested areas than rebel forces.
Also, if you monitor opposition and rebel web sites you will have noticed that rebel forces have not been able to mount any major attacks in these areas for months and rebel efforts in these areas have been primarily resisting Syrian government forces' efforts to cut rebel supply lines, surround rebel forces, and clear the areas they have surrounded.
I have started to believe that due to the general decrease in the number of rebel forces and to the rebels' concentrating their forces in northern Syria, rebel forces are on the edge of no longer being a viable force in western Syria.
As to the viability of the rebels in northern Syria; if battles between rebel groups for supremacy continue, and if battles between rebel groups and Kurdish groups continue, and if the people in the areas controlled by rebel groups suffer this winter because of opposition and rebel incompetence or lack of interest, the future viability of the rebel forces in northern Syria is doubtful.
------------------------------------------------------------------------------------------------------------

The Geneva Process
I was hoping to finish this series today but I haven't had the time, so tomorrow in Regarding the Syrian Rebels VI I am going to write about the 'Geneva Process' and how a negotiated end to the unrest in Syria may be possible.
But, if the UN chemical weapons report is the major subject of discussion tomorrow, I'll wait a day or two more.
Also please note that I wasn't able to publish this yesterday as planned because
my internet connection stopped working yesterday afternoon and only came back this morning.
------------------------------------------------------------------------------------------------------------