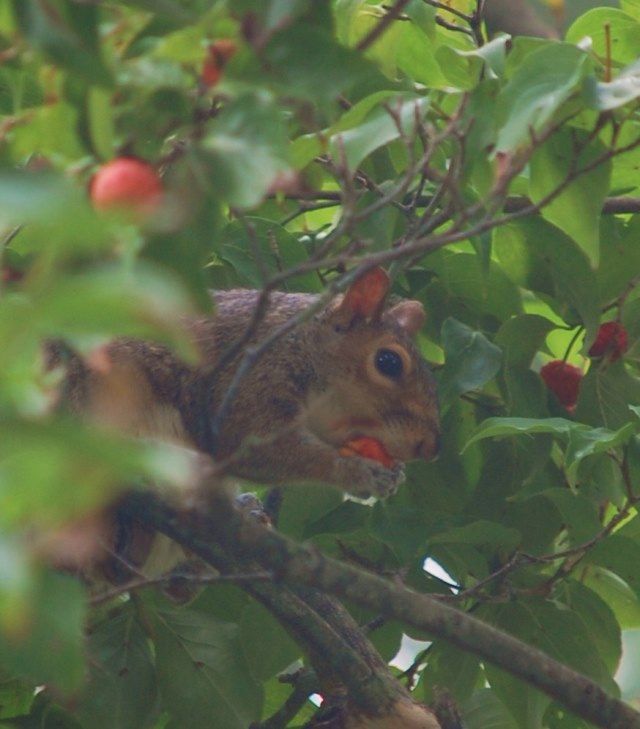 Sometime you just can't resist it, the 'special offer' that really IS special. You stare at the figure in your bank account, then stare again, trying to WILL it to be higher. You know that the Nikon vibration reduction telephoto lens will do serious damage to your funds, BUT......
I carried it home in triumph from the camera shop. It fitted onto the Nikon camera body sweetly, with a quick twist of the wrist; all it needed now was a suitable subject. Later that day I was tapping away at the keyboard, when I heard it, 'munch..munch..munch - tap...munch...munch...munch - tap....munch....munch...munch - tap' Intrigued, I left my computer and sought the source of the noise. Peeking around the edge of the balcony, I found myself level with the branches of a Japanese Dogwood (Cornus kousa) in the grounds of the condo building. I was about 20 feet above ground level - and had found the sound (or sounds to be more accurate). The 'tap' sound came as the pits from the now ripened, spiky, red fruit of the Dogwood dropped onto the leaf litter below the tree.
However, there was still no sign of the 'muncher'. I slowly backed away, and returned with my camera; a careful search - and there it was! One rather plump Eastern Grey Squirrel (Sciurus carolinensis), who, having felt the first chill winds of Fall, was attempting to become even plumper by stuffing himself with Dogwood fruit. We have a large, and growing population of squirrels in the condo grounds. They scurry across the grassed areas between trees, and sometimes take refuge in the bushes which fringe parts of the property. There is a 'old gowth' tree line to the north, which must have been here when this plot was an old farmstead. This harbors a pair of Red-tailed Hawks (Buteo jamaicensis) each year, which generally manage to raise a chick or two; the noise the young make is amazingly loud, and seems to translate as, 'I can haz squirrel-burger?'
Sadly, the Eastern Grey was stupidly introduced into England (in 1876, at Henbury Park, Cheshire) by a Victorian banker, Thomas Brocklehurst. The effect was devastating to the native population of Red Squirrels (Sciurus vulgaris), due in part to the fact that the Grey carries Parapoxvirus, which is deadly to its Red cousin; it has been estimated that the native species will go extinct in England within 20 years, if no action is taken.
Our local population seems to be doing quite well; it will soon be time for them to refurbish their dreys. Although a Grey will take over a large bird nest, if they can, or even a hole in a tree, they usually build a rather unsightly 'ball' of twigs high in the fork of a tall tree, which they line with moss, and other vegetable matter. This is occupied in the winter months, sometimes by a group of squirrels. They do NOT hibernate as such, although they will undergo periods of strongly reduced activity in bad weather, only venturing out to find some of their many buried caches of nuts and other food, which they have spent most of the previous Fall secreting in holes dug in meadows, lawns, flower beds and other places. The biggest problem we have with our local Grey population is electrocution! I do not mean their tendency to invade roof and attic spaces and chew on PVC-covered cables (which they do), but the fact that they are sometimes attracted to use the tops of those cylindrical electrical transformers found on utility poles as a roost. There is usually a sharp 'Zzzzzst', and the squirrel is no more - whilst 'taking out' the domestic electrical supply to a street or a neighborhood!
By the way, the pulp of the Dogwood fruit is edible by humans, too, although I would recommend that you just nibble the small amount of pulp, and ignore the gritty red skin. It can also be made into a delicately-flavored jelly, should you wish...although you will need to fight the squirrels for them!