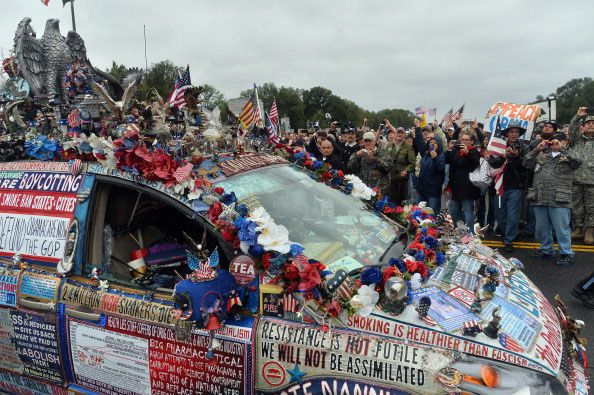 In this photo, we see that clown after clown has emerged from the "Baggermobile."
Credit: AFP/Getty Images

They're back!
While looking through images of the Million Veterans March (insert winking smiley face icon here) provided by
King5.com
, I recognized a lot of the same faces I saw on Capitol Hill during the healthcare vote in the House.
But the big surprise was the return of the clown car (large Baggermobile pics from 2009 below the fold). One would think that it would have bit the dust by now given the added weight of every teabagger bumper sticker ever produced, as well as the heavy load of a million veterans, their signs, and the confederate flag kid with his 3-day supply of Copenhagen snuff. How he found a hotel in DC that allows goats is a question that must go unanswered here...for now.
I see the fake George Washington was present again. Apparently, he still hasn't read this...

"All obstructions to the execution of the laws, all combinations and associations, under whatever plausible character, with the real design to direct, control, counteract, or awe the regular deliberation and action of the constituted authorities, are destructive of this fundamental principle, and of fatal tendency. They serve to organize faction, to give it an artificial and extraordinary force; to put, in the place of the delegated will of the nation the will of a party, often a small but artful and enterprising minority of the community; and, according to the alternate triumphs of different parties, to make the public administration the mirror of the ill-concerted and incongruous projects of faction, rather than the organ of consistent and wholesome plans digested by common counsels and modified by mutual interests.". -- George Washington's Farewell Address (1976)
...or maybe he has but doesn't understand foundingfatherese.
Anyway, go below the fold to see the pictures of the clown car I took way back in 2009. Click to enlarge so you can read the bumper stickers (do not attempt this at home with coffee in your mouth).