Pundits, especially financial channel Pundits, love to rave about our record-setting economy.
Pundits, especially progressive leaning political Pundits, love to rave about our economy's widening Income disparity.
The glaringly obvious fact that few in Punditry-land have yet to fully realize:

That success on Wall Street does NOT equal success on Main Street.
Even from a purely mathematical perspective, the stellar growth in one market still remains majorly disconnected from the lackluster growth in the other.
Continuing to assume that these two markets are (still) somehow directly connected, may ultimately turn out to be fundamentally and fatally flawed.

For an off-the-cuff chart illustrating this stark divergence between Wall Street and Main Street growth, just continue reading the rest of this post.



First the Wall Street success story, boiled down to a single number:

Wall Street vs. Main Street, and Guess Who Wins
by Jeff Cox, Finance Editor, cnbc.com -- 8 May 2013

One major legacy of Wall Street's four-year rally will be that it came while the economy and Main Street lagged.

For that reason, two market experts at this week's SkyBridge Alternatives conference in Las Vegas said, the bull run has to be viewed with somewhat jaded eyes.
[...]

The stock market has surged about 140 percent since the March 2009 lows, but the economy has struggled.

Unemployment is still 7.5 percent, and gross domestic product grew just 2.5 percent in the first quarter. [...]
Note: that 140% return is probably
even larger now
, given the ongoing stock market rallies throughout 2013. I'll stick with the 140% growth number though because it still makes the point.

Next the equivalent Main Street 'success' story, which is often boiled down to growth of the Gross Domestic Product (GDP -- a summary of US Product & Services produced, excluding those for the Military):
data.worldbank.org

2009 2010 2011 2012
United States -2.8 2.5 1.8 2.8
OK now we need the projected US GDP for 2013 ...

US economy grows 4.1 percent in third quarter: Stage set for a better 2014?
by Mark Trumbull, Staff writer, csmonitor.com -- Dec 20, 2013
[...]
But in a recent survey, business forecasters said they expect America's economy to grow 2.8 percent next year, adjusted for inflation. That compares with their estimate that 2013 will clock in with 2.1 percent growth for the calendar year.
[...]
2013 Total Annual GDP Growth (with Growth compounded year over year)
since 2009 (rough approximation)
2.1 estimated
6.4%
(14.8%)

OK, so who is 'winning out' in this Battle of the American Streets?
Here a handy chart that shows where the lion's share of "our" economic growth has been going: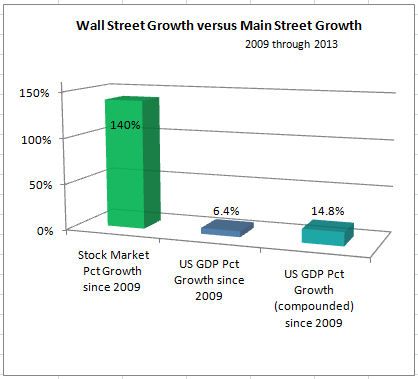 Sooner or later Americans will have to admit the stark Reality, (non-stock owner Americans anyways) that:

Success on Wall Street DOES NOT equate to success on Main Street.

(Despite what we may have always been told.)
And for the sakes of
both those Economies
,
sooner
would be better ...