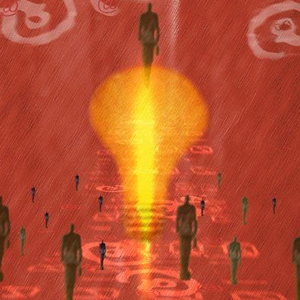 Commentary: African American Scientists and Inventors
by Black Kos Editor, Sephius1


Bessie Blount was born on November 24th in 1914, in Hickory, Virginia. Little is known of her family or her childhood but it is known that she had long wanted to work in the medical field. Blount left home and traveled north to New Jersey to become a physical therapist. She studied at both Panzar College of Physical Education and at Union Junior College. Then she moved on to Chicago where she finished her training.
(con't.)
Then came World War II, and it had left many people severely disabled. It was while working with amputees that inventive ideas were cultivated to assist her patients in regaining their independence. By 1951 Blount was living in Newark, New Jersey and teaching Physical Therapy at the Bronx Hospital in New York. She taught people to do the work that their feet and hands once did. Eating was a great challenge for many of the people that she was working with. To assist disabled people in gaining greater independence she invented a device that delivered food through a tube, one bite at a time, to a mouthpiece that could be used whether the patient was sitting up or lying down. When the person wanted more food they just bit down on the tube and it signaled a machine to send the next morsel.
This electric self-feeding devise eventually was donated to France. In 1951, she patented a simpler device called a "portable receptacle support" which also allowed people to feed themselves. It used a brace around the neck to support a bowl, cup or dish. Blount also appeared on the Philadelphia television show "The Big Idea" in 1953. Becoming the first Black and the first woman to be given such recognition.
While her inventions had the potential to revolutionize the lives of many people, getting them patented and marketed for use by patients was not easy in the United States. Frustrated by the lack of interest by the American Veteran's Administration, Blount signed the rights to her other inventions over to the French government with the statement that she had proven "that a Black woman can invent something for the benefit of humankind." Around this time she became a close friend of Theodore M. Edison the son of the Thomas Alva Edison the electric light inventor.....Read More


~~~~~~~~~~~~~~~~~~~~~~~~~~~~~~~~~~~~~~~~~~~~~~~~~~~
News by dopper0189, Black Kos Managing Editor
~~~~~~~~~~~~~~~~~~~~~~~~~~~~~~~~~~~~~~~~~~~~~~~~~~~


~~~~~~~~~~~~~~~~~~~~~~~~~~~~~~~~~~~~~~~~~~~~~~~~~~~
One of Africa's most celebrated visual artists, Ivorian Frederic Bruly Bouabre, has died aged 91. BBC: Ivory Coast artist Frederic Bruly Bouabre dies.
~~~~~~~~~~~~~~~~~~~~~~~~~~~~~~~~~~~~~~~~~~~~~~~~~~~
Bouabre created many of his hundreds of small drawings while working as a clerk in various government offices. He also created an alphabet of pictograms to transcribe the oral traditions of his people, the Betes.
In the last 25 years his work has been exhibited at several of the world's most important art galleries and museums. His work was displayed at last year's Venice Biennale, both at the international exhibition, called The Encyclopaedic Palace, and at the Ivory Coast pavilion.
"Bouabre is himself a kind of builder of encyclopaedias because his personal work consists in inventing a specific African alphabet," the Ivorian curator and art critic Yacouba Konate told the BBC at the time. "He thinks it's easier for an African to learn, to get new knowledge, when he works inside an African writing system, an African language."
Mr Konate said Bouabre also documented the scarification on people's faces in various West African countries


His visual alphabet language was portrayed on more than 400 small cards
~~~~~~~~~~~~~~~~~~~~~~~~~~~~~~~~~~~~~~~~~~~~~~~~~~~
New legislation in Nigeria has increased homophobia – and in the state of Bauchi, led to a court being mobbed by anti-gay protesters. The Guardian: 'Nobody thinks I'd dare show my face here' – inside a Nigerian sharia court.
~~~~~~~~~~~~~~~~~~~~~~~~~~~~~~~~~~~~~~~~~~~~~~~~~~~
The man who threw the first stone was a taxi driver, his skinny shoulders poking through a faded red football shirt. He hurled a rock with such force it splintered as it crashed into the side of the sharia court. The next one sailed in through an open window, hitting a spectator on the head.
"God will punish homosexuals!" the taxi driver screamed as the crowd joined him in pelting the building.
Inside Upper Sharia Court 4, officials sprang into action, unsurprised by the violent turn in the trial of seven men accused of being homosexual in the ultraconservative Nigerian state of Bauchi. Judge El-Yakubu Aliyu's white scarf, a symbol of wisdom, was trampled in the dusty ground as he was bundled into a back office for his safety.
Among the viewers trapped in the court was John, a gay rights activist, who wondered if he had made a terrible mistake in attending the trial. On the run since a sweeping anti-gay bill was passed this month, John had ignored the advice of everyone he knew by sneaking into his home state at dawn. "Nobody thinks I'd dare show my face here, so I have the element of surprise," he had said earlier, directing a rickshaw along labyrinthine back routes to avoid detection.
The legislation had whipped up an undercurrent of homophobia in the sleepy north-eastern state, where sharia law already outlaws sodomy, and prompted an exodus among gay men. But John, who secretly founded the state's first gay association in 2007, said he couldn't stay away. "It's my job to help these men," he added. He hoped to speak to the judge privately and pay the men's bail using money he had scraped together from donations.
Through interviews with defendants, family members, court and security officials, the Guardian has pieced together the trajectory that culminated in the violence at Sharia Court 4. Although no death sentence has been passed since sharia was introduced in 2000, the story spotlights the stigmatisation gay men encounter as they try to negotiate a place in modern Nigeria.



A crowd gathers outside a sharia court in the northern Nigerian city of Bauchi during the trial of seven men accused of being gay. Photograph: Aminu Abubakar/AFP/Getty
~~~~~~~~~~~~~~~~~~~~~~~~~~~~~~~~~~~~~~~~~~~~~~~~~~~
A forget peace of history. America championed a bloodthirsty torturer to fight the original war on terror. Now, he is finally being brought to justice. Foreign Policy Magazine: Our Man in Africa.
~~~~~~~~~~~~~~~~~~~~~~~~~~~~~~~~~~~~~~~~~~~~~~~~~~~
The last night of november 1990, the city of N'Djamena, the capital of Chad, was on edge. President Hissène Habré, who had seized control of the country in a coup eight years earlier, was in power -- but the vise was closing.
Rebels were converging on the city in Toyota pickup trucks mounted with machine guns and packed with fighters -- turbaned against the dust and sand, armed to the teeth, and screaming pedal-to-the-floor across the desert. Supplied and funded by Libya, they had crossed into Chad from their camp on the Sudanese border some 700 miles to the east, led by Habré's former chief military advisor, Idriss Déby.
It was an odd time, then, for a diplomatic dinner party.
The gathering was a last-minute affair organized by the wealthy and well-connected Lebanese consul at the urgent personal request of a key minister in Habré's cabinet. The presence of some two dozen Chadian elites, French businessmen, and notable expats was really just a ruse to invite the one guest who really mattered: Col. David G. Foulds, the U.S. defense attaché.
The minister pulled Foulds to a quiet corner. "He was chain-smoking -- extremely nervous, shaking all over," Foulds recalled. Habré's forces had beaten back Déby's rebels once before, and conventional wisdom, including in Washington, which had long been star-struck by Habré's military prowess, was that they'd prevail again. But the Americans knew little more than the optimistic picture Habré's camp was giving them, and the minister knew better. The rebels could reach the capital that night, he said, much sooner than anticipated.
Foulds excused himself and rushed to inform the ambassador, Richard Bogosian, and the CIA's chief-of-station. They lit up the phones to Washington to seek instructions and, if possible, assistance. "The bottom line is that he was worth saving," Bogosian said of Habré. "He helped us in ways not everybody was willing to."


~~~~~~~~~~~~~~~~~~~~~~~~~~~~~~~~~~~~~~~~~~~~~~~~~~~

~~~~~~~~~~~~~~~~~~~~~~~~~~~~~~~~~~~~~~~~~~~~~~~~~~~
The problem is the huge disconnect between desire and resources. Black Enterprise: Minority Youth Are More Entrepreneurial Inclined.
~~~~~~~~~~~~~~~~~~~~~~~~~~~~~~~~~~~~~~~~~~~~~~~~~~~
Young people are interested in starting their own businesses more than ever, especially minority youth. But they aren't getting the training and education that is necessary in order to prepare to become entrepreneurs, according to latest findings of the Gallup-HOPE Index Report, a national report on the entrepreneurial aspirations and economic energy of American students.
Overall, four in 10 U.S. students express plans to start a business. Slightly fewer (38%) say they will invent "something that changes the world." Students' interest in starting their own business is similar to the level found in 2012, but down from 2011. Their belief that they will invent something world-changing declined in 2013 after holding steady in 2012.
More racial and ethnic minority students say they plan to start their own businesses than white students. The study showed that 50% of minority students want to be entrepreneurs, compared to 37% of white students.
The reports also showed that entrepreneurial desire is lower among high school students than middle school students, and, more generally, decreases with each grade level. For example, while students in grades 5-8 who wanted to start their own businesses measured 51%, that figure drops to 33% by the time they are in grades 9-12.
Students expressed lack of opportunities to match their entrepreneurial aspirations. Relatively few students report participating in workplace activities that could give them valuable workplace skills and business experience. Only 17% say they work at least one hour weekly at a job that would give them some business experience, and only 5% take advantage of valuable internships.
The majority of students appear to have opportunities at school to gain at least some preparation for the business world. In 2013, more than half (55%) of students said their school teaches them about money and banking, and slightly fewer, 47%, said their school offers classes on how to start or run a business. Additionally, students widely agree that the more education they attain, the more money they will make.


~~~~~~~~~~~~~~~~~~~~~~~~~~~~~~~~~~~~~~~~~~~~~~~~~~~


~~~~~~~~~~~~~~~~~~~~~~~~~~~~~~~~~~~~~~~~~~~~~~~~~~~
Because it's the correct thing to do. New York Times: De Blasio Says New York Will Settle Suit Over Stop-and-Frisk.
~~~~~~~~~~~~~~~~~~~~~~~~~~~~~~~~~~~~~~~~~~~~~~~~~~~
Mayor Bill de Blasio announced on Thursday that New York City had reached an agreement with civil rights lawyers who had challenged the Police Department's stop-and-frisk practices, which would allow the sweeping reforms ordered by a federal judge last summer to be carried out.
Those changes, which included the appointment of a federal monitor, were blocked last fall after the Bloomberg administration appealed the judge's rulings, which found that the city's stop-and-frisk policies were unconstitutional and that the department had resorted to "a policy of indirect racial profiling."
The judge, Shira A. Scheindlin of Federal District Court in Manhattan, had ruled that the policy resulted in "the disproportionate and discriminatory stopping of blacks and Hispanics in violation of the Equal Protection Clause."
FEATURED COMMENT
Digialpha Los Angeles
If the mayor is serious about ending the injustice of stop-and-frisk then end the practice, plain and simple. I can't believe this policy is still going on in NYC.
60 COMMENTS WRITE A COMMENT
But on Thursday, Mayor de Blasio, seeking to fulfill a long-stated campaign pledge that helped to propel his landslide victory, said his administration had taken a major step toward resolving the polarizing dispute that for years had strained relations between the police and minorities.
"We're here today to turn the page on one of the most divisive problems in our city," Mr. de Blasio said in a news conference. "We believe in ending the overuse of stop-and-frisk that has unfairly targeted young African-American and Latino men."




~~~~~~~~~~~~~~~~~~~~~~~~~~~~~~~~~~~~~~~~~~~~~~~~~~~
Welcome to the Black Kos Community Front Porch!
Pull up a chair and sit down a while and enjoy the company.