This sentiment pretty much nails what I thought about him for many years after I was first introduced to his story & his writings in the wake of discovering Allen Ginsberg & the other Beats my freshmen year of college. The first Burroughs book I read was Naked Lunch – in hind sight probably not the best one to begin with but the one that got & still seems to get all the "press." When I finished it the first time, I didn't know what had hit me, pretty much resolved that he was a shady (to be charitable about it) character, and decided not to read any more of his books.
I revisited that attitude after Mr. Burroughs' death in early August 1997 (just a few months after Allen Ginsberg's death). By then, I knew much more about these artists & authors who dared to be different during a time in the 1940s & 1950s when it was dangerous to do so. So, in what I believed at the time to be an attempt to 'honor him,' I gave Naked Lunch another chance. While on some levels I better understood what Mr. Burroughs was trying to do in that book, it still pretty much zapped my brain & left me shaking my head at the end of it.
Soon after that, I was at the Borders bookstore (remember Borders?) north of my house, and there was a big Burroughs tribute display I decided to check out. Part of that display included 2 books I'd never heard of – The Cat Inside and Last Words: the Final Journals of William S. Burroughs.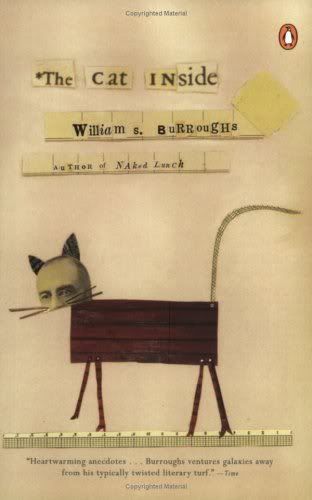 A quick perusal of those books made me realize there was much more to William S. Burroughs than Naked Lunch & what I thought I knew about him up to that point. So, today, on the 100th anniversary of his birth in St. Louis, I present my tribute to him – part biography & part apology for my short – sighted judgmental attitude I held about him for a number of years during which time I was introduced to & knew people who knew him and who could've introduced me to him, but I was still "too creeped out" to take advantage of the opportunity; I will regret that decision for the rest of my life.

William S. Burroughs was born an outsider & had outsider status drummed into his psyche beginning at a very young age. His grandfather had invented the adding machine, so while the family was not Rockefeller wealthy, they were doing just fine. They had a gardener, a butler, a cook, and a nurse/nanny. The house he lived in (which is still standing & I've seen) is a 3 – story brick house with a decent – sized yard & a very elaborate wrought iron fence. The family was wealthy enough to be scorned by the St. Louis lower & middle class at the time but was looked down upon by more well – to – do established families because the Burroughs family was considered 'nuvo riche'. One of my favorite stories of Mr. Burroughs' boyhood involves a writing assignment where he wrote a story called "Autobiography of a Wolf." When his teacher asked if perhaps he meant 'biography,' he replied (to paraphrase) no – he meant autobiography.
Because of a $200/month allowance from his parents, he didn't have to worry about getting a job, so he was free to explore and indulge in the seedier side of life like crime and drug use that were far beyond his upbringing & absolutely fascinated him. He met other outsiders (who DID NOT have the luxury of a $200/month allowance) in his explorations, including, most notably & life changing, Herbert Hunke; he introduced heroin to William Burroughs in the mid – late 1940s. While eventually somewhat getting out from under earlier more severe addictions, William Burroughs was on a methadone maintenance program from the early 1980s until his death. So, there's just the tip of the tip of the iceberg concerning William Burroughs & drugs.
Now, I'll talk about the tip of the tip of the iceberg concerning killing his wife, Joan. Even though Mr. Burroughs preferred sexual relationships with men, Joan Vollmer Adams was a good looking EXTREMELY intelligent & well – read woman who could keep pace both intellectually and in the drug use area with William Burroughs. Jack Kerouac & Allen Ginsberg thought the 2 of them would make a good couple, so the two of them were introduced to each other in 1944, and she basically never left his side for the rest of her life. When Joan was in a particularly bad way & had been committed to Bellevue Hospital, Mr. Burroughs went to New York City from St. Louis, pulled a few strings, and got her released into his care. The 2 of them spent some days in a rather dingy hotel room near Times Square, and, approximately 9 months later, their son, William S. Burroughs, Jr. was born; he was born drug addicted because Joan kept up her drug use throughout her pregnancy.
When 'the heat' and the ever – growing potential of serving jail time for his numerous drug – related crimes in the United States approached the breaking point, the 3 of them plus Joan's daughter from a previous marriage decided to move to Mexico where living would be cheap, drugs would be plentiful, and law enforcement officials looked the other way as long as you had enough cash to bribe them. It was during the time in Mexico that both of them increased their drinking dramatically; Joan was going through around a quart of tequila a day. At a party attended by a few of their friends (everyone drunk, of course), Mr. Burroughs decided he needed to show off his marksmanship & told Joan to put a drinking glass on top of her head, and he was going to shoot it off. She replied in what turned out to be her last words,
I'm turning my head; you know I can't stand the sight of blood.
Instead of hitting the glass, the bullet went into Joan's right temple, and she died around an hour later at a nearby hospital. William Burroughs was arrested but ended up spending only 14 days in jail because the lawyer chosen to defend him managed to get into some legal trouble on his own, so Bill was able to escape to South America. He was convicted in absentia for what we would consider manslaughter & received a suspended sentence. It was after Joan's death that he began to write & to seriously consider writing as a vocation.
Even after all the drug – related run ins with the law and horrific withdrawal periods, William Burroughs never stopped using drugs; even after killing Joan, who I think he really loved as much as he was capable of loving anyone, he still continued to use & to be fascinated by guns and weapons of all kinds. He was largely an absent father to his son, Billy (having ISSUES of his own), but, again, I think, did the best he could with what was given to him in his emotional make up & his own upbringing. His parents weren't exactly dripping with love & devotion for their son, and, instead of dealing directly with their son when he was in trouble, simply paid authorities off to get him out of trouble.
What took me a long time to realize after my own studies & talking to people who knew William Burroughs VERY WELL was that behind that cool seemingly – stoic unemotional image of the junky survivor and trail blazer in so many areas of art & culture was a man much more introspective and emotional about his life than what that (the operative word) IMAGE led people to believe. From The Cat Inside,
I have said that cats serve as Familiars, psychic companions. "They certainly are company." The Familiars of an old writer are his memories, scenes and characters from his past, real or imaginary. A psychoanalyst would say I am simply projecting these fantasies onto my cats. Yes, quite simply and quite literally cats serve as sensitive screens for quite precise attitudes when cast in appropriate roles. The roles can shift and one cat may take various parts: my mother; my wife, Joan; Jane Bowles; my son, Billy; my father; Kiki and other amigos; Denton Welch, who has influenced me more than any other writer, though we never met. Cats may be my last living link to a dying species.
There's a game I used to play with Ed, the albino cat, called "I'm going to get my little Ed!" and he rushes under the sofa, under the bed, into the front room. It's a game that children like, and they giggle and run. "Don't get me!" Calico Jane likes to play this game. I used to play it with Billy in the Algiers house: "Where's my Willy?" In a dream I am in the house at 4664 Pershing Avenue where I was born. On the second floor, at the entrance to my old bedroom, I encounter a little blond child waiting there. "Are you Billy?" I ask. "I'm anybody to anybody who loves me," he answers.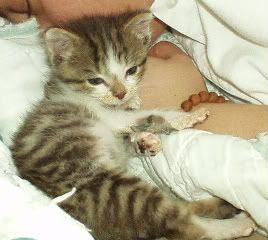 Do these passages sound like they came from the same author of Naked Lunch?!
William Burroughs kept diaries & journals throughout his life; if a dream woke him up in the middle of the night, it was immediately recorded in a diary or journal. At the time of Mr. Burroughs' death, plans were in the works to publish some of these, but, unless he had a biblical ability to predict the future that no one knows about & knew EXACTLY when he was going to leave this world, I offer part of his final journal entry 2 days before his death to demonstrate that yes, William Burroughs was a life long drug addict who killed his wife, but he was so SO much more:

"When you see someone who looks like the saddest man in the world, that's him." How can a man who sees and feels be other than sad. To see Ginger always older and weaker. The price of immortality, of course. Well, you should have thought of these things. I did. Thinking is not enough. Nothing is. There is no final enough of wisdom, experience – any fucking thing. No Holy Grail, No Final Satori, no final solution. Just conflict. Only thing can resolve conflict is love, like I felt for Fletch and Ruski, Spooner and Calico. Pure love. What I feel for my cats present and past. Love? What is It? Most natural painkiller what there is. LOVE.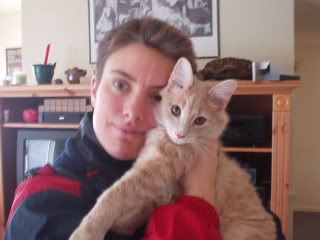 Happy birthday, Mr. Burroughs.