..as it has been headlined in the MSM.
While it does show the power of false advertising; the kind the "conservative" movement, its GOP shills along with its media bias department @ "Faux News" has been blanketing the country with for pretty much as long as they've been in business, it is factually cherry-picked; a manipulated, uninformed "truth"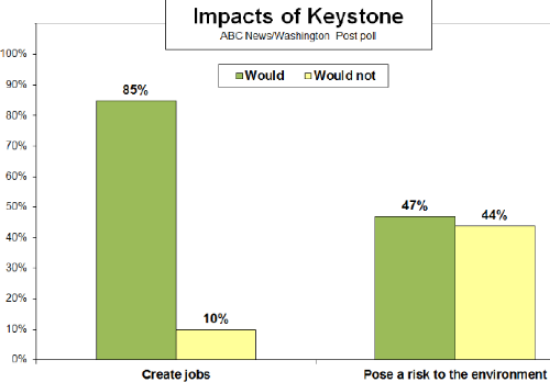 After seeing this latest meme; "overwhelmingly favored" being touted by the right as "truth" and even some opponents of the Pipeline repeating the language of the headlines giving it more credence, I took a look, and not being an expert on polling or the science of it I ask the simplest questions to test this phrase being tossed around as fact - Do the people being polled have the facts or not? And what were they really voting for; jobs or the Keystone pipeline?

Is this the truth or just another "conservative"/corporate spun up conclusion created to be added into the things we say in conversation first, and then come to accept without really questioning its veracity or the meaning of it?

Here is the ABC News/Washington Post poll (pdf): Two-Thirds Back Keystone Pipeline; More See Jobs than Environmental Risk
It's true, on average without the facts known. Out of 1,002 people questioned (at least of the .00001% or whatever the % is, US population polled) more support the Keystone pipeline than oppose it, but without context is this question useful or misleading?

As you may know, there is a proposal to build the Keystone XL pipeline that would carry oil from Canada to Texas. Do you think the U.S. government should or should not approve the building of this pipeline?

Should Should not No opinion

3/2/14 65 22 13

6/17/12* 59 18 22

3/11/12** 57 29 14

*Washington Post only

**Gallup
Then there is this:
Do you think this pipeline would or would not [ITEM]? Do you feel that way strongly or somewhat?

3/2/14 - Summary Table

a. Create a significant number of jobs

--------- Would --------- ------- Would not ------- No

NET Strongly Somewhat NET Somewhat Strongly op.

85 62 24 10 4 6 5

b. Pose a significant risk to the environment

--------- Would --------- ------- Would not ------- No

NET Strongly Somewhat NET Somewhat Strongly op.

47 26 20 44 16 28 9

Trend:

a. Create a significant number of jobs
The job myth is trending. Exactly as the GOP operates their spin cycles to do
Here is the truth:
Experts: Keystone XL May Create Fewer Jobs Than Most Expect
Yet the first line of the article reads:
While most Americans support the construction of the controversial Keystone XL pipeline..
And from the state dept. linked within:
State Department: Keystone XL Pipeline Would Only Create 35 Permanent Jobs - by Zoë Schlanger | Updated: 2/13/14 at 8:54 PM

But buried in the 11-chapter report (pdf) was a less sunny detail: the Keystone XL would create only 35 permanent jobs after the one or two years of construction jobs dry up.
METHODOLOGY – This ABC News/Washington Post poll was conducted by telephone Feb. 27-March 2, 2014, in English and Spanish, among a random national sample of 1,002 adults, including landline and cell-phone-only respondents. Results have a margin of sampling error of 3.5 points, including design effect.
Out of 1,002 people polled at random 2/3rds believe that pipeline should be built yet
85%
of these same people also believe the GOP/"conservative" lie:
The Keystone pipeline is a job creator - lie
- never mind that the "conservative" purveyors of this lie have continued their agenda of slashing jobs year after year; exploiting peoples fears of losing their jobs or homes or worse, (in this prolonged period of slow job growth), while lying about creating jobs, blocking any Jobs programs, all without the least compunction
So now the conclusion/headline becomes; "overwhelmingly favor" instead of something more along these lines:
American people deceived & taunted by false "conservative" job creation boom reported as guaranteed by Keystone pipeline project but aren't fooled by the devastating environmental impact it represents - and jobs with a fair living wage with it still a priority

nothing scientific by me here or anything, just trying to push back against the use of this untruth in our day to day language somehow.
Thank you for stopping by
P.S. This may have been covered already but I've been away for a bit. otoh until the polls show the reality of the jobs numbers it can't hurt repeating it - imo