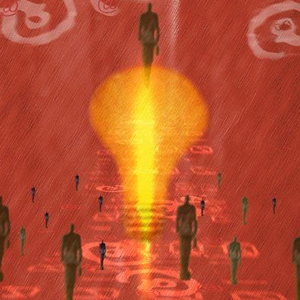 Commentary: African American Scientists and Inventors
by Black Kos Editor, Sephius1


Warren Washington is an internationally recognized expert on atmospheric science and climate research. He specializes in computer modeling of Earth's climate. Currently, he is a senior scientist and Chief Scientist of the DOE/UCAR Cooperative Agreement at NCAR in the Climate Change Research Section in the center's Climate and Global Dynamics Division. Over the years, Washington has published almost 200 papers in professional journals, garnered dozens of national and international awards, and served as a science advisor to former presidents Carter, Reagan, Bush, and Clinton.
(con't)
Washington was born and grew up in Portland, Oregon. He became interested in science in grade school, going on to earn a bachelor's degree in physics and master's degree in meteorology from Oregon State University. His next step was to Pennsylvania State University for a doctorate in meteorology. In 1963, he joined NCAR as a research scientist.
Climate Modeling
Washington became one of the first developers of groundbreaking atmospheric computer models in collaboration with Akira Kasahara when he came to NCAR in the early 1960s. These models, which use fundamental laws of physics to predict future states of the atmosphere, have helped scientists understand climate change. As his research developed, Washington worked to incorporate the oceans and sea ice into climate models. Such models now include components that depict surface hydrology and vegetation as well as the atmosphere, oceans, and sea ice.
An Introduction to Three-Dimensional Climate Modeling, written by Washington and Claire Parkinson in 1986 and updated in 2005, is a standard reference in the field.
Washington's past research involved using the Parallel Climate Model (PCM). His current research involves using the Community Climate System Model (CESM) to study the impacts of climate change in the 21st century. Both models were used extensively in the 2007 Intergovernmental Panel on Climate Change assessment, for which NCAR scientists, including Washington, and colleagues around the world shared the 2007 Nobel Peace Prize.
Diversity efforts
As the second African-American to earn a doctorate in the atmospheric sciences, Washington has served as a role model for generations of young researchers from many backgrounds. He has mentored dozens of graduate students, as well as undergraduates in the UCAR-based SOARS program (Significant Opportunities in Atmospheric Research and Science). In 1999, Washington won the Dr. Charles Anderson Award from the American Meteorological Society "for pioneering efforts as a mentor and passionate support of individuals, educational programs, and outreach initiatives designed to foster a diverse population of atmospheric scientists."
Timeline of Service, Activities, Honors and Awards
From 1978 to 1984, Washington served on the President's National Advisory Committee on Oceans and Atmosphere. He participated on several National Research Council panels and chaired the council's advisory panel for Climate Puzzle, a film produced for the 1986 PBS television series Planet Earth.
Washington was a member of the Secretary of Energy's Advisory Board from 1990 to 1993 and has been on the Secretary of Energy's Biological and Environmental Research Advisory Committee (BERAC) since 1990. From 1996 - 2006, he served as the chair of the subcommittee on Global change for BERAC.
Washington held the office of President of the American Meteorological Society in 1994 and was Past President in 1995.
He served on the Modernization Transition Committee and the National Centers for Environment Prediction Advisory Committee of the U.S. National Weather Service. In 1998, he was appointed to the National Oceanic and Atmospheric Agency Science Advisory Board, until 2002.
In May of 1995, he was appointed by President Clinton to a six-year term on the National Science Board, which helps oversee the National Science Foundation and advises the Executive Branch and Congress on science related matters. In March 2000 he was nominated by President Clinton for a second six-year term and was confirmed by the Senate in September 2000. In May 2002, The National Science Board (NSB) in Washington, D.C., elected Washington as its new Chair. He was re-elected to a second term in May of 2004. The National Science Board has dual responsibilities as national science policy adviser to the president and Congress and as governing board for the National Science Foundation, an independent federal agency.......Read More
~~~~~~~~~~~~~~~~~~~~~~~~~~~~~~~~~~~~~~~~~~~~~~~~~~~~~
News by dopper0189, Black Kos Managing Editor
~~~~~~~~~~~~~~~~~~~~~~~~~~~~~~~~~~~~~~~~~~~~~~~~~~~~~


~~~~~~~~~~~~~~~~~~~~~~~~~~~~~~~~~~~~~~~~~~~~~~~~~~~~~
The Reverend William Barber is charting a new path for protesting Republican overreach in the South—and maybe beyond. Mother Jones: Meet the Preacher Behind Moral Mondays.
~~~~~~~~~~~~~~~~~~~~~~~~~~~~~~~~~~~~~~~~~~~~~~~~~~~~~
On a recent Sunday afternoon, the Reverend William Barber II reclined uncomfortably in a chair in his office, sipping bottled water as he recovered from two hours of strenuous preaching. When he was in his early 20s, Barber was diagnosed with ankylosing spondylitis, a painful arthritic condition affecting the spine. Still wearing his long black robes, the 50-year-old minister recounted how, as he'd proclaimed in a rolling baritone from the pulpit that morning, "a crippled preacher has found his legs."
It began a few days before Easter 2013, recalled Barber, pastor at the Greenleaf Christian Church in Goldsboro, North Carolina, and president of the state chapter of the National Association for the Advancement of Colored People (NAACP). "On Maundy Thursday, they chose to crucify voting rights," he said.
"They" are North Carolina Republicans, who in November 2012 took control of the state Legislature and the governor's mansion for the first time in more than a century. Among their top priorities—along with blocking Medicaid expansion and cutting unemployment benefits and higher-education spending—was pushing through a raft of changes to election laws, including reducing the number of early voting days, ending same-day voter registration, and requiring ID at the polls. "That's when a group of us said, 'Wait a minute, this has just gone too far,'" Barber said.
Barber "believed we needed to kind of burst this bubble of 'There's nothing we can do for two years until the next election.'"
On the last Monday of April 2013, Barber led a modest group of clergy and activists into the state legislative building in Raleigh. They sang "We Shall Overcome," quoted the Bible, and blocked the doors to the Senate chambers. Barber leaned on his cane as capitol police led him away in handcuffs.
That might have been the end of just another symbolic protest, but then something happened: The following Monday, more than 100 protesters showed up at the capitol. Over the next few months, the weekly crowds at the "Moral Mondays" protests grew to include hundreds, and then thousands, not just in Raleigh but also in towns around the state. The largest gathering, in February, drew more than 15,000 people. More than 900 protesters have been arrested for civil disobedience over the past year. Copycat movements have started in Florida, Georgia, South Carolina, and Alabama in response to GOP legislation regarding Medicaid and gun control.


Rev William Barber's "We are North Carolina" speech delivered at a major rally this February Video: ProtestFilm/YouTube


~~~~~~~~~~~~~~~~~~~~~~~~~~~~~~~~~~~~~~~~~~~~~~~~~~~~~
I try to only cite essays on the Chait-Coates discussion when they raise new ground. This article does. The New Republic: The Right's Racial Blinders What really explains the politics of the Obama era.
~~~~~~~~~~~~~~~~~~~~~~~~~~~~~~~~~~~~~~~~~~~~~~~~~~~~~
Chait's indictment of liberal racial analysis lives and dies on the bolded sentence. And the sentence is just wrong. It is not an accurate description of the left's perspective. Republicans do frequently code switch when they appeal to activist voters. All politicians do. But the idea that liberals believe this tendency renders racist every increment and manifestation of conservative appeal is the straw man upon which his broader argument collapses.
In reality, many if not most liberals correctly believe that the GOP's organizing modus operandi is plutocratic in nature, but that a plutocratic agenda is politically unsustainable without being fused to a distinct populism of some sort. For both historical and natural reasons, the GOP's populism is often the populism of white racial resentment. This is a cardinal fact. It also makes it difficult to trace a boundary between the right's racial and non-racial public appeals.
Rallying the public by advocating tax cuts is not racist per se. To the contrary it can be many different things. It can be an appeal to donors. It can be an appeal to workers. It can be an appeal to economic elites. For all these reasons, and despite what Lee Atwater said, you won't find much evidence to support the implication that liberals believe Republican tax cuts are racist, as opposed to reverse-Robin Hooded. But financing those tax cuts is a different matter altogether. And here's where the GOP has, in the Obama years, revealed the substantive, and highly racialized consequences of aligning plutocrats and southern revanchists within a single political coalition. They do not propose to finance the tax cuts with debt (a la George W. Bush), or with cuts to defense spending, or cuts to middle-class entitlements like Social Security and Medicare, or cuts to corporate welfare and tax expenditures for the well-off. They propose to finance tax cuts almost exclusively by cutting programs like Medicaid, food stamps, and other income support programs that disproportionately benefit black communities.
Liberals do sometimes plow through the foggy barrier dividing chaste and racially galvanized conservatism. Sometimes it is the result of sloppiness or irrational exuberance. It might occasionally drift into outright racial McCarthyism. But frequently it's just difficult to determine where that barrier begins and ends.


Congressman Joe Wilson, shouting during the State of the Union
~~~~~~~~~~~~~~~~~~~~~~~~~~~~~~~~~~~~~~~~~~~~~~~~~~~~~


~~~~~~~~~~~~~~~~~~~~~~~~~~~~~~~~~~~~~~~~~~~~~~~~~~~~~
A leading wrongful convictions expert on what's at stake in a sweeping, upcoming North Carolina decision. Salon: Barry Scheck: Stunning new case highlights how race bias corrupts juries.
~~~~~~~~~~~~~~~~~~~~~~~~~~~~~~~~~~~~~~~~~~~~~~~~~~~~~
Last month, Glenn Ford, an African-American man, walked out of the Louisiana State Penitentiary after spending thirty years on death row for a crime he didn't commit. One of the most important contributing factors to his death sentence? Racial discrimination in the selection of his all-white jury. In a community that is almost half African-American, the prosecutor struck African-American jurors with the flimsiest of excuses.
That kind of bias not only contributes to guilty verdicts for the innocent, it tilts the playing field toward death, particularly for defendants of color.
In North Carolina, the state Supreme Court has a chance to show the country that race bias should not be allowed to corrupt our jury system. Yesterday, that court's justices heard arguments about three African-Americans and one Lumbee Indian who are serving life without parole, thanks to a lower court ruling that the discrimination in jury selection was a significant factor in their death sentences. The State of North Carolina would like to erase those facts and send the prisoners back to death row. Now the court will decide whether to recognize or ignore the dangers of racial discrimination in jury selection.
The four prisoners in the case have uncovered a mountain of evidence of discrimination in their cases and county, including a prosecutor's handwritten notes in one of their cases. In it, he described prospective jurors differently by race. The white "country boy" who "drank" was "ok," in contrast to the "black wino" who was excluded. Another African-American juror was "ok" because she was from "a respectable black family."
The evidence also contained an unprecedented study of race and jury selection in North Carolina. Researchers found across the state, in counties large and small, urban and rural, rampant racial discrimination against African-American jurors by the prosecution was the norm. After their success, the law that allowed their appeals on the basis of discrimination jury selection, the Racial Justice Act, was repealed. Not satisfied, the State of North Carolina is attempting to make the important victories in these four cases disappear.
The State's arguments yesterday were a knotty mess of technical legal points. They had no defense to the basic facts of rampant discrimination.


Barry Scheck (Credit: Reuters/Jessica Rinaldi)
~~~~~~~~~~~~~~~~~~~~~~~~~~~~~~~~~~~~~~~~~~~~~~~~~~~~~


~~~~~~~~~~~~~~~~~~~~~~~~~~~~~~~~~~~~~~~~~~~~~~~~~~~~~
Entrepreneurial immigrants in Brazil. New York Times: Immigrants Stir New Life Into São Paulo's Gritty Old Center.
~~~~~~~~~~~~~~~~~~~~~~~~~~~~~~~~~~~~~~~~~~~~~~~~~~~~~
For obvious reasons, many Paulistanos still consider this megacity's decrepit old center a no-go zone.
Carjacking and kidnapping gangs prey on motorists at stoplights. Squatters control dozens of graffiti-splattered apartment buildings. Sinewy addicts roam through the streets smoking crack cocaine in broad daylight.
But slip into Jean Katumba's cramped Internet cafe and a different picture emerges.
"They call this place ugly, but I see its beauty," said Mr. Katumba, 37, who arrived from the Democratic Republic of Congo just 11 months ago.
Trained as an engineer in Kinshasa, the Congolese capital, he earns a living here in Baixada do Glicério, a crime-ridden district, renting computers to customers speaking a variety of languages, from Haitian Creole to Colombian-accented Spanish and the Lingala of his homeland.
"São Paulo means a great thing to me: opportunity," he said.
An array of similar ventures started by immigrants is flourishing amid the grit of São Paulo's old center, reflecting shifts in global immigration patterns. Reinforcing São Paulo's status as Brazil's premier global city, Asians, largely from China, Africans and Spanish-speaking Latin Americans are flowing in.


Mélanito Biyouha operates a restaurant in São Paulo's old center that specializes in African cuisine. She is part of a new wave of immigrants in the Brazilian megacity. Credit Lalo de Almeida for The New York Times
~~~~~~~~~~~~~~~~~~~~~~~~~~~~~~~~~~~~~~~~~~~~~~~~~~~~~


~~~~~~~~~~~~~~~~~~~~~~~~~~~~~~~~~~~~~~~~~~~~~~~~~~~~~
University of Minnesota researchers discovered that people of color are exposed to almost 40 percent more air pollution than their white counterparts. Minnesota Post: Huge gap in pollution exposure by race surprises U of M researchers.
~~~~~~~~~~~~~~~~~~~~~~~~~~~~~~~~~~~~~~~~~~~~~~~~~~~~~
By now you probably know that people of color nationwide have, among other things, higher rates of unemployment, poverty and educational disparity compared to white people.
Here is one more fact to add to the list: People of color are also exposed to nearly 40 percent more polluted air than whites, according to a University of Minnesota study released Tuesday.
The study looks at the differences in pollution exposure by race, income, education and other categories throughout the country, said Julian Marshall, the study's lead researcher and a civil-engineering associate professor at the University of Minnesota.
"The main ones are race and income, and they both matter," Marshall said in an interview. "In our findings, however, race matters more than income."
The study, "National patterns in environmental injustice and inequality: Outdoor NO2 air pollution in the United States," found that people of color are exposed to 38 percent more outdoor nitrogen dioxide (NO2), which comes from vehicle exhaust and power plants, than whites.


The study found that people of color are exposed to 38 percent more outdoor nitrogen dioxide, which comes from vehicle exhaust and power plants, than whites.
~~~~~~~~~~~~~~~~~~~~~~~~~~~~~~~~~~~~~~~~~~~~~~~~~~~~~
Welcome to the Black Kos Community Front Porch!
Pull up a chair and sit down a while and enjoy the company.