---
"People are like stained-glass windows. They sparkle and shine when the sun is out, but when the darkness sets in, their beauty is revealed only if there is a light from within." – Elizabeth Kubler-Ross
Many of you here know that we are getting our house painted. The painters didn't come Friday because of rain but the weather is improving and they should finish this week. They were appalled at the condition of the existing paint and had to scrape the whole house and prime it with oil-based paint before finishing it this week with two coats of good house paint. Since it's the major thing happening here (as well as my slowly improving case of shingles) I will discuss some aspects of the job.
It was vitally needed, but it is very expensive because of the extensive prep work and this is a rather high wage area. I hired a guy with 30 years experience who last year painted both of the other houses on our drive to their satisfaction. The cost is only a few thousand dollars less than the price of our first house; of course, that was 50 years ago.
In doing the prep work the painter noted that the porch steps were rotten. Luckily my son the contractor came over yesterday and rebuilt the whole thing.
Caves had doors but no windows. But as man built his own dwellings, windows became a feature. Perhaps windows were an accidental development:
One of the best preserved neolithic towns is Catal Huyuk, covering some 32 acres in southern Turkey. Here the houses are rectangular, with windows but no doors. They adjoin each other, like cells in a honeycomb, and the entrance to each is through the roof. The windows are a happy accident, made possible by the sloping site.
Windows abounded in early Rome. Windows were generally larger on the top floors than the lower ones. Windows were particularly popular on the side of the house facing onto the garden. Their manufacture was greatly owed to the advancements made in Roman glass production methods.
Windows declined during a short period due to tax avoidance:
The window tax was a property tax based on the number of windows in a house. It was a significant social, cultural, and architectural force in England, France and Scotland during the 18th and 19th centuries. To avoid the tax some houses from the period can be seen to have bricked-up window-spaces (ready to be glazed or reglazed at a later date), as a result of the tax. It was introduced in 1696 and was repealed in 1851, 156 years after first being introduced. Spain and France both had window taxes as well for similar reasons.
The painters covered all of our windows with plastic. Since that time (and for the next week) we are living in semi-darkness. It is as though we are surrounded with a fog so thick that we have a visibility of one foot. It has affected our mood. And it has become clear (heh) how important our connection with the outdoors is to us. I spend a lot of time blogging on the couch and looking out the big window in the living room. Louie appreciates it also.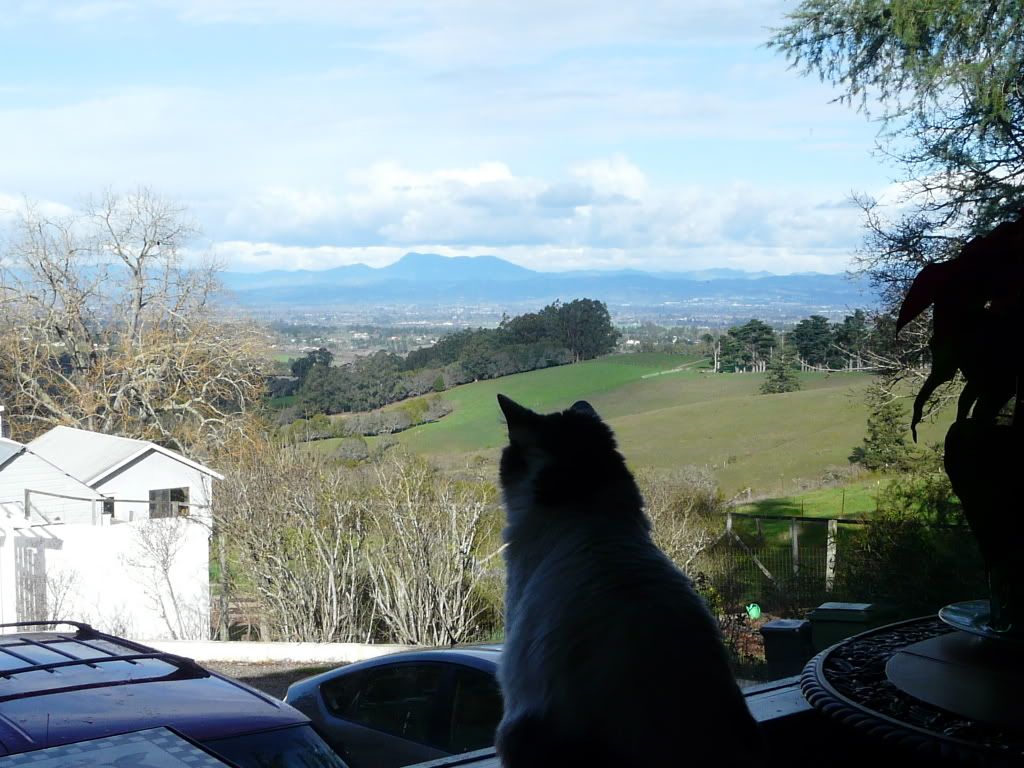 Here's what it looks like now. Louie doesn't even want to sit on his divan.
(The owl decoy keeps birds from hitting the window.)
And here's what the other side looks like.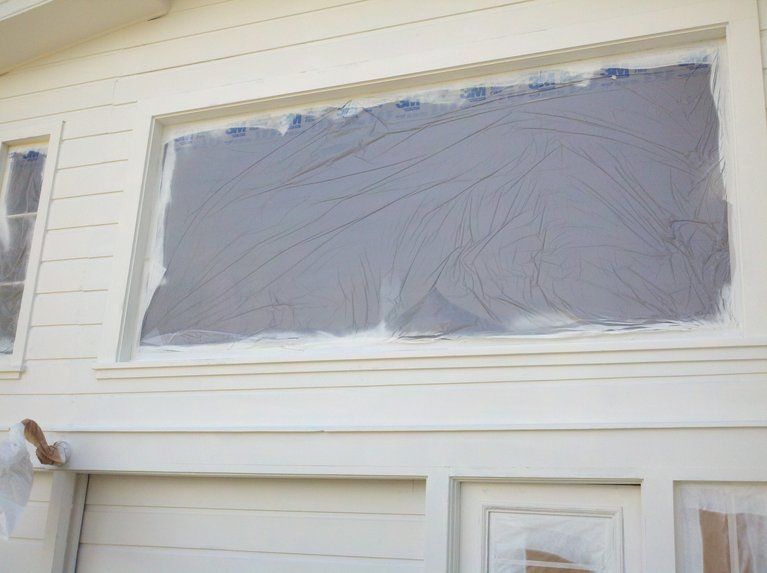 All should be back to normal by next Friday except for my depleted checking account.
Have you had any experience with house painting or windows or Windows or Doors? Light a fire under that teapot and join us.
| | | |
| --- | --- | --- |
| | Kitchen Table Kibitzing is a community series for those who wish to share part of the evening around a virtual kitchen table with kossacks who are caring and supportive of one another. So bring your stories, jokes, photos, funny pics, music, and interesting videos, as well as links—including quotations—to diaries, news stories, and books that you think this community would appreciate. Readers may notice that most who post diaries and comments in this series already know one another to some degree, but newcomers should not feel excluded. We welcome guests at our kitchen table, and hope to make some new friends as well. | |