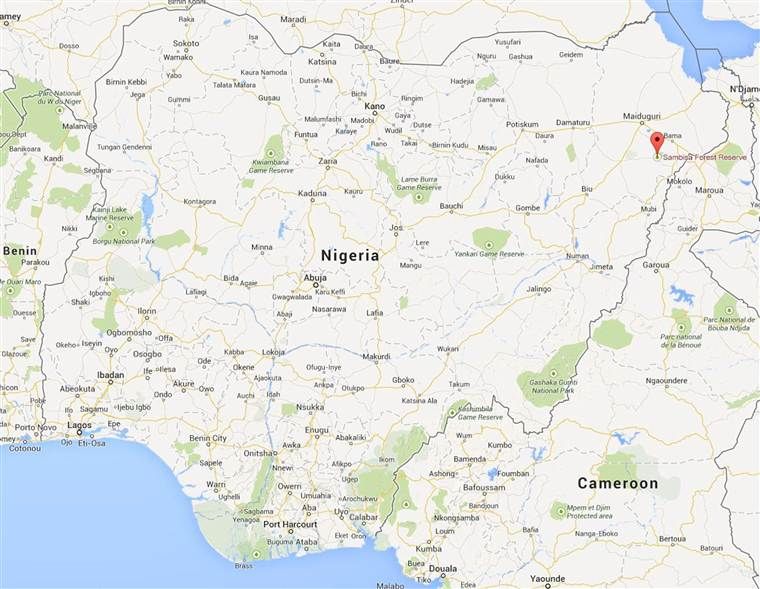 Erin McClam, of NBC News, writes Nigerian Girls May Be Held in Country's 'Evil Forest.' More than 270 Nigerian schoolgirls were kidnaped by Boco Haram on April 15. This terrorist/criminal gang is known to have base camps throughout the Sambisa Forest, a remote area of 23,000 square miles, along the northeast of Nigeria adjacent to Cameroon, Niger, and Chad. This is about the size of West Virgina.

The almost 300 schoolgirls kidnapped in Nigeria may be captives in what one local newspaper has called the evil forest, a mysterious corner of the country dotted with tents and lined with tunnels to house and move armed fighters.

It is the Sambisa Forest, home to large populations of African wildlife — monkeys, antelopes, elephants, ostriches, poisonous snakes — and, for a century or more, robbers and smugglers who found easy passage into Cameroon.

Professor Kyari Mohammed believes Boco Haram has makeshift base camps throughout this area where it has probably spread the girls out between different camps. He said troops will need to be "willing to fight physically on the ground. It will take ... a willingness to take some casualties," something the Nigerian military has not yet demonstrated a willingness to do.
Other newspapers are reporting that the United States is sending 10 military technical experts along with some law enforcement officers to help assess the situation and man a "coordination cell" to assist in helping locate the girls and to help plan a rescue.
Unconfirmed reports have indicated some of the girls may have been sold in Chad and Cameroon for $12 dollars.
Boco Haram also slaughtered more than 150 villagers in a northern village, burning some alive. This is reported to have been the village the Nigerian military was planning to use as its base for search and rescue operations. CNN is reporting now at 4:33 a.m., that over 1,500 Nigerian have been killed so far in Boco Haram attacks. The world is only now paying attention.
The NBC article reports an interview The Guardian conducted with one of the kidnapped girls who escaped just as the truck she was in was about to enter the Forest.


One of the young women who escaped abduction by jumping off the back of a truck told The Guardian about entering the forest.

"Each time we got to a village, they stopped and started shooting people and burning their houses," said the woman, Godiya Usman, 18. ... "When we got to another village, they started shooting. I jumped down and I was expecting my friends to jump too, but they didn't. I just started crying and running into the Bush.
First lady Michelle Obama calls for return of Nigerian girls
Our First Lady Michelle Obama expresses my thoughts better than I could in her twittter quote on #BringBackOurGirls:
"Our prayers are with the missing Nigerian girls and their families. It's time to bring back our girls,"