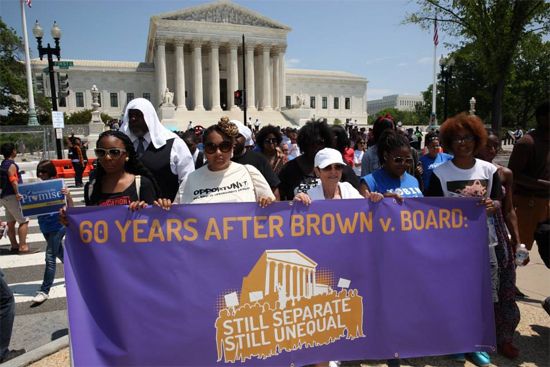 After 60 years: still separate and still unequal
Commentary by Black Kos Editor Denise Oliver Velez
When we celebrate the Brown v Board of Education decision as an historic event—be clear it's time to demonstrate, not just celebrate where we've been.
And don't think of "the South" when you hear about segregated schools. Let's take a look at the "apartheid schools" that are not southern.
UCLA Report Finds Changing U.S. Demographics Transform School Segregation Landscape 60 Years After Brown v Board of Education

Brown at 60 shows that the nation's two largest regions, the South and West, now have a majority of what were called "minority" students. Whites are only the second largest group in the West. The South, always the home of most black students, now has more Latinos than blacks and is a profoundly tri-racial region.

The Brown decision in 1954 challenged the legitimacy of the entire "separate but equal" educational system of the South, and initiated strides toward racial and social equality in schools across the nation. Desegregation progress was very substantial for Southern blacks, in particular, says the report, and occurred from the mid-1960s to the late l980s.

The authors state that, contrary to many claims, the South has not gone back to the level of segregation before Brown. It has, however, lost all of the additional progress made after l967, but is still the least segregated region for black students.
Let's look at some of the key findings:

Black and Latino students are an increasingly large percentage of suburban enrollment, particularly in larger metropolitan areas, and are moving to schools with relatively few white students.
Segregation for blacks is the highest in the Northeast, a region with extremely high district fragmentation.
Latinos are now significantly more segregated than blacks in suburban America.
Black and Latino students tend to be in schools with a substantial majority of poor children, while white and Asian students typically attend middle class schools.
Segregation is by far the most serious in the central cities of the largest metropolitan areas; the states of New York, Illinois and California are the top three worst for isolating black students.
California is the state in which Latino students are most segregated.

The report concludes with recommendations about how the nation might pursue making the promise of Brown a reality in the 21st century--providing equal opportunity to all students regardless of race or economic background.



As a New Yorker, in a supposedly blue/liberal state I find it unacceptable to read the results in reports like this one from the Civil Rights Project:
New York Schools Most Segregated in the Nation

The study explores trends in enrollment and school segregation patterns from 1989 to 2010 at the state and regional levels, including the New York City metropolitan areas of Long Island and the New York City District, and the upstate metropolitan areas of Albany, Buffalo, Rochester, and Syracuse.

The report also documents the history of school desegregation in the state and across its geographic regions, including key desegregation cases and remedies in Yonkers, Rochester, and Buffalo.

In New York City, in particular, the report highlights both historical and current practices and policies perpetuating racial imbalance and educational inequity across schools, and challenged by parents and community organizations.

Educational problems linked to racially segregated schools, which are often intensified by poverty concentration, include a less-experienced and less-qualified teacher workforce, high levels of teacher turnover, inadequate facilities and learning materials, high dropout rates, and less stable enrollments. Conversely, desegregated schools are linked to profound benefits for all students.

"This report runs the geographic gamut: from the upstate metros dealing with transforming demographics and an urban-suburban divide, to Long Island, one of the most segregated and fragmented suburban rings in the country, and New York City, the largest school district in the country," said John Kucsera, lead author of the report.
Though the national media may not be paying attention to the public education organizing and demonstrating taking place, it is happening. Students, parents, teachers, union and community members are fed up, and getting fired up.
Last week The Alliance to Reclaim our Schools took the battle to Washington and there were nationwide actions as well.

The Alliance to Reclaim Our Schools is a national alliance of parent, youth and community organizations and labor groups fighting for educational justice and equity in access to school resources and opportunities. Together, we represent all students, particularly those from low-income and working-class communities and neighborhoods of color.

We are parents, students, teachers, educational support professionals and community members united around a shared vision for supporting and improving our public schools. We value the input of all stakeholders in our nation's schools, particularly the voices of community members, teachers and other public school workers who for far too long have been excluded from the decision-making process.
Our Demands
•Full funding and support for neighborhood-based community schools: don't close or privatize them.
oSchools can play an instrumental role in supporting and nurturing our students, but only when they're adequately and fairly funded.
oRather than closing schools or turning them over to private, unaccountable managers, we should work to support and build up our schools as strong public institutions in the heart of each and every community.
oWe need schools that provide wraparound supports and services for students and their families and act as anchors for their communities.
oPublic education must include an engaging, robust, and well-rounded curriculum that includes the arts, sports, and other creative activities that address the diverse needs of our children and prepare them for college, career and active citizenship.

•More teaching, less testing
oThe rise of high-stakes standardized testing has pitted schools against each other, narrowed the curriculum, and reduced teaching and learning to a bubble test.
oTest scores are an obsolete measure of student growth and more accurately reflect students' out-of-school circumstances rather than the impact of schools and teachers.
oWe should not hold school funding or teachers' jobs hostage over a single score.

•Positive discipline policies and an end to zero tolerance
oHarsh school discipline policies disproportionately impact students of color and students with disabilities.
oThey increase the likelihood that a student will drop out or become involved in the juvenile justice system, and thus contribute to persistent achievement gaps for these students.
oAlternative discipline policies allow students to learn from their mistakes without excluding them from the classroom, and they provide a safer and more supportive school climate.

•Quality, affordable education from early childhood through college, including for undocumented students
oThe success of our nation's public schools rests on creating a pipeline of quality resources and opportunities from a child's earliest years through higher education.
oThis pipeline starts with quality resources and opportunities in a child's earliest years to ensure their healthy development and prepare them for kindergarten.
oAccessible, affordable and high quality postsecondary education is necessary to meet workforce needs and ensure a steady flow of civic-minded, educated community leaders.
oWe must also ensure a path to educational opportunity for undocumented students.

•A living wage that lifts people out of poverty
oWhile public schools can be a stairway out of poverty, equally important is a living wage that ensures more hardworking families have the time and resources to dedicate to their children.
oAs America's inequality gap grows, we must do more to support children and families both inside and outside the classroom.
oEveryone who works hard to care, support, and educate our children deserves a fair wage.
Sign the
Education Voter Pledge
.
Check out the Alliance on facebook.
Get angry, get involved, and take action.
~~~~~~~~~~~~~~~~~~~~~~~~~~~~~~~~~~~~~~~~~~~~~~~~~~~~~
News by dopper0189, Black Kos Managing Editor
~~~~~~~~~~~~~~~~~~~~~~~~~~~~~~~~~~~~~~~~~~~~~~~~~~~~~

~~~~~~~~~~~~~~~~~~~~~~~~~~~~~~~~~~~~~~~~~~~~~~~~~~~~~
They think if we ignore skin color, racism will somehow disappear. Slate: Why Do Millennials Not Understand Racism?
~~~~~~~~~~~~~~~~~~~~~~~~~~~~~~~~~~~~~~~~~~~~~~~~~~~~~
When you hear MTV, you don't think "research." But, for the last few years, the music television channel has been building a public affairs campaign to address bias called "Look Different." Aimed at millennials, it seeks to help them deal with prejudice and discrimination in their lives. And as part of the project, MTV has worked with pollsters to survey a nationally representative sample of people ages 14 to 24 to measure how young people are "experiencing, affected by, and responding to issues associated with bias."
Overall, MTV confirms the general view of millennials: Compared with previous generations, they're more tolerant and diverse and profess a deeper commitment to equality and fairness. At the same time, however, they're committed to an ideal of colorblindness that leaves them uncomfortable with race, opposed to measures to reduce racial inequality, and a bit confused about what racism is.
All of this is apparent in the findings. Ninety-one percent of respondents "believe in equality" and believe "everyone should be treated equally." Likewise, 84 percent say their families taught them to treat everyone the same, no matter their race, and 89 percent believe everyone should be treated as equals. With that said, only 37 percent of respondents (30 percent of whites and 46 percent of minorities) say they were raised in families that talk about race.
For this reason, perhaps, a majority of millennials say that their generation is "post-racial." Seventy-two percent believe their generation believes in equality more than older people, and 58 percent believe that as they get older, racism will become less of an issue. It's almost certainly true that this view is influenced by the presence of President Obama. Sixty-two percent believe that having a black president shows that minorities have the same opportunities as whites, and 67 percent believe it proves that race is not a "barrier to accomplishments."
It's no surprise, then, that most millennials aspire to "colorblindness." Sixty-eight percent say "focusing on race prevents society from becoming colorblind." As such, millennials are hostile to race-based affirmative action: 88 percent believe racial preferences are unfair as a matter of course, and 70 percent believe they are unfair regardless of "historical inequalities." Interestingly, the difference between whites and people of color is nonexistent on the first question and small (74 percent versus 65 percent) on the second. But this might look different if you disaggregated "people of color" by race. There's a chance that black millennials are more friendly to affirmative action than their Latino or Asian peers.


Millennials see racism as a matter of different treatment, justified by race, that you solve by removing race from the equation.
Photo illustration by Slate. Photos by Shutterstock.
~~~~~~~~~~~~~~~~~~~~~~~~~~~~~~~~~~~~~~~~~~~~~~~~~~~~~

~~~~~~~~~~~~~~~~~~~~~~~~~~~~~~~~~~~~~~~~~~~~~~~~~~~~~
False claims go unchallenged, racial fears are stoked -- and political scientists discover it helps GOP at polls. Salon: Fox News' divisive race strategy: How O'Reilly, Hannity and Coulter intentionally tore America apart.
~~~~~~~~~~~~~~~~~~~~~~~~~~~~~~~~~~~~~~~~~~~~~~~~~~~~
Fox News also appears to cater to ethnocentric assumptions. This discourse has grown with the election of Obama to the White House. In one study, researchers asked panelists where they obtained their televised news about national and international affairs. Roughly one-quarter of respondents indicated that they received their information from Fox News. At the time of the study, questions of Obama's birth were being raised. When asked if they believed Obama was born in the United States, only 21 percent of Fox viewers said that Obama was American born. The authors of the study, Michael Tesler and David O. Sears, wrote, "[T]he reinforcing and/or persuasive role of oppositional media outlets like Fox News and conservative talk radio could make it increasingly difficult to disabuse the sizable minority of individuals disposed to accepting invalid assertions designed to paint Obama as the 'other.'" In the face of such evidence, many Fox apologists, commentators, and guests often defended the views of Birthers and Tea Party activists. While frequent Fox talking head Ann Coulter claimed that that no one on Fox ever mentioned "Birtherism," research indicates that not only did Fox News mention it; they ramped up coverage of the Birthers leading up to the April 2011 release of the "long form" birth certificate. Moreover, at least 85 percent (forty-four out of fifty-two) of false claims about Obama's birth went unchallenged on Fox News. Fox segments repeated that Obama never produced a birth certificate, that Obama's grandmother said he was born in Kenya, and that Obama spent $2 million in legal funds blocking the release of his birth certificate.
~~~~~~~~~~~~~~~~~~~~~~~~~~~~~~~~~~~~~~~~~~~~~~~~~~~~~


~~~~~~~~~~~~~~~~~~~~~~~~~~~~~~~~~~~~~~~~~~~~~~~~~~~~~
The Republican Party is hiring people to reach out to black and Hispanic communities, and setting goals for the number of minority candidates it will recruit. While at the same time, Republican judges are moving closer to a long-held conservative goal of ending affirmative action. Talking Point Memo: AP: Is GOP's Minority Recruitment Affirmative Action?
~~~~~~~~~~~~~~~~~~~~~~~~~~~~~~~~~~~~~~~~~~~~~~~~~~~~~
It's a delicate dance for the GOP: try to appeal to minorities, whose support has trended toward Democrats, and highlight an increasingly diverse roster of up-and-coming politicians without violating core principles.
The party's platform says it opposes "preferences, quotas and set-asides as the best or sole methods through which fairness can be achieved, whether in government, education or corporate boardrooms." Notably, that could leave room for the consideration of race as one of many factors in selecting candidates or students, which is how affirmative action generally is practiced.
Even that looser standard is banned under measures backed by Republicans in seven states that have outlawed government affirmative action.
Last month, Republican-appointees on the U.S. Supreme Court, joined by one Democrat, upheld Michigan's voter-approved ban on considering race in any way in college admissions. It was the latest of a series of rulings by the court's conservative majority to limit affirmative action.
Mark Rosenbaum, who argued the case on behalf of minority groups that opposed the affirmative action ban, said the sort of routine outreach that political parties perform is prohibited to public universities under laws like Michigan's. "They can say, 'If you're a person of color, you would not feel out of place in our party,'" Rosenbaum said. "But if a university said that, there would be 1,000 lawsuits tomorrow."
The GOP is spending $60 million to expand its outreach among demographic groups with whom it historically has struggled, including Hispanics, African-Americans and Asian-Americans. A new initiative aims to recruit 300 women and 200 minorities to run for state and local office. Republicans already bested their prior goal last year of finding 100 new Hispanic candidates.


~~~~~~~~~~~~~~~~~~~~~~~~~~~~~~~~~~~~~~~~~~~~~~~~~~~~
The Obama administration has entered an unexpected, unpredictable debate over the nation's racial progress, warning in several events last week that much work remains to be done. Washington Post: Holder confronts racial issues in address as White House puts discrimination at the fore.
~~~~~~~~~~~~~~~~~~~~~~~~~~~~~~~~~~~~~~~~~~~~~~~~~~~~
Nearly six years after the United States elected its first black president, the signposts of the latest discussion have appeared across the cultural landscape — from the professional sports arena, to the diminishing Western frontier, to a little New England town where an elected official is refusing to apologize for referring to the president by a famously derogatory racial epithet.
On Saturday, Attorney General Eric H. Holder Jr. provided the administration's starkest assessment to date. In a commencement address, Holder warned that recent public episodes of racial bigotry should not obscure the greater damage done by more systemic forms of prejudice and discrimination.
"If we focus solely on these incidents — on outlandish statements that capture national attention and spark outrage on Facebook and Twitter — we are likely to miss the more hidden, and more troubling, reality behind the headlines," Holder told the graduating class at Morgan State University in Baltimore.
Holder was alluding to recent firestorms such as those set off by Nevada rancher Cliven Bundy, who gained notoriety for an armed standoff with federal officials and then offered a critique of black people in which he suggested that they may have been better off as slaves, and by Los Angeles Clippers owner Donald Sterling.
Saturday, Holder warned against the spectacle of such episodes. "These outbursts of bigotry, while deplorable, are not the true markers of the struggle that still must be waged, or the work that still needs to be done," Holder said.
"The greatest threats," he continued, "are more subtle. They cut deeper. And their terrible impact endures long after the headlines have faded and obvious, ignorant expressions of hatred have been marginalized."


Attorney General Eric H. Holder speaks about the 60th anniversary of Brown v. Board of Education at the Morgan State University commencement. - Barbara Haddock Taylor/Baltimore Sun.
~~~~~~~~~~~~~~~~~~~~~~~~~~~~~~~~~~~~~~~~~~~~~~~~~~~~~~~~~~
Voices and Soul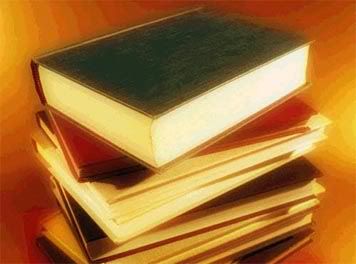 by Justice Putnam
Black Kos Poetry Editor
Jorge Mateus de Lima was considered by many to be the most complicated of the artists who took part in the Semana de Arte Moderna (Week of Modern Art) in São Paulo in 1922; that has come to mark the independence of Brazilian literature and art from its European models. Inspired by an iconoclastic insurrection against the Parnassian ideals of the past, with their limiting views of national reality, modernist writers initiated a poetic rediscovery of Brazil and sought a new identity through popular language set in regional and folkloric detail that was rich in music and magic, dance and myth. The movement aimed to produce a literature for export to replace the dominant imported euro-centric literature.
Characteristic of Brazilian Modernism as a whole is the promotion of a critical consciousness of national reality, accompanied by an incorporation of its most diverse elements: the Indian and the Portuguese, the piano and the berimbau, the jungle and the school, the religions of the descendents of African slaves and the Landowner Elite.
Though few of de Lima's critics were as enthusiastic about his so-called Christian Phase; when he converted to Catholicism and used its many icons and images in his poetry; he remained true to the ideals of the Semana de Arte Moderna; where myth and reality are not two opposites; but an intermingling that is emblematic of the Brazilian Soul.
Poem To A Sister

O sister
now that the nights come early
and an immense sadness
hovers above everything
and the silence lingers for so long
turning the dogs insane on the streets,
sister, come to remind me
that we grew up together
when the days were long and different.
Sister, if you know the signs
to change the time, come.
Come because I want to leave
to other places
where seagulls are less useless
and where a heart can be found at each harbour;
and the seabirds
so cleansed and white
and so slow and aware of journeys
come to flap
above my pipe
where the comets of the sky faded.
Sister, on my rhythms
are friends who shout:
Daubler, Ehrenstein, Stramm, suicides,
vagabonds, lepers and prostitutes who
still remember their family prayers.
There are, somewhere, other air, other hills,
other limits...farewell sister.
O, what a long night,
o what such a long night!
What cries outside?
The humanity, or some fountain?
~~~~~~~~~~~~~~~~~~~~~~~~~~~~~~~~~~~~~~~~~~~~~~~~~~~~~~~~~~
Welcome to the Black Kos Community Front Porch