David Letterman on Fracking:

Ladies and Gentlemen, We're Screwed!
Stephen Colbert, aka The Fracker:
Come on, we're trying to throw a fracking party here, and these people are ruining it with their suffering.
As David Letterman is getting ready to pass the Late Show torch to Stephen Colbert, it's worth noting that when it comes to fracking, it's a hilariously explosive one.
Who could forget Dave's epic rant? I thought it was worth reposting for the occasion of this week's California Fracking Moratorium Blogathon.



He starts in his usual self-deprecating way

Let's talk about fracking. I'm not smart enough to understand it.
Before showing that he knows quite a bit about it.
Here's what I know about fracking:

The greedy oil and gas companies of this country have decided that they can squeeze every last little ounce of oil and gas out of previously pumped wells by injecting the substrata of our planet with highly toxic, carcinogenic chemicals, which then seep into the aquifer and hence into the water supply of Americans.
Then he lists the states where this is happening. If all goes well and we all do our part
California
will no longer be one of them, and as goes California, so goes the nation.
The Delaware water gap has been ruined, the Hudson Valley has been ruined. Most of Pennsylvania has been ruined. Virginia, West Virginia has been ruined. Colorado has been ruined. New Mexico has been ruined.
I'm no expert on fracking history and regulations, but this sounds like a typical "compromise" working in the extractor's favor.
They're poisoning our drinking water and the EPA said, "You know what? You no longer have to comply with EPA standards for stuff you put into the water." So the greedy oil and gas companies said, "Great, let's go crazy," (Paul Shaffer: "Of course!") and then some states are saying, "No, we have transparency laws, so the oil and gas companies say, "Okay, we'll tell you everything but 2 percent of what we're putting into your tap water."

And that's supposed to make us feel better.
Then of course, the verdict.
Ladies and gentlemen, we're screwed!
Dave's got a personal anecdote to drive home how bad this practice really is.
I've seen people set fire to their tap water. "Can I get you an ice water? Ka-Boom! (Paul Shaffer: "Oh Boy!")

I've seen people set fire to their toilets! (Paul Shaffer: "Haha, that's a different story.")
That was in college, I don't think they still do that.
And then some gallows humor to bring it all home.
So, from now on: Vodka.
Thanks Dave, I'm so glad you're venturing more and more into controversial political territory. Having a child must have had something to do with it.
But wait! It gets better.
A couple months later, Dave's successor at the Late Show grabs the fracking torch and runs it back to the fossil companies.
All the Colbert hilarity you'll need to cheer you up a little bit on a less than funny subject below the toppled orange fracking drill.
But first a message from your most excellent California Fracking Moratorium Blogathon Team. If you haven't yet called one of the lawmakers below to urge them to pass California Senate Bill 1132, pick up the phone now and dial the number. I swear, watching Colbert is even better after having made that call.
California Fracking Moratorium Blogathon
May 20-May 23, 2014
---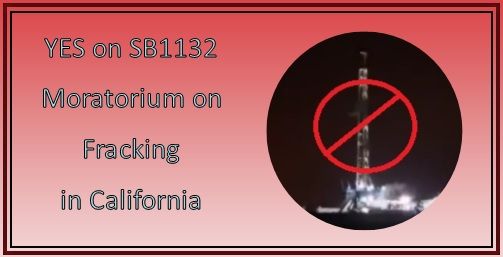 Key votes will be held this week on California Senate Bill 1132, which imposes a moratorium on hydraulic fracturing, or fracking as it commonly known. The fracking process poses many unacceptable public policy risks. These include contaminating water supplies; degrading public health; disproportionately affecting low income families and communities of color; using scarce water supplies in drought-stricken states; causing earthquakes; and harming wildlife and habitat fragmentation. If the bill fails, the legislative process toward moratorium must restart next January.
Please join us for a blogathon May 19-23 in a campaign to tell lawmakers to support this bill. This is a coordinated effort with a coalition of more than a dozen NGOs, including Earth Works, Sierra Club, and Center for Race, Poverty and the Environment.
And please call key lawmakers, ASAP. Tell them YES on SB 1132!
Sen. Darrell Steinberg: (916) 651-4006
Sen. Kevin De Leon: (916) 651-4022
Sen. Ricardo Lara: (916) 651-4033
Sen. Ed Hernandez: (916) 651-4024
Sen. Cathleen Galgiani: (916) 651-4005
Sen. Ben Hueso: (916) 651-4040
Sen. Lou Correa: (916) 651-4034
Sen. Carol Liu: (916) 651-4025
Sen. Richard Roth: (916) 651-4031
Sen. Norma Torres: (916) 651-4032
Please Help Pass a Moratorium on Fracking in California!
---
More details are in this announcement diary by boatsie.
California Fracking Moratorium Blogathon: May 20-May 23, 2014
Diaries Through Today, Wednesday, May 21st.
---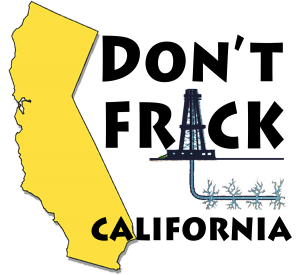 5:00 pm: Blogathon announcement diary - CA Fracking Moratorium Blogathon: SB 1132 in Suspense! by boatsie.
1:00 pm: If Texans can't live with fracking, Californians can't either by Txsharon and Jhon Arbelaez.
2:00 pm: SB 1132 Blogathon — Letters, Comments, Talking Points, Environmental Wisdom, and Music by WarrenS.
3:00 pm: Fight Back, Don't Frack! by Senator Holly J. Mitchell (D-Los Angeles/CA).
5:00 pm: A fracking ban might just have to start at home by Daniel Kessler.
1:00 pm: citisven.
3:00 pm: Steve Horn.
5 pm: Environmental Action.
---
Please tweet all diaries posted during the day, adding the hashtag #SB1132. Feel free to link to your Facebook pages, and remember to republish each diary to your DK Groups. You can also follow all postings by clicking this link for the Climate Change SOS Blogathon Group. Then, click 'Follow' and that will make all postings show up in 'My Stream' of your Daily Kos page. Graphic Credit: 350.org.
With a huge h/t to the awesome BruinKid. Not much I could add to make this any more sad funnier.

Part 1. Golden Age of Flammability

These days, I can burn carbon to my heart's content, because America is enjoying a new golden age of flammability.


DAVID POGUE, NYT (12/30/2012): There are 36,000 fracking wells in this country. Thousands more open up every year. The price of natural gas has dropped 86% from its high in 2008. We're actually about to start exporting it.


MONICA CROWLEY (1/9/2013): You could wipe out the unemployment problem in this country overnight by fracking.

ANN McELHINNEY, "FRACKNATION" DIRECTOR (10/28/2012): It's an extraordinary ability now for America to extract its oil and natural gas and, you know, become, you know, energy independent. It's amazing, amazing for America.

Yes, it's absolutely amazing. Energy is so cheap, I can finally realize my dream of making my furnace and air conditioner fight. (audience laughter) Who loves me more, boys?


America has found the goose that lays the golden egg. Unfortunately, it is pooping all over our house.


LINK TV INTERVIEW: It killed the pond, it killed the fish, it killed everything in the pond, no frogs, no turtles, nothing.


NATURE ABOUNDS INTERVIEW: They're poisoning you. And they're telling you nothing's wrong. And you're the only one that has a problem.

PAT FARNELLI: My kids started getting sick early on in the drilling process. ... It's sort of like a very bad intestinal bug.

NBC (10/18/2012): The image of water catching fire in the documentary Gasland has come to symbolize the anti-fracking movement.

Now sure, maybe you can't wash your dishes anymore. (audience laughter) But, on the bright side, now you've got a kiln to make new ones. And come on, we're trying to throw a fracking party here, and these people are ruining it with their suffering. It's like going to a barbecue and seeing a video of factory farming. I don't want to meet all 400 cows in my burger.
Part 2: The Word - Gag Gift

Now fortunately, folks, there's a way we can enjoy the fruits of fracking without feeling the guilt. And it brings us to tonight's Wørd: Gag Gift.

Folks, I'm a sensitive guy. I cried when those hunters shot Bambi's mother. They should've shot his dad; he's a 10-point buck. (shocked audience laughter)

So naturally, I was touched when I heard about a family living near a Pennsylvania fracking site who had to move because "air and water contaminants caused them to experience burning eyes, sore throats, headaches and earaches".

Ultimately, the family was able to get the company, Range Resources, to agree to an out of court settlement for $750,000 to relocate. Wow. For that kind of money, you could buy something nice. (Like A Respirator)

Now in return, the company simply asked for a signed statement from the family saying "that it suffered no environmental, health or safety impact from drilling adjacent to their property". (audience starts to boo) And to agree to "lifetime bans on what they can say". (audience boos some more) Because if a tree falls in the forest, and you pay the family who heard it not to talk, then it didn't make a sound. (Especially If It Falls On Them) (audience cheering and applause)

Now, no wonder gag orders like this are so common.


MEGAN HUGHES, BLOOMBERG NEWS (6/6/2013): Bloomberg reviewed hundreds of regulatory and legal filings, and found drillers paying for silence over water contamination complaints in at least half a dozen states.

They're everywhere. Paying for silence is catching on like tap fire! (Who Wants To Wash Marshmallows?!) (audience laughter) But folks, the fun part is that this gag order also included the family's two children, ages 7 and 10. Important lesson, kids. If you don't have anything nice to say, don't say anything at all. (First Rule Of Frack Club...) (audience laughter)


But even after they moved, these crybabies are crying about their babies, claiming that imposing a gag order on minors violates their First Amendment rights. But Judge Paul Pozonsky, who approved the settlement, had an airtight rebuttal, saying, "That's a law school question, I guess." (shocked audience laughter) Judge Pozonsky has since resigned. (Hopefully To Go To Law School) (audience laughter and applause)

Now the problem, I think, and this might just be me, the problem with enforcing a gag order on a 7-year-old is that for the rest of their lives, any time someone brings up fracking, the kids won't talk. But they'll have a haunted look in their eyes, like when you ask Vietnam vets about Agent Orange, or ask NBC executives about Donald Trump. (a.k.a. Agent Orange) (audience laughter and applause)

Now people might start to suspect that the kids think there's something wrong with fracking. We need some way to change what they think. Maybe, I dunno, maybe drill into their skull, and inject new thoughts into their brains under extreme economic pressure to shatter those old thoughts, and then extract positive messages about fracking. ("It's Helping The Earth Burp!") (audience cheering and applause)

Now I guess what I'm trying to say is, I wish there was a way my car could run by burning the innocence of children. (Tear Gas) (shocked audience response)

Anyway, in a way, it kinda does, because these companies are just asking for kids to lie for money. And in order to get cheap oil, I think we're all willing to lie to ourselves about fracking. (Gag Gift) And that's the Wørd. We'll be right back.
You know your industry has a problem when the comedians are ripping you mercilessly.
But you know you're toast when the pope is giving you the thumbs-down.
Meet the Newest Anti-Fracking Activist: Pope Francis.

Pope Francis holding up anti-fracking t-shirts following a meeting with a group of Argentinian environmental activists to discuss water and fracking issues. The shirts read "No To Fracking" and "Water Is More Precious Than Gold."