As the detrimental effects of climate change intensifies droughts your dog may not be the only member of your household using the toilet for drinking water.
Wichita Falls Sees Wastewater Recycling As Solution To Drinking Water Shortage

BY SHELLEY KOFLER, KERA NEWS

Wichita Falls could soon become the first in the country where half of the drinking water comes directly from wastewater.

Yes, that includes water from toilets. For some citizens, that's a little tough to swallow.

Mayor Glenn Barham says three years of extreme drought have changed life for 104,000 people living in Wichita Falls, which is about 140 miles northwest of Dallas.
"It definitely grosses me out," Smith said. "I'm sure that they would clean it and filter it up to standards. But it's a mindset kind of thing. You know what I'm talking about?"
Water experts know it as "direct potable reuse," something that's been tried on a much smaller scale in Big Spring, Texas.

But some people unceremoniously call it "toilet-to tap," a moniker that Utilities Operations Manager Daniel Nix says isn't really accurate.

"The vast majority of water that enters a wastewater plant did not come from a toilet. It comes from sinks, and bathtubs and washing machines and dishwashers," he said. Nix said less than 20 percent of wastewater comes from toilets.
Texas' drinking water shortage has gotten so bad, one city is turning to toilets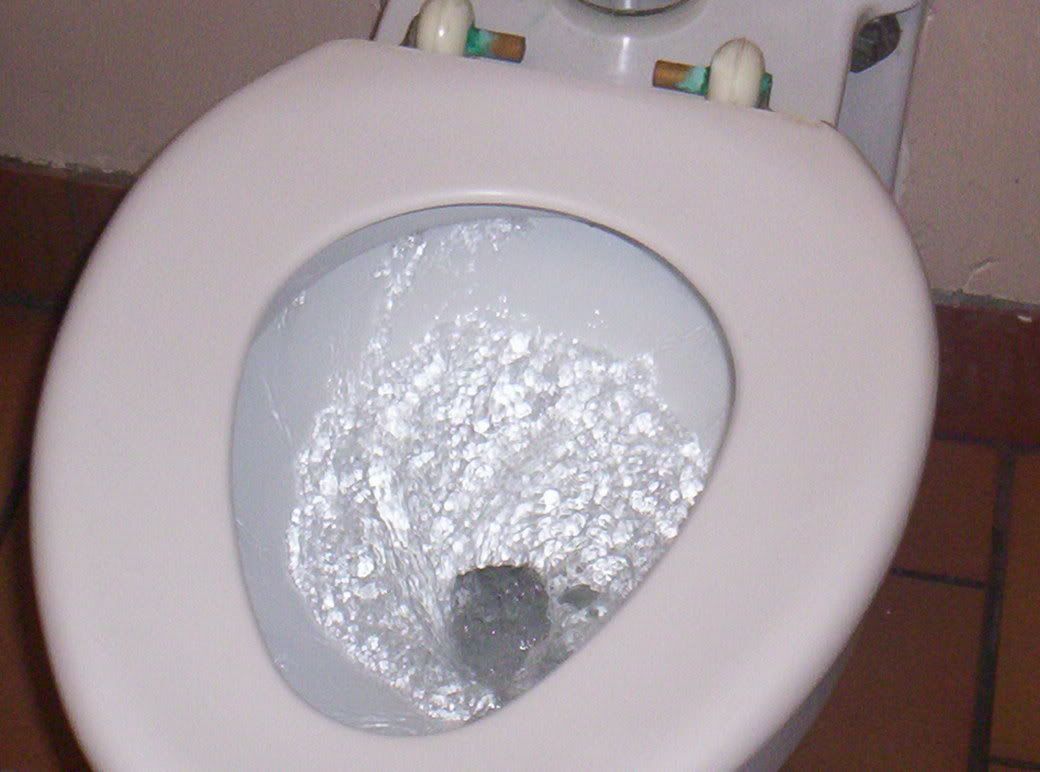 Yum?
Wichita Falls is represented in congress by Republican Mac Thornberry who wrote in a USA Today OpEd:
Washington won't solve our drought

Jumping to conclusions and inflicting real hardship on people based on computer simulations, however, does not make sense.

Any decisions we make should be based on sound science rather than political, social or personal profit agendas. No computer model yet has correctly predicted the Earth's actual temperatures. We simply do not understand enough about the causes and effects related to our weather.

Yet, some in Washington continue to push for new regulations and added taxes based upon those flawed models. Their policies would cost us jobs as the economy continues to struggle.
There will always be those who want to exploit hardship to push their agenda, but my part of the country cannot afford the taxes and regulations they want to impose on us. A prayer for rain, however, would be appreciated.
I see Thornberry lacks any sense of irony.
Towns like Wichita Falls and Big Springs aren't alone either.

Texas communities poised to run out of water within 3 months

Dozens of Texas communities are feeling the effects of a water shortage that could render them without water within three months, a situation that would not only make residents thirsty but also hurt the economy.

No less than 34 municipalities throughout the state have warned that they are at risk of drying up entirely by the end of the summer, 12 of which warned they do not expect to have water within 45 days.
Texas isn't the only state suffering from water shortages, the whole state of California is also in an extreme drought.

California Drought Greatly Affecting Wildlife

By Courtney Heitter

A recent drought monitor has confirmed that 100 percent of California is now suffering from severe drought conditions. This marks the worst water crisis that California has seen in its recent history. Every person living within the state is suffering in a small or large way due to this water shortage. Much of the wildlife in California was already vulnerable, due to species decline or habitat loss; the wildlife of the state is greatly affected by the drought and is expected to come upon very hard times.

California suffered a recent heat wave which sparked nine different wildfires which in turn prompted over 11,000 mandatory evacuations and consumed 9,000 acres of land.
Wildfires go hand in hand with extreme drought. Residents of the Flagstaff area are now fleeing their homes in the face of a monster wildfire.
The US Drought Monitor shows that areas across 18 states are experiencing drought conditions
As water scarcity becomes a critical problem in more places, more water managers will have to consider taking drastic measures like resorting to waste-water for drinking.
But right wing media scrupulously avoids mentioning how these droughts are tied to climate change. Just look:
Drought Worse Than Dust Bowl In Some States
How is it even possible to write a piece titled Report: 40 States Expect Water Shortages In The Next Decade without mentioning Climate Change? Blinders!

What's exceptional about the current drought — and what isn't

BY PHILIP BUMP

But, then, half the country has been in drought for half of the weeks since January 2000. Yes, we're looking only at an era in which global warming already exists (we aren't comparing now with, say, 1920), but the current level of national drought isn't remarkable. It isn't even remarkable for May. In the majority of years since 2000, more than half of the country has been in drought during May.
Update:
For those readers who keep missing the point of this post entirely I'll spell it out for you:
Recycled water is fine, climate change driven droughts are what's icky!
.