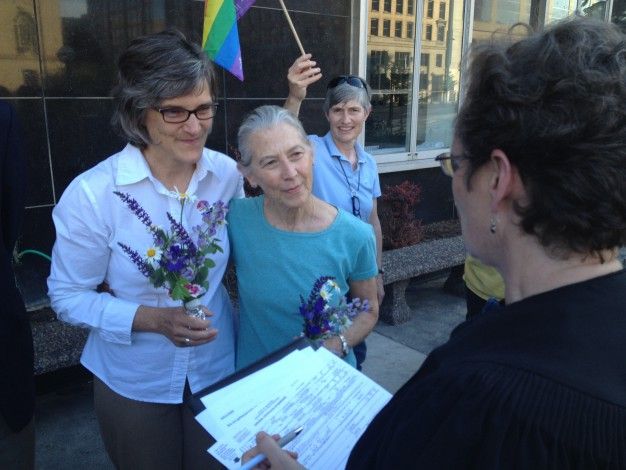 Photo credit: The Badger Herald
Ryan J. Reilly of Huffington Post calls our attention to Federal Judge To Wisconsin: You Know 'Traditional' Marriage Was Polygamy, Right? U.S. District Judge Barbara Crabb ruled that Wisconsin's ban one same-sex marriage violates the U.S. Constitution, saying same-sex couples are "entitled to the same treatment as any heterosexual couple."
As a bonus in her 88-page decision, she adds some education about what the Bible says about "traditional marriage." She rejected the state's argument that "virtually all cultures recognize marriage ... as a union of opposite-sex couples." "you know tradiitonal marriage was poligamy, right?" In a move that will no doubt shake up right-wing ideologues. Some of them might actually read it for the first time and be "shocked, truly shocked" to discover backward, weird, and archaic thoughts strewn throughout. But, also radical and strange new ideas about forgiveness, tolerance, compassion for others, and taking care of the poor. Oh, to be a fly on the wall.

In defending their same-sex marriage ban, state officials claimed that "virtually all cultures through time" have recognized marriage "as the union of an opposite-sex couple."

"As an initial matter, defendants and amici have overstated their argument. Throughout history, the most 'traditional' form of marriage has not been between one man and one woman, but between one man and multiple women, which presumably is not a tradition that defendants and amici would like to continue," Crabb wrote in her opinion.

"Like moral disapproval, tradition alone proves nothing more than a state's desire to prohibit particular conduct," she wrote, citing Justice Antonin Scalia's dissent in a 2003 sodomy case, which stated that "'preserving the traditional institution of marriage' is just a kinder way of describing the State's moral disapproval of same-sex couples."
Crabb also noted that "tradition was used as an argument to keep women from voting."
Greg Botelho, of CNN reports Wisconsin same-sex marriage ban struck down

"I conclude that the Wisconsin laws prohibiting marriage between same-sex couples interfere with plaintiffs' right to marry, in violation of the due process clause, and discriminate against plaintiffs on the basis of sexual orientation, in violation of the (Constitution's) equal protection clause," the judge wrote.

The Wisconsin ban violates the U.S. Constitution, said U.S. District Judge Barbara Crabb. She said same-sex couples "are entitled to the same treatment as any heterosexual couple."

In her ruling, Crabb noted that all federal judges weighing in on state same-sex marriage bans have come to the same conclusion -- that such prohibitions should not stand -- since the Supreme Court's landmark ruling on U.S. v. Winsdor last June.
That 5-4 opinion, written by Justice Anthony Kennedy, struck down the Defense of Marriage Act's definition of marriage as only between a man and a woman but did not directly affect individual states' laws restricting marriage based on sexual orientation. Yet many federal judges have cited the decision on United States v. Windsor in their judgments, as well as the argument that same-sex marriage bans violate the 14th Amendment of the U.S. Constitution.

Our society evolution towards full equality for all Americans is unstoppable. It is astonishing to see how quickly perceptions have changed. With each passing week we hear of another decision that openly mocks the idea of "traditional marriage as absurd." And, it was not just the polygamy thing. The Bible also says if a man should die, his younger brother must marry his wife. Someone made a full list that was truly bizarre that nearly everyone would object to.
In retrospect, it seems odd, and implausible that it could have taken us this long as a society to clearly say this. The fundamentalists must be apoplectic. Which may be a good thing. Acceptance of reality is often said to be the first step towards a cure.