… As they get the day's 'marching orders.'
Republicans have long been known for their adherence to a careful thought-out and planned 'message,' so that their practice of repetition, repetition, repetition achieves maximum impact with the electorate. Even so, it is rare to get a behind-the-scenes glimpse into this practice as it filters down to their youngest members.
First, a word from our sponsor ...
Top Comments recognizes the previous day's Top Mojo and strives to promote each day's outstanding comments through nominations made by Kossacks like you. Please send comments (before 9:30pm ET) by email to topcomments@gmail.com or by our KosMail message board. Just click on the Spinning Top to make a submission. Look for the Spinning Top to pop up in diaries around Daily Kos.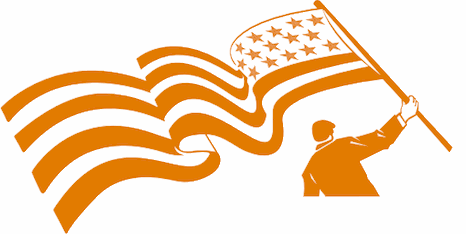 Make sure that you include the direct link to the comment (the URL), which is available by clicking on that comment's date/time. Please let us know your Daily Kos user name if you use email so we can credit you properly. If you send a writeup with the link, we can include that as well. The diarist reserves the right to edit all content.
Please come in. You're invited to make yourself at home! Join us beneath the fleur de kos...
It is a very short video, only slightly garbled, so I was able to do a fairly complete transcript of the latest message, focusing, this time, on their time-honored practice of scape-goating - holding others (never THEM!) accountable for some real or imagined slight of our citizens or someone else in the world.
It's an insidious practice, hard to watch, I concede, but mercifully short, at, on this occasion, a scant 18 seconds. Yet, even that is planned and accounted for, as their attention spans are known to be short, and a more complex message simply would never do, either for their 'messengers' or for those so susceptible to their lies and manipulations. One thought is really about all they can hold in their heads, at this young age (and it doesn't get much better as they mature, as you know).
I am dismayed it has fallen to Top Comments to 'break' this incident, but I have read the comments attached to the video on YouTube, and it is clear that none of the commenters have completely understood what they were watching. Simply, without this diary, it is possible the story would never get out.
Here, then, is the video that was captured. Young Republicans. In lock-step chorus, performing their call and response duties, faithfully, mindlessly.
And here is the transcript, as best I could capture it.

Instructor:

Whatever happened, who is to blame?

Mob:

Obaaahmaaah.

Instructor:

Who is that again?!

Mob:

Obaaahmaaah.
Instructor:

Who?!

Mob:

Obaaahmaaah.

Ok, you're good.
On to tonight's comments, compiled by
brillig
! (Please send great comments in when you find them! The entire Daily Kos community may benefit!)
---
Brillig's ObDisclaimer:
The decision to publish each nomination lies with the evening's Diarist and/or Comment Formatter. My evenings at the helm, I try reeeeallllyy hard to publish everything
without
regard to content. I really do, even when I disagree personally with any given nomination. "TopCommentness" lies in the eyes of the nominator and of you, the reader - I leave the decision to you. I do
not
publish self-nominations (ie your own comments) and if I ruled the world, we'd all build community, supporting and uplifting instead of tearing our fellow Kossacks down.
From zenbassoon:

In Richard Lyon's diary about Secretary Kerry being open to working with Iran to stop ISIS , Rich in PA makes the perfect comment.
A couple of 'flagged' comments:


Flagged by Timaeus, this comment by Mokurai gives deeper insight into HRC for the coming fights.

Flagged by kharma, this comment by allenjo is a fine (and well-received!) one on the US Constitution and the Bill of Rights.
From BeninSC:


This comment from Dave in Northridge describes a very good Top Comments comment recommendation practice, one I think most of us observe! (All I (BeninSC) would add is, that I did not recommend a comment in a TC or other context is NOT a message! Not for me. I likely never read the comment I did not rec.)
Top Mojo for yesterday, June 15th, first comments and tip jars excluded. Thank you mik for the mojo magic! For those of you interested in How Top Mojo Works, please see his diary FAQing Top Mojo.

1) I'd be OK with HRC by Boris Godunov — 131
2) Think how much more consequential he could by Fordmandalay — 110
3) The campaign hasn't begun yet. . . by The X — 104
4) But I'll add that this is all premature by Boris Godunov — 95
5) By Obama evolving against DOMA, he came to the by Wendys Wink — 92
6) Yes. She was a great mind who had the misfortune.. by arendt — 91
7) No list is complete by oruacat2 — 88
8) If you look closely at ever evil thing, by CwV — 88
9) Yup, he killed OBL by edwardssl — 85
10) He asks the correct question by BOHICA — 84
11) I still think by 47songs — 84
12) My ideal candidate.. by Le Champignon — 82
13) Shep Smith has been known to commit journalism by zenbassoon — 79
14) Personally by vcmvo2 — 79
15) Holy cripes, reading that Jane Jacobs quote was by concernedamerican — 78
16) Know how you feel. I danced on Nixon's grave. by DocDawg — 78
17) Finally, a voice of sanity... by JeffW — 76
18) From what I was able to ascertain by Mopshell — 75
19) Kudos for bringing back Jacobs by Dallasdoc — 74
20) Thanks eric. I think Krugman is right on target. by HoundDog — 73
21) been raining for days and days by Portia Elm — 70
22) Sekritarmy Father's Know Best! by arizonablue — 67
23) Holy shit. by zenbassoon — 67
24) In my life by Livvy5 — 63
25) I am not interested in who by rexymeteorite — 62
26) W/o the family pulling every string possible GWB by RFK Lives — 60
27) Yes. common sense at last. by dengre — 59
28) 11. Never listen to the always-wrong by Dallasdoc — 58
29) Wow is this negative. by tmservo433 — 57
30) No time for alone time. by kerflooey — 57
31) Handbasket situation. by side pocket — 57
Top Pictures for yesterday, June 15th. Click any image to be taken to the full comment. Thank you jotter for the image magic!