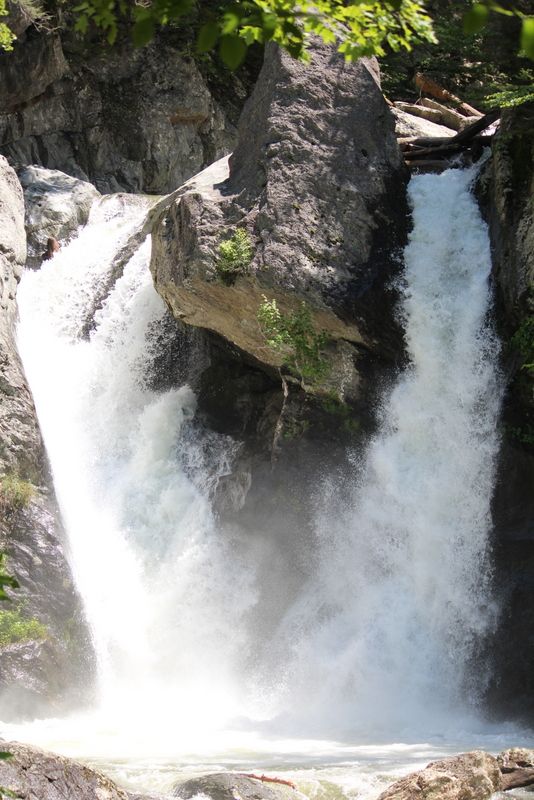 Bash Bish Falls is located in the southeast corner of Massachusetts in the Mount Washington State Forest. It's approximately an hour and a half from our place and a fine, scenic drive on a Saturday afternoon. Join me below the raging orange rapids for a photo essay of our adventure.
The Backyard Science group regularly publishes The Daily Bucket, which features observations of the world around us. Insects, weather, meteorites, climate, birds, flowers and anything natural or unusual are worthy additions to the Bucket and its comments. Please let us know what is going on around you in a comment. Include, as close as is comfortable for you, where you are located. Each note is a record that we can refer to as we try to understand the patterns that are unwinding around us.
I had been to Bash Bish once, many moons ago in my twenties. I have very clear memories of a large, open parking lot and the falls visible immediately to the right of the lot with a lovely grassy lawn to lounge on. Upon arriving at The Place, I discovered that my memory was not just slightly degraded but downright fraudulent.
The parking lot was your typical state park lot, unpaved, everyone crammed in like cattle and lowing uneasily. To be fair, it WAS a large lot and there was a ranger on hand to direct traffic. We found a spot quickly and unloaded ourselves and Gracie the Wonder Pug. Gracie is a great fan of parks and gets quite put out when we take off without her.
My next failure of memory was the falls being right next to the lot. It was actually a three quarter mile hike, most of it UP, to get there. Hmmmm . . . time to start looking into some ginko biloba.
At one point, the trail lies directly next to the little river that runs from the falls. As you can see, the water was pretty rough. Earlier in the week, we had some fairly strong thunderstorms with downpours (read: deluges) and the river was running very powerfully.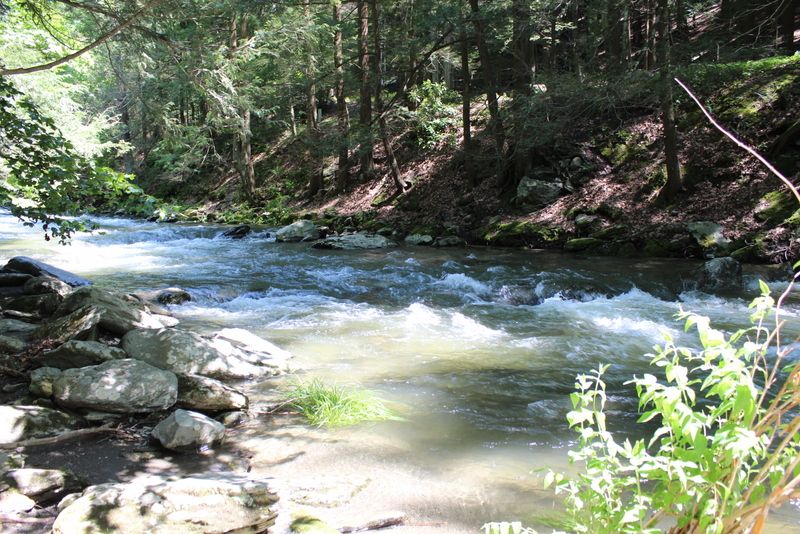 Gracie decided it was time to go wading.
On to the next failure of memory. Remember how the falls had a nice green lawn at their base to sprawl upon? Wrong. The trail ends at a look out with a 90 foot drop and you access the falls by a steep set of stairs.

I have a mind like a steel sieve.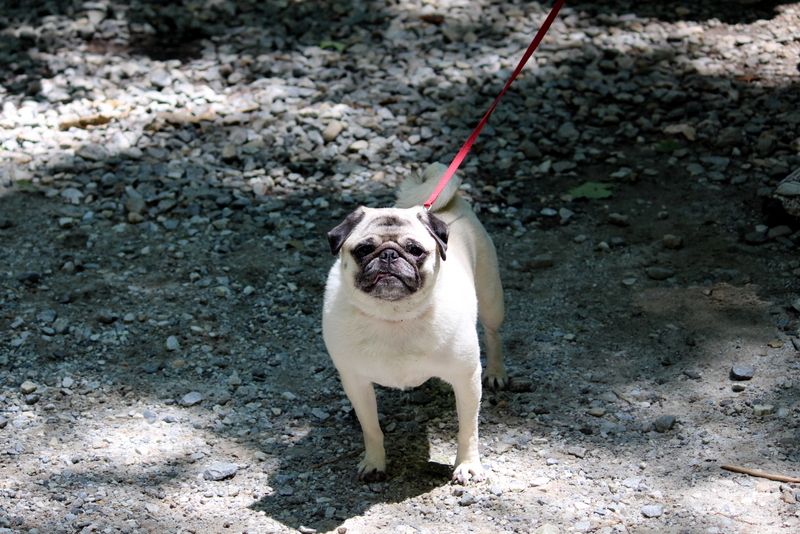 I ain't going down no stairs, Ma.
She wasn't kidding. Poor Gracie was absolutely terrified of the stairs and hubby and I absolutely mortified as smaller dogs happily zoomed down, tails waving with enthusiasm. We tried coaxing, pulling, bribing with treats - nothing. No way was she going down those stairs. We gave up when she tried to take refuge behind other tourists and they laughed at us.
I left Gracie up top with the Darling Spouse and headed down to take some pictures. Please forgive me for not getting a shot of the stairs. I was much more interested in navigating them successfully then recording them for posterity. All I can say is they were steep and they were deep and I made it in one piece.
Now for the glamour shots. Feast your eyes!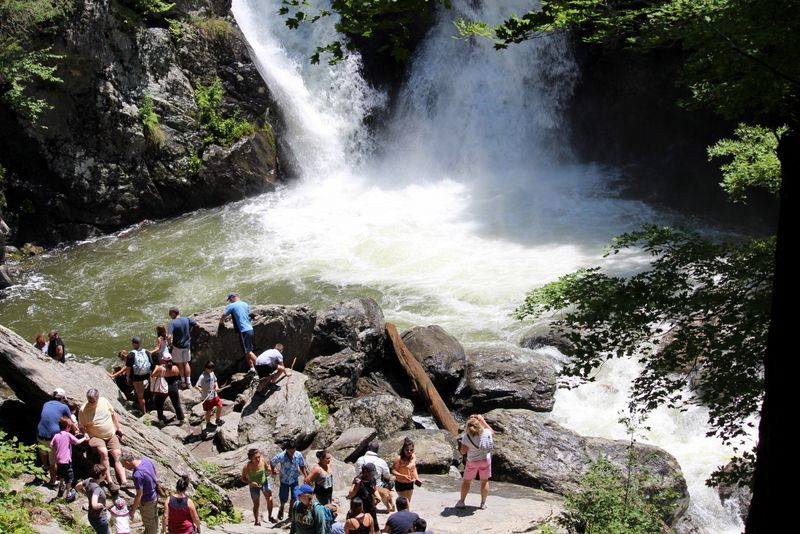 Did I mention there were a million people there, give or take a few?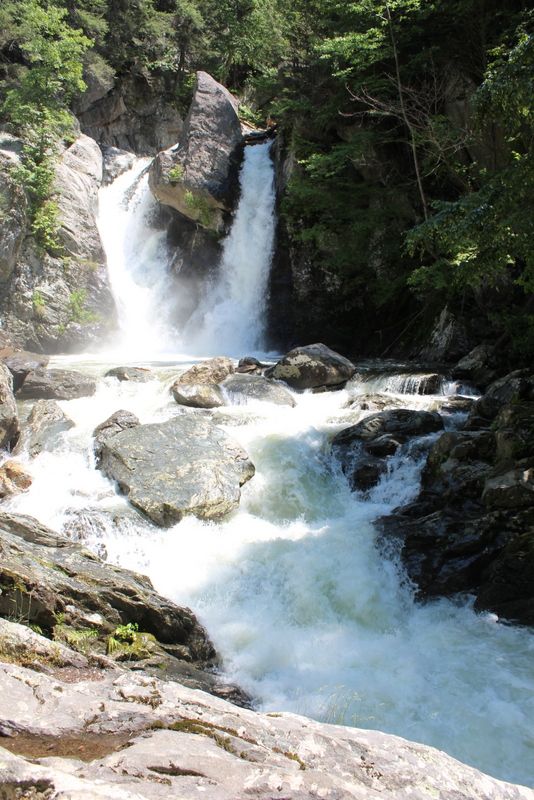 I would not want to be around when that boulder on top lets go!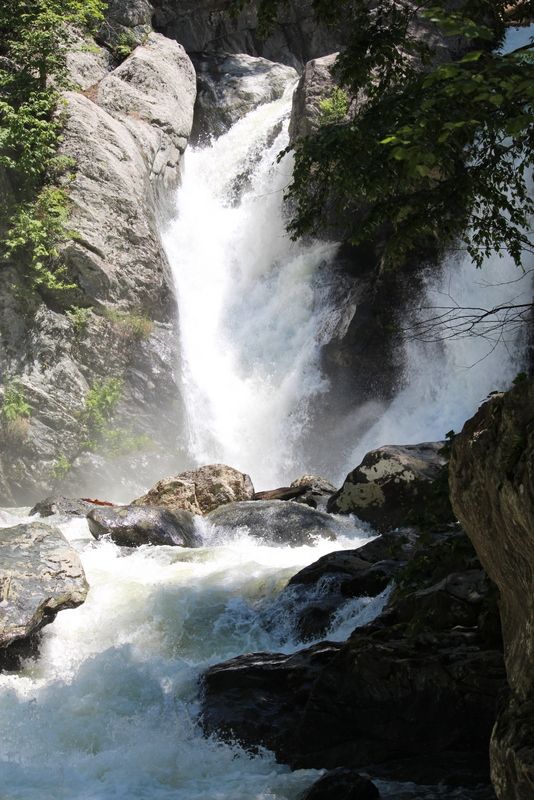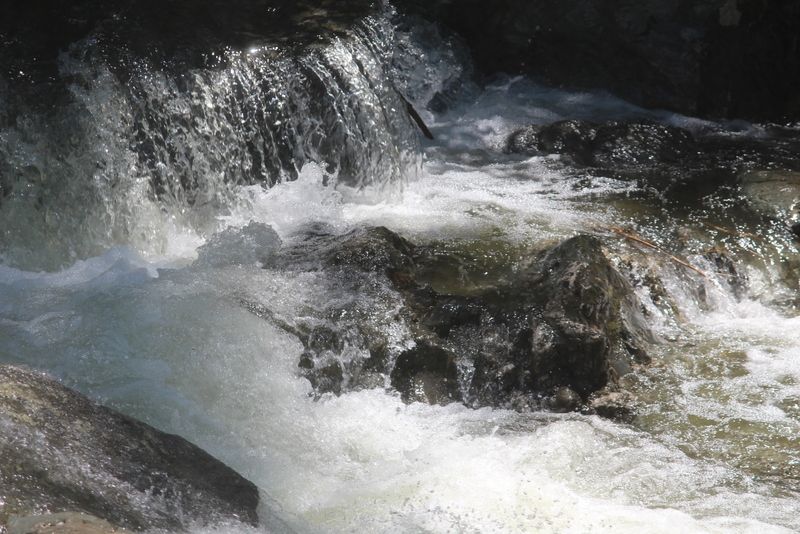 Hubby did make it down eventually by the simple expedient of picking the dog up and carrying her. He says she relaxed as soon as he picked her up and made no fuss at all on the trip down. Go figure. We made her walk back up on her own and the little brat ran the whole way.
We stopped once or twice on the way back. I found a sweet little patch of ferns just begging to have its picture taken.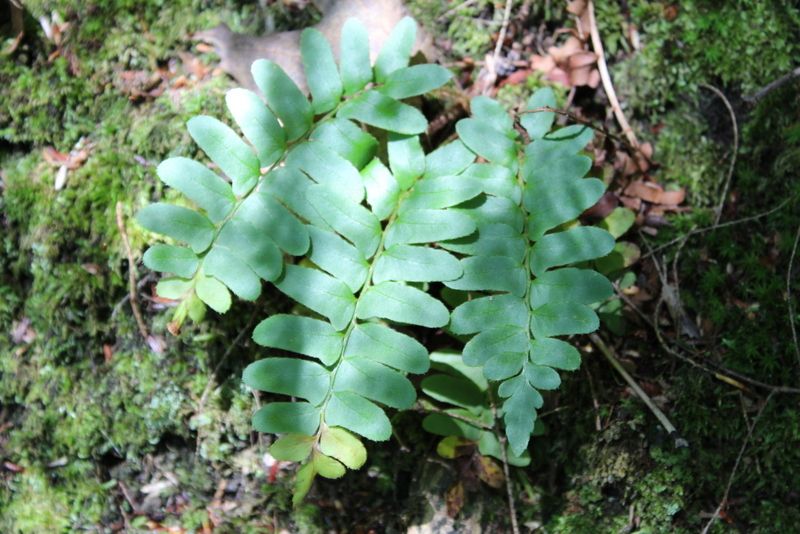 I also found a shrub with white flowers growing at the edge of the stream. I'm still trying to ID this and any ideas are welcome!
We stopped along the stream for some more wading and this time I joined Gracie for a game of Tug. Damn, that water was cold! My feet were blue when we came out.
I have to wonder, now that I've been back there, just what in the world I was remembering. Some other waterfall? A combination of two of my favorites? I'll have to keep going to more waterfalls till I find the one in my memory.
We had other adventures that day (took an even more scenic route home and tried a new restaurant for dinner) but they were decidedly less exciting and not nature-related. Gracie slept through them all. The creature.
"Spotlight on Green News & Views" will be posted every Wednesday at 3:30 p.m. PT and every Saturday at 1:00 p.m. PT on the Daily Kos front page. Be sure to recommend and comment in the diary.