A look at my 40th high school reunion (that I still have a glow from) after the jump ...
But first: Top Comments appears nightly, as a round-up of the best comments on Daily Kos. Surely you come across comments daily that are perceptive, apropos and .. well, perhaps even humorous. But they are more meaningful if they're well-known ... which is where you come in (especially in diaries/stories receiving little attention).

Send your nominations to TopComments at gmail dot com by 9:30 PM Eastern Time nightly, or by our KosMail message board. Please indicate (a) why you liked the comment, and (b) your Dkos user name (to properly credit you) as well as a link to the comment itself.
I was unable to attend the recent Netroots Nation gathering (two years in a row, alas) due to a bi-annual family reunion (and my 40th high school reunion) occurring on the same weekend as NN. As the former was in northeast Pennsylvania and the latter on my native Long Island, NY: it would require splitting my time to Friday night family time, then travelling north on Saturday, involving both Amtrak and a local car rental.
Yet a sudden illness that befell one of my aunts (who'll be fine) led to the cancellation of the family reunion - as that family wanted to be with my Aunt Agnes, and the host family felt that since we met last summer for a wedding (which is why I missed NN last year in California) we should probably skip this year. And so I made my way down on Friday night to the reunion hotel.
This was the fourth reunion for my high school class of 1974 (having had a 10, 20 and 35-year reunion previously) and having set-up a dedicated Class of 1974 Facebook page made facilitating this much easier. We had a large (400 students) graduating class, and with several living around the country (and one in France) ..... we needed all the help we could get.
Unlike in past years - where there was simply a formal Saturday night gathering, and anything else was ad-hoc - the organizers arranged for some additional events, for those unable or unwilling to spring for a main event. And so Friday saw a restaurant gathering (along with a subsequent visit to a pub, where some old classmates were playing in a band).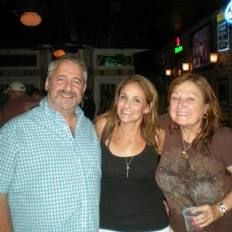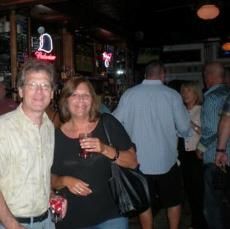 On Saturday morning, I took-up an offer from one of my classmates (Bob Pombo, on the left in the first photo above) to visit a classmate of ours in a nursing home (shown below). Shirley Robeants suffered a neurological disease fifteen years ago, and a later stroke confined her to a wheelchair. After the death of her husband and her brother Stan - who also was a member of our graduating class, and whom I knew better - her condition worsened, and she has been in a nursing home since. Sad to say: along with occasional visits from other classmates, Bob is the only one who sees her on any kind of a regular basis. He drives up from New Jersey to see his mother every other month, and stops in to see Shirley - more than her children do.
And so she was grateful to recognize Bob, probably did not recognize me but was happy to accept a Class of 1974 cap I gave her. Seeing her condition was a case of déja-vu: Shirley could get 3-4 words out, then be unable to finish the sentence - causing her to clench her fist. Having gone through that with my mother, I knew the feeling. But we were hopefully able to brighten her day - and more than once she clasped Bob's hand and said "I love you". For all of the fun and partying we had that weekend ..... I was glad I went on this trip; it was a reality check of the first-magnitude and a way of remembering all of our old comrades.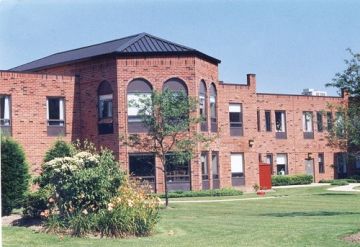 Some time ago, I posted a Top Comments ode to my high school principal John Rowan - who answered an inquiry I made into his activities. After that diary, I realized that he - along with my father as well as Wally Graham (my first full-time boss) - was one of the three male role models I have had in life.
The other two are easy to understand, but John Rowan is a Jesuit priest whose influence was subtle enough for me to overlook - until now. When I made contact with him and invited him to our reunion, he graciously accepted. At this link is my original diary, which explains my admiration for a progressive educator whose leadership prepared myself (and my fellow students) for life .. and as he left the school at same time as us - he, too, is part of the Class of 1974. And it was he who set the tone for the school name Holy Family ... emphasis on the family. In fact, I would compare him favorably to Pope Francis, as a way to explain him.
At the reunion, I was telling some of my old classmates about explaining to co-workers and friends what made our class so special. "You can't!" was a gleeful reply, yet one reason I gave people that did have salience was the fact that our school no longer exists. It was to be closed (due to declining enrollment) in 1984, and so the diocese sold it ...... to our arch-rivals. St. Anthony's was an all-boys school who were bursting at the seams of their old building ...... and so our building was sold to them for the princely sum of $1 (on the condition that they go co-ed, which they agreed to). I have had some success in convincing folks on our Facebook page to refer to our old rivals - whose butts we used to kick every Thanksgiving morning in football, and whom we learned had thrown out many of our academic and athletic awards - as The School that Must Not be Named (and with some success, too).
I believe that when you are an alumnus of a school that exists only in memory: that you want to hold-on to it if it was a favorable experience. This school was a turning point in life for me, and former NBA stars Kareem Abdul-Jabbar and Len Elmore, who graduated from Power Memorial in Manhattan (which also closed in the 1980's) have noted a sense of loss, as well.
I was a bit hesitant on Saturday afternoon to visit The School that Must Not be Named .... but did so because Father Rowan agreed to hold a Mass there. Probably would not have gone but for him being there ... but was glad I went, as he conducted a very personal and meaningful service. And then was especially glad I went because he told us he could not attend the reunion later on - and was not supposed to have even gone outside that weekend. He told us his cardiologist had contacted him the day before and scheduled a procedure ... for Monday morning. Gadzooks, was I glad to talk to him and wish him well (I'm in the center of the back row, light blue polo shirt).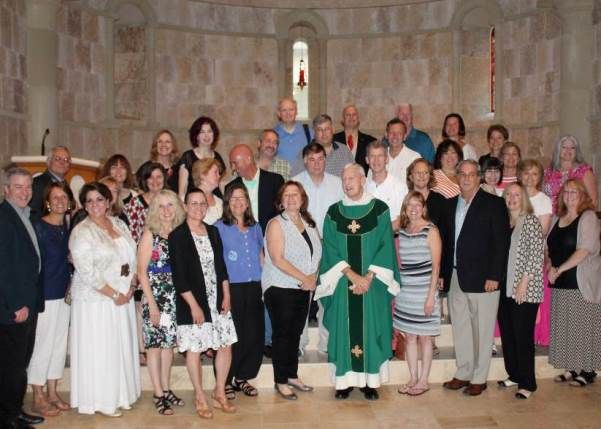 The reunion affair itself was marvelous: from a graduation class of 400, we had 135 attendees (plus another 25 spouses and, in one case: Steve Brown's daughter in the lower left of this photo) and I spoke to as many of them as I could. The food was good, we had a 4-hour open bar (with much better liquor than the Boone's Farm and the cheap beer we imbibed back-in-the-day) and the only disappointment was that I could not get to talk to everyone that night.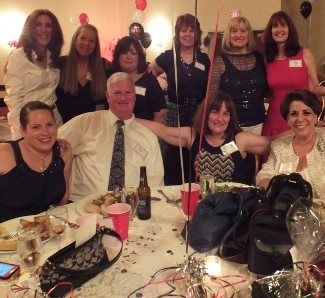 Set-up in the hall was an automated photo booth, with all sorts of props (fake mustaches, funny hats and signs that read "Here 4 the Beer" that brought-out the ham in many ...... well, see for yourself: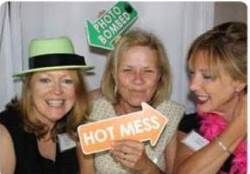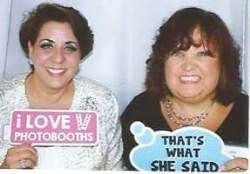 In my original essay I noted having been rather shy (and having to come out of my shell) back then in high school. At these reunions, I made it a point to tell a few of my classmates things I really wanted to say to them years ago, and am finally doing so now: "I'm not lacking, just slow" was my preamble. Here are a few of my classmates that meant something to me:
Our senior class president Dawn Rella and Sharon Del Col were the two women (girls, at the time) with whom I could have technical music discussions with back then. Which guitarist/drummer, etc. was good (and who wasn't) was a conversation I could otherwise only have with guys back then - and both smiled when I told them this.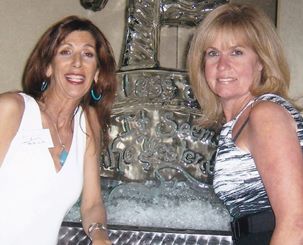 Beth Olphie was a classmate with a warm smile, usually laughing and who was always quite perceptive. I told her that I recalled an English class discussion after reading a poem (involving a female protagonist) with our teacher asking what the poem signified? Beth said she was pleasantly surprised when the boys all seemed to agree it was about a woman with a generous spirit ..... when she had thought it (allegorically) was about a prostitute. I told her that it actually had crossed-my-mind - but I was too bashful to say it out loud. She was surprised I remembered this (she hadn't) but as she always spoke her mind, she didn't doubt it happened.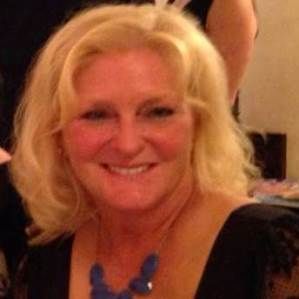 There are not many of my classes that I still remember - but one was Hank (the Tank) Barthel's sophomore American Literature class - where we would often wind up having esoteric discussions on topics far from the subject matter. It seemed like a heavy subject for us sixteen year-olds to be discussing "What makes someone a man?" - but Dennis Montano impressed me by responding ......... "Being able to admit that you were wrong".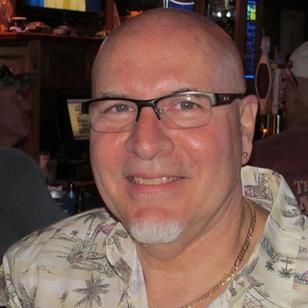 I asked John Bachety whether his mother was still alive - and when he responded yes: I mentioned how impressed I was with her as a quite outspoken female politician in the town government she represented back in the 1970's. "And as a Democrat in a GOP district!" he noted (which I had avoided mentioning, just in case his political beliefs were different today). But he thanked me; saying he'd tell her that someone (from a town several miles away) remembered.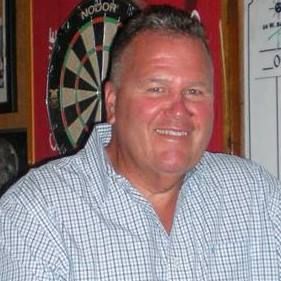 Before the event, we had a moment of silence for our 20+ classmates no longer of this earth (that we know of). Their deaths came via many ways: one died in the summer between our junior/senior year (from a faulty amusement park ride), others from ovarian cancer, one from AIDS, a murder-suicide, a suicide after being jilted via a broken engagement, and one fellow who was diagnosed with terminal leukemia before our last reunion five years ago.
But at that last reunion, Ed Bisson was as upbeat as possible (expressing much more concern about the orthopedic surgery I was recuperating from then) before he died a few months later. Many of us spoke of old friends... as if we were shepherds losing sheep.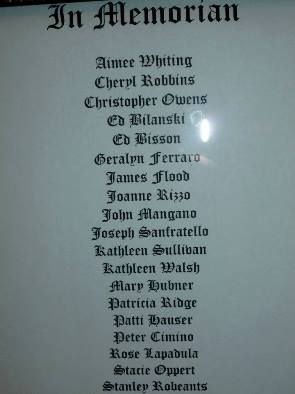 The next day we had a buffet brunch at a restaurant with an outdoor patio, with about 25-30 attendees. Two old friends not at the formal event showed-up then, a nice place to catch-up with. And after the partying we had the night before (I mean, as much partying as a bunch of late fifty-somethings could handle) ...... well, the coffee was the most important item there.
We agreed that (a) we would hold a 45-year reunion, that (b) annually an informal, mini-reunion would take place sometime in the region, and that (c) we would try to arrange regional gatherings for our classmates who live out of the NY metro area (indeed, as some DK groups do). The afterglow was so bright from this event that we agreed it was worth preserving. A few more thoughts:
Yours truly is on the right of this photo, and when I cross-posted it to my Facebook page one DK reader wryly asked, "Did they only admit good-looking people to your school?" (Yeah, I shoulda wore my boots).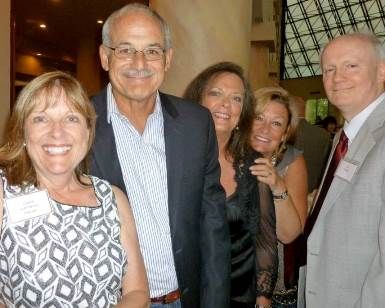 Claire Lamonica is on the left: although she has help, she is the one who has made all four of our reunions happen - and I can't say enough about her. Just to my left is Sue Cummins, who had one of the best stories from our time there.
She was tipped-off that the assistant principal was going to inspect her locker for booze - and she did indeed have several baby food jars (with Bacardi in it). The drinking age was only 18 at that time, and we never had trouble procuring any alcohol back then - but Sue was nervous, having already been placed on probationary warning.
Fortunately, the search came-up empty - because she gave the jars to Pat (Pasquale Cofone) the custodian who stashed them in his locker for the rest of the day (before returning them to her). Pat was the super-friendly guy who smiled and said hello to you - even if he had already done so four times that day.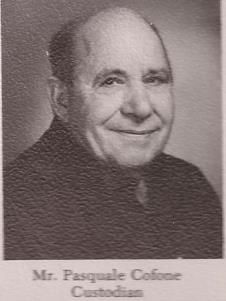 And so one of the gifts we received as attendees - obtained by a classmate who worked at a glass company) were some glasses filled with confetti, with the school logo on the side and with a ...... baby-food jar cap on it. A way to recapture our youthful hi-jinks ... who woulda thunk it?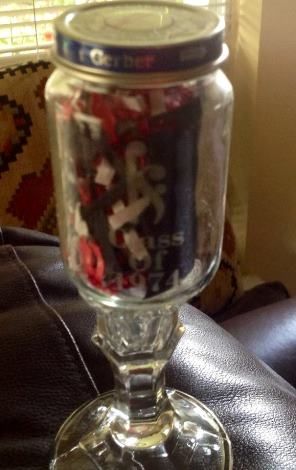 Yet there was one dark cloud hanging at the time of our departures - until we got back this communiqué from our principal John Rowan:

Thank you for your prayers and good wishes. They worked! The angiogram showed no stress points in the cardiac system and, marvel! - a cat scan showed a complete occlusion of the carotid arteries to the brain, but adequate assignment of blood delivery to the brain by other arteries with the result: no treatment necessary. I'm home free and feeling great. My cardiologist says that the medical fact that I did not have a major stroke is a wonder, and he is going to write it up for the records. So I must have a purpose left in this life, right? You can share this message and my address with any who inquire. Much love.

JR
This is a rather personal diary - but I hope I've been able to impart just how important he (and my classmates) meant to me. There are some of my classmates that I have spoken to more at these reunions than in our four years together - in a large graduating class, and especially if they took a different foreign language (and electives) than I did - that probably is to be expected. But none of that matters; and I felt it was a sign of growth that I avoided clinging to my old friends and sought the others out.
I feel the same way about my other childhood friends - we have held a party for three old chums with birthdays during Christmas week for the past 38 years - plus those at Drinking Liberally, Cheers & Jeers and Netroots Nation who also mean-the-world to me.
Two videos to close with. First, the same video I posted on my original diary: Stanley Clarke performing (with Larry Coryell as special guest) on the appropriately-titled School Days - a jazz-rock instrumental standard.
And secondly, the Christine Lavin tune The Moment Slipped Away - about making an effort to tell people kind things you wanted to say to them ... which I have tried to rectify in my own life.
She's a famous actress
Movies and TV
I recognize her as we climb
The stairs of the IRT
We cross the street together
We're moving up Broadway
I'm trying to come up with something
Clever I can say
About how I love her work
And what it means to me
How in her most recent film
She acted brilliantly
Maybe she'll think I'm stupid
Or maybe this'll make her day
But she disappeared into the crowd
And The Moment Slipped Away

He works the wards of Bellevue Hospital
Mail Delivery
For two years every weekday morning
He said hello to me
We'd joke about the local teams
The weather of the day
Though there were many other things
I really wanted to say
You see, he wasn't like the rest of us
It was a struggle for him to walk
And you had to concentrate really hard
Just to understand him talk
I wanted to ask him
"Where do you get the courage
To come to work each day?"
But I quit that job and moved along
And The Moment Slipped Away

Kind words don't move the earth
But if it can improve your self worth
Why do I let these moments pass me by?
Instead I'm quick to judge
And I'm quick to blame
I'm quick to criticize
Quick to maim
It's hard to change
But I'll try

So maybe it's your best friend
Or the next stranger you see
Maybe it's your neighbor
Maybe it's you
Maybe it's me
Who needs to hear encouragement
To make it through the day
Who needs to hear whatever kind words
You might have to say

It doesn't matter where you're going
Or where you have been
As right now is the perfect moment
For us to begin
To appreciate each other
In new and different ways
Oh please don't let another golden Moment
Slip Away
Appreciate each other
More and more each day
Oh please don't let another golden Moment
Slip Away
Now, on to Top Comments:
-------------------------------------
From Edge PA:
In the diary by Jen Hayden about the Connecticut gubernatorial candidate who blamed the closing of a factory on the workers themselves - the last two words of this comment alone warrant inclusion in Top Comments for undercovercalico.
From
Angie in WA State:
In the diary by Assaf about the cease fire in Gaza - pajoly offers one of the few comments I've read in the many Israeli/Palestinian Gaza diaries (about the current death and destruction going on in there) which is not and should not be considered inflammatory by anyone.
From
BeninSC:
Flagged by paradise50 and TrueBlueMajority in paradise50's CUA diary today, this comment by Gordon20024 contains a terrific cartoon by Scott Hilburn. See this one!
From
Tinfoil Hat:
In my own diary about government regulations - Gooserock just cracks me up - I don't even know where to start.
And from
Ed Tracey
, your faithful correspondent this evening ........
In the diary by Eric Nelson about the GOP losing control of the impeachment narrative - hannah begins to cite one of our oldest adages ... but ahh, what's the use in this case?
TOP PHOTOS
July 30, 2014

Next - enjoy jotter's wonderful PictureQuilt™ below. Just click on the picture and it will magically take you to the comment that features that photo.


NOTE: Any missing images in the Quilt were removed because (a) they were from an unapproved source that somehow snuck through in the comments, or (b) it was an image from the DailyKos Image Library which didn't have permissions set to allow others to use it.)
And lastly: yesterday's Top Mojo - mega-mojo to the intrepid mik ...... who rescued this feature from oblivion:

1) Tell that to the GOP base that keeps demanding it by MinistryOfTruth — 215
2) dead kids, dead kids, dead kids by Lepanto — 198
3) Exactly by RoIn — 159
4) I'm not "throwing around the word." by Timaeus — 150
5) That is even better then yesterdays story . by indycam — 92
6) Just because they by bluenick — 91
7) Congress's slavish devotion by beltane — 88
8) ^^^ THIS ^^^ by MinistryOfTruth — 88
9) How Come We Never Hear of Guys Going Out by Gooserock — 84
10) Israel's war on hospitals & schools by david mizner — 84
11) Wow. Really? by CharlieHipHop — 82
12) Back in the Sonoran by cosmic debris — 82
13) Didn't know anyone else by Puddytat — 80
14) I very strongly disagree. by Timaeus — 80
15) Drinking water is not, and won't be, by ypochris — 80
16) If impeachment is off the table by USA629 — 77
17) No real surprise; Israelis are trying to suppress by entlord — 77
18) After Bluto smacks the crap out of some helpless.. by Ralphdog — 76
19) Some people are just over the top. by ypochris — 74
20) You misunderestimate the cunning Repub plan by atana — 74
21) The two aspects by Lib Dem FoP — 73
22) I generally stay out of the I/P debates by Richard Lyon — 71
23) "Guitarma" ;) by xxdr zombiexx — 69
24) You're buying into that? by Mopshell — 69
25) It's a terrible thing to say, but the by doc2 — 68
26) Very astute, Jesse! by Dave in Northridge — 68
27) The actual UN rules on Genocide by Dallasdoc — 67
28) When Boehner threatened to sue by Diogenes2008 — 67
29) Yep, this. by atdnext — 67
30) Oh well, "war is hell". by CenPhx — 66
31) Right on, doc. by One Pissed Off Liberal — 66
32) Please. Read the UN stuff in the diary. by Timaeus — 66