The Daily Bucket is a regular feature of the Backyard Science group. It is a place to note of any observations you have made of the world around you. Insects, weather, meteorites, climate, birds and/or flowers. All are worthy additions to the bucket. Please let us know what is going on around you in a comment. Include, as close as is comfortable for you, where you are located. Each note is a record that we can refer to in the future as we try to understand the patterns that are quietly unwinding around us.
Hubby and I enjoy taking Gracie the Wonder Pug on nature walks as often as possible. Not only are they edifying for us, they give vent to some of her natural pug energy and willfullness. One of our favorite strolls is at the
Vischer's Ferry Nature and Historic Preserve
. Join me below the squiggle for a photo journal of our latest, and shortest, trip.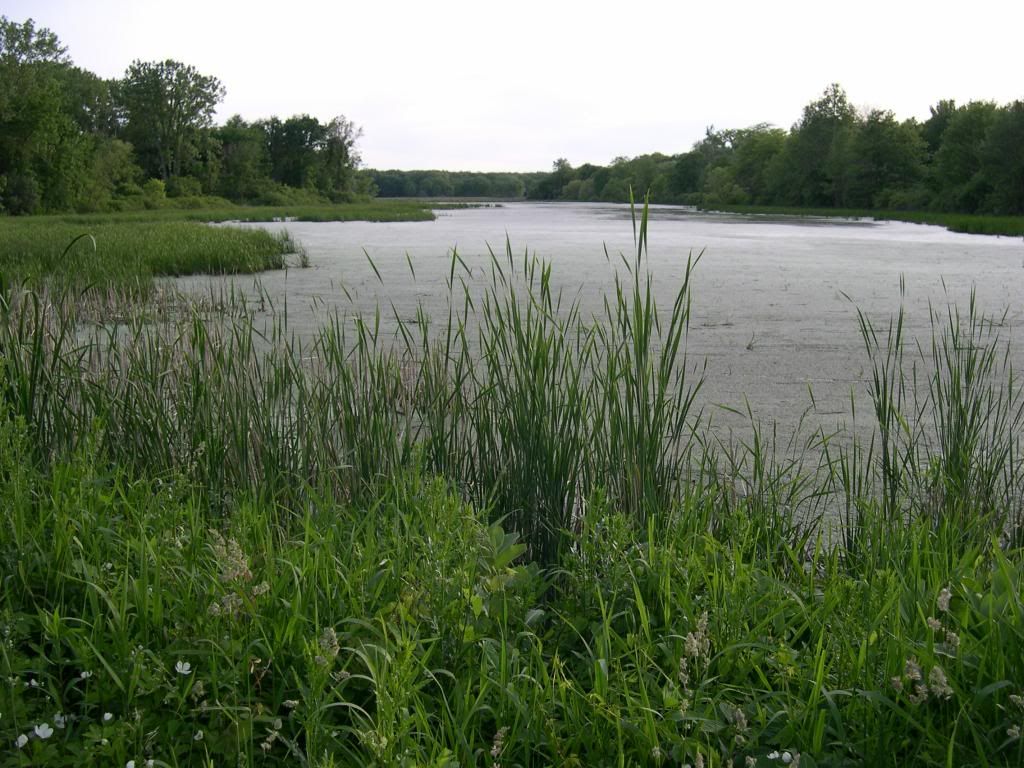 The Canal Park, as we call it, is a huge preserve consisting of between 450 to 740 acres, depending on whether you count the water covered areas or not. It has been designated a Bird Conservation Area by New York State DEC and is especially important for wading and migratory species. A list (pdf warning) of the birds seen at the park runs for 2 pages.
Arriving at The Place, you encounter a lovely historic bridge, a Whipple Truss Bridge (sorry, pdf again). The link has a picture of the Vischer's Ferry bridge on the first page but here's one of mine in case pdf's are a problem.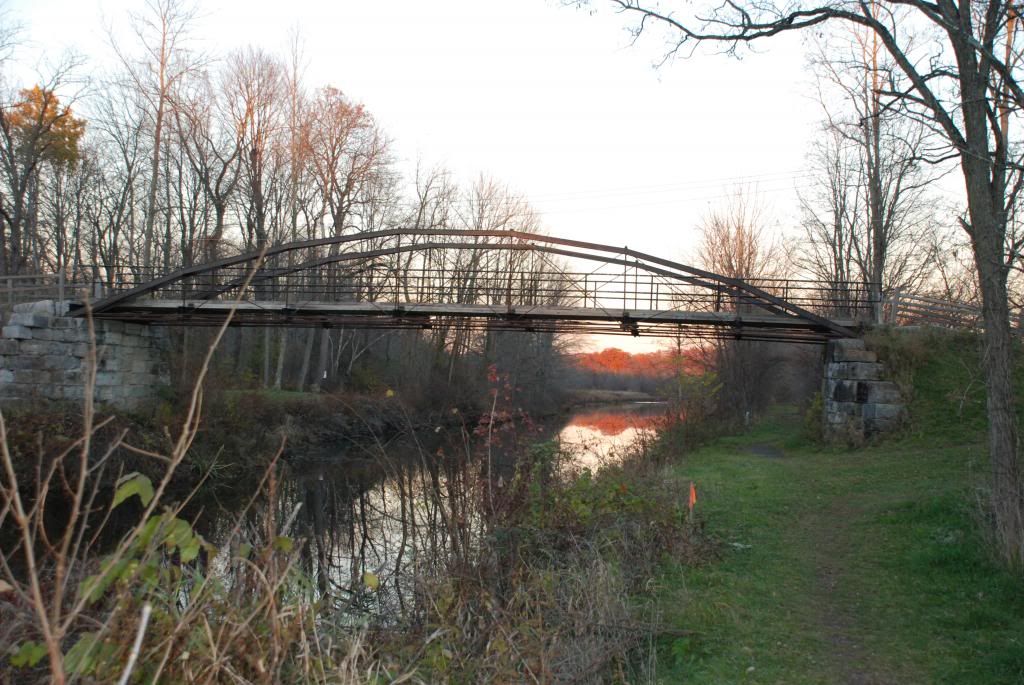 From a previous trip, taken in the fall
Normally, when we go on a relatively local and well known hike, we limit our gear to the essentials. Camera, binocs, water, poop bags and water bowl for Gracie and a walking stick for me. If we're feeling ambitious, we might take along a bird guide or notebook, bug spray, food, etc. This day, not feeling at all ambitious, we went with the basics and set out with high hopes for a relaxing walk.
We were greeted by a large flock of Canada geese, very common here and usually quite tame.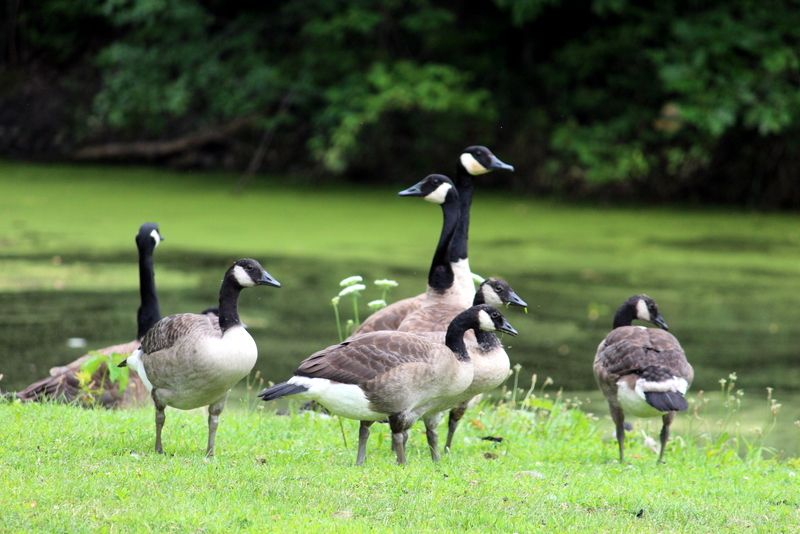 These folks decided we looked a little suspicious and headed for a safer environment. Gracie barking at them may have had something to do with this.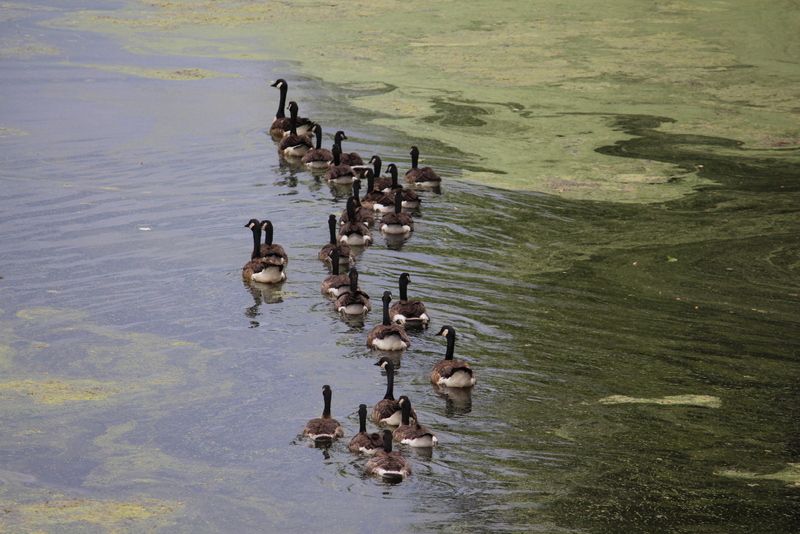 Heading over the bridge, there is a lovely view up (or down, if you're facing that way) the canal itself.
And often a small friend joins you.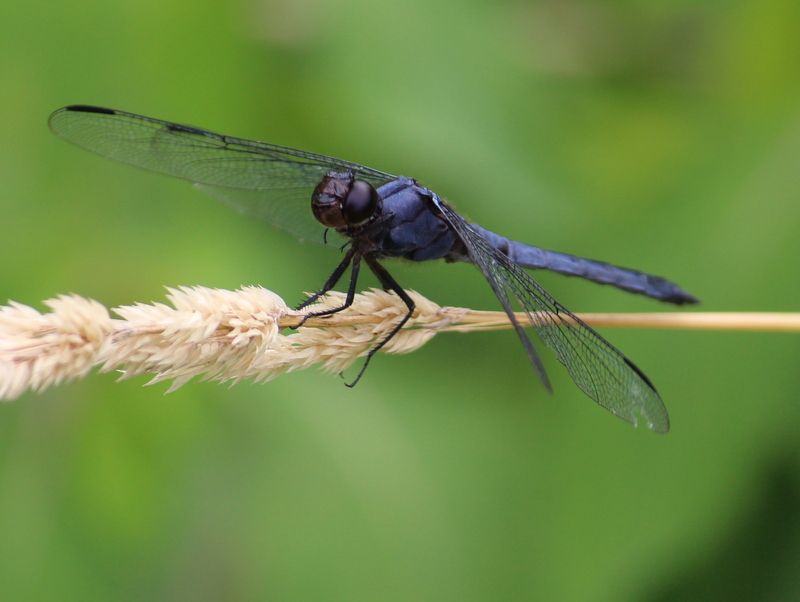 Once across the bridge, you can follow trails leading off left, right or center. Generally, we choose the center path as it is broad enough for 2 people and a frisky pug to walk without going single file. The side paths stay right on the edge of the canal itself and are excellent for nature viewing but not so much for conversation.
The views, no matter which path you take, are spectacular. Ponds and wetlands are on either side of you, with all the plants you'd expect in a swampy, wet place.
Whorled loosestrife (Lysimachia quadrifolia, not to be confused with invasive purple loosestrife, Lythrum salicaria) is a bright note along the path.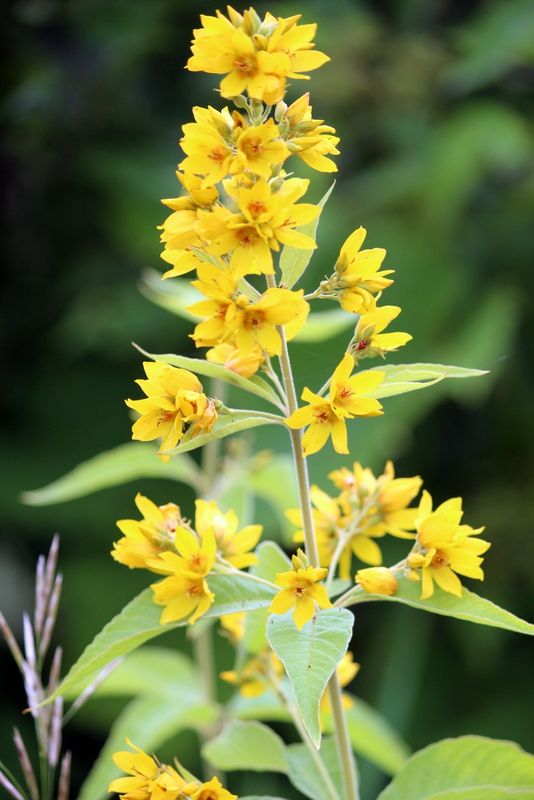 Ground cherry is another common sight. The genus is Physalis but I am unsure of the species. I believe there may be more than one in our area but I admit I don't know a great lot about this plant. The berries, enclosed in the husk, are supposed to be edible and tasty, but I've never tried them.
A beautiful tree in the area is common buttonbush (Cephalanthus occidentalis). Many water birds eat the seeds and, while not terribly important as caterpillar food, it is an important nectar plant for many butterflies, in addition to other pollinators.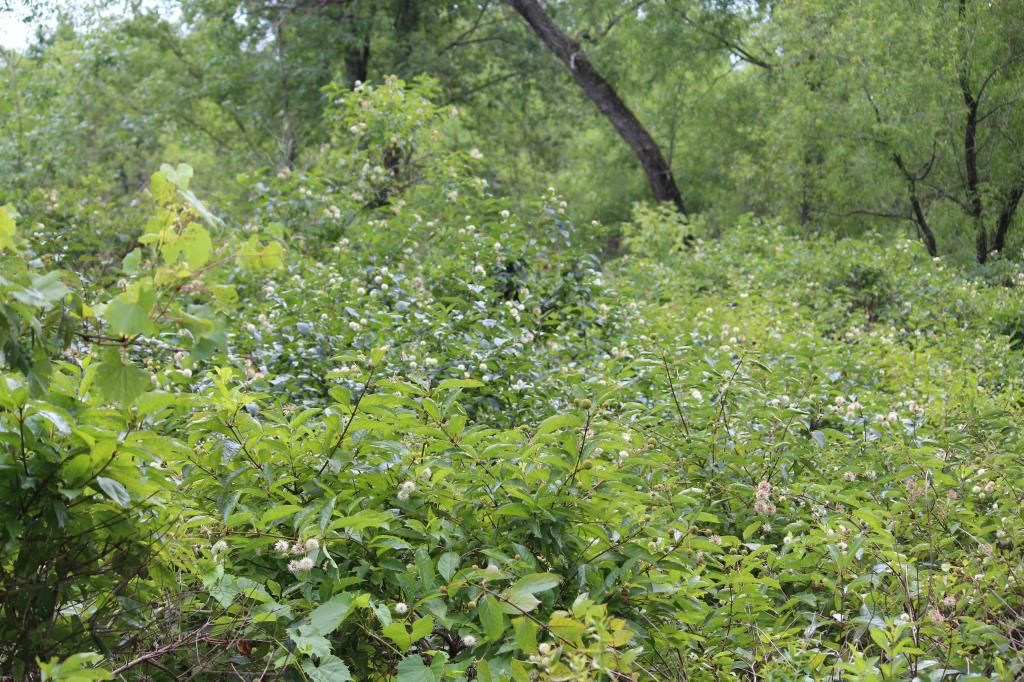 Buttonbush forms impenetrable thickets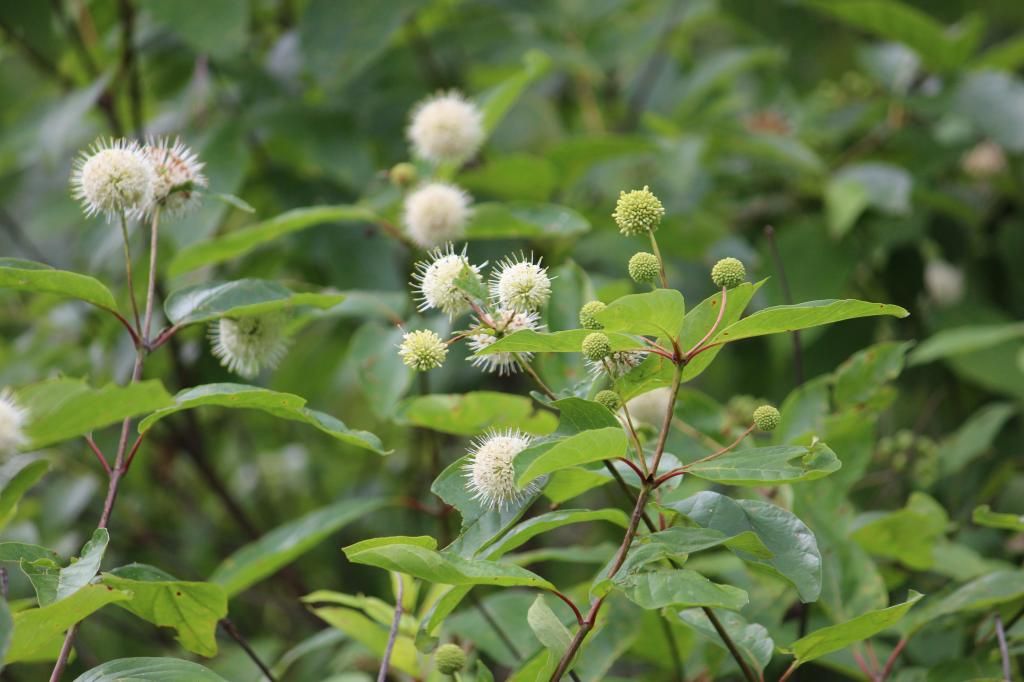 . . . but the flowers are quite pretty
A great problem in many nature preserves is the high frequency of invasive plants. Just ask our cohort, PHScott, who spends much time and effort in remediation. It's so sad to walk through a natural area and see it overtaken by Oriental bittersweet, barberry or Tatarian honeysuckle. All 3 of these pests are present in our little canal park but the one I saw on this trip was particularly worrisome.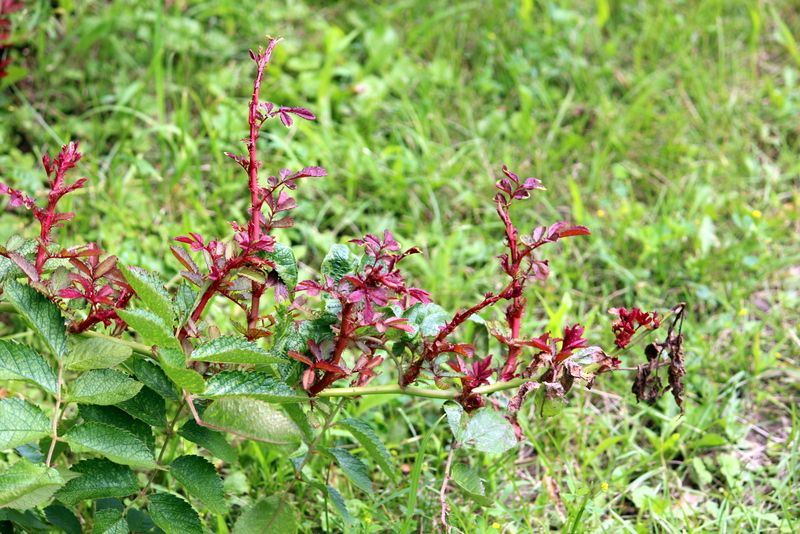 It's bad enough to have invasives but diseased invasives just add insult to injury. The picture above is a multiflora rose afflicted with rose rosette, a contagious disease of roses spread by mites, which can wipe out domestic garden roses in a season. There's no cure except to destroy the plant. Almost all the multiflora roses bordering the path were afflicted with this disease.
While it might be nice to think this disease would wipe out the wild multiflora patches, alas, the plant seeds so wildly it is unlikely to be wiped out by rose rosette. It will, no doubt, continue to be a disease vector and ecosystem disruptor for many years to come.
Around about the time we spotted this monstrosity, maybe 10 minutes into our walk, we discovered that stopping for any length of time was quickly becoming dangerous to our health. We were, after all, surrounded by lakes and wetlands on all sides. It's July.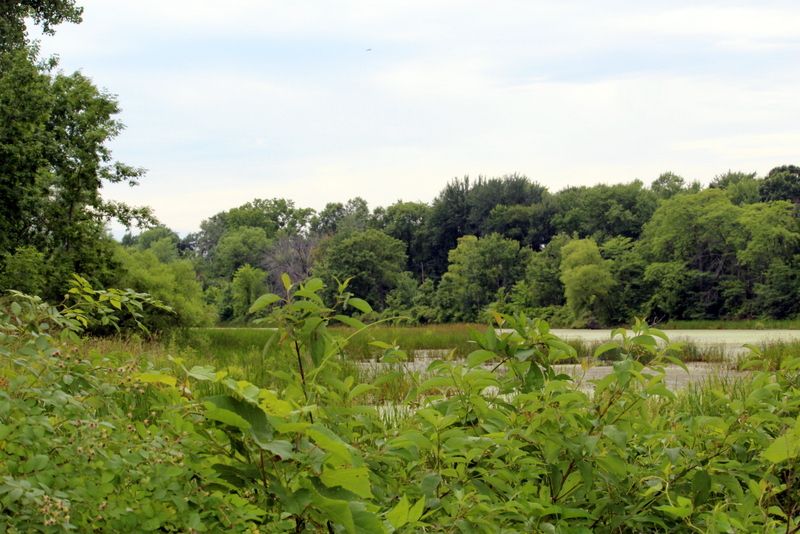 What else lives in these areas? The worst squadrons of mosquitoes you've ever seen!! Holy crap! We've been there in every season and most conditions and I have never in my life seen the mosquitoes that bad! We soldiered on for those 10 minutes and then, frankly, turned tail and fled. Remember our list of basic supplies? Bug spray will now be added to the essentials!
I did get one more lucky shot, though, taken at the risk of losing another pint of blood. I hope you will forgive the blur and graininess - I felt lucky to get it at all! A lovely belted kingfisher posed for me at the extreme range of my zoom lens.
And that was our day in the park - all 15 minutes of it! Where have you been lately?

Spotlight on Green News & Views" is posted every Saturday at 1:00 pm Pacific Time and Wednesday at 3:30 on the Daily Kos front page. It's a great way to catch up on diaries you might have missed. Be sure to recommend and comment in the diary.