His spirit was broken by abuse. His forever home is mine.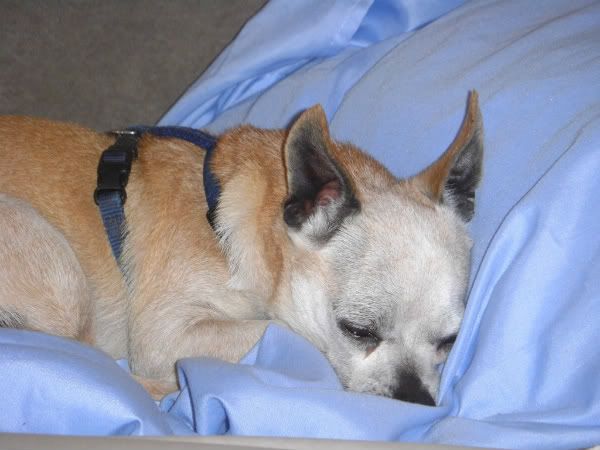 I didn't want Rusty, my other dog, to be home alone all day after my roommate and her chihuahua moved away. He had enjoyed having a doggie friend. So I went in search of a chihuahua to rescue. Sadly there were many to choose from. I had in mind a young female dog, but the universe had it's own ideas.
It was the picture of him on the rescue website that drew me in at first. There was something about the eyes; I could see the terror within, but also the very tiniest spark of hope.
I went to the rescue lady's house and we talked. She told me that she had been afraid that he was unadoptable. He had been rescued in October and it was now June and he had made so little progress. It's hard to convince someone to rescue a dog who is terrified of people. We took Christopher out of his pen and put him on the kitchen floor and then sat there and talked for hours. He never came closer than 6 feet to either of us, but that was better than the 12 foot distance he orginally kept.
I rescued him knowing it would be hard. I rescued him knowing he might never be a normal, happy, friendly dog. I rescued him because his spirit was broken and I knew exactly how that felt and how much he needed someone to care even when he couldn't care back.
He had come from a puppy mill where he had been a breeder dog for 6 long, terrible years. The place was so horrifying that the rescuer (a person who sees all too many dogs in need of help and all too many bad situations) could not even bring herself to describe it to me. All she would say was it was the worst place they had ever encountered.
For the first time in his life, he has the freedom of the house and yard. But he rarely wanders the house when the people are home. He tends to stay in the bedroom closet, feeling comforted by the walls.
But the yard, oh he loves the yard. He will run and sniff and bark at the neighbor's dogs if they come out.
For evey step forward, there is a half step or a full step or even two steps backwards. It's a long, slow process.
In the year and half, he has been with me, he can now come in from the backyard when a person is standing by the door (but not if two people are in the room). He will eat treats that are left in front of him and even occasionally come up for one. He can now go for walk with his head held high and tail wagging (only with another dog of course) rather than have a full blown panic atack at being on the leash. He still has trouble being caught to be put on the leash for the walk, but this week when he wouldn't let my roommate catch him to go with her and her dog on a walk, he cried the whole time they were gone. That's progress too - at least he wants to go.
At first, just holding him and patting him was terrifying. How sad to be afraid to be patted. It's still not his favorite thing, but at least he doesn't stiffen in fear anymore and he sometimes even appears to like it just a tiny bit.
He sometimes wants to approach me, but often just can't. He will take one or two steps forward and then circle, trying his hardest to come forward, but the fear sends him back. It breaks my heart. Sometimes he manages to break the circle and come close enough to bump my hand with his nose and runs away. It's a real compliment, that lighting quick bump of his nose. It shows a trust in the face of almost unimaginable fear. When he is feeling really bold, he will wag his tail.
One day he got bold enough to lick my hand. That frightened him so much he ran downstairs and hid and it took me several hours to find him. He hasn't tried a second time even though nothing bad happened except in his mind. It's heartbreaking really.
He may never be a normal dog. But he has doggie friends and a big yard to play in and safety, warmth, and food. He enjoys listening to music. And he is loved.
Most rescued dogs aren't as bad off as Christopher. But they all need a forever home as badly as he did. Please consider rescuing one the next time you want a dog. If you can, give some money to the rescue organizations. In this bad ecomomy there are many more animals to be rescued and not nearly enough money to do the work.