At least not to those who know better and that wouldn't be your base, right?
Reading today's piece by Susan Page in USA Today, and seeing the following was unfortunately not a surprise.
"Gov. Romney has spent a lot of time trying to link an ad that we didn't produce to our campaign at the same time he has spent millions airing a discredited welfare reform ad," Obama campaign spokesman Ben LaBolt says when asked to respond to Romney's comments. He says the ad, which accuses Obama of moving to gut work requirements in the welfare law, attacks a more stringent policy than Romney pushed in Massachusetts.

Romney defends the welfare ads as accurate, accusing Obama of offering state waivers as a political calculation designed to "shore up his base" for the election. He denies he was trying to stoke discredited questions about Obama's birthplace when he said at a Detroit rally Friday that no one had ever asked him for his Michigan birth certificate.

[bold added]
"His base?!" Really?!
Among all the myriad issues I have with the idea of you being in the White House is your continued, at best, willful denial of the facts.
As countless individuals, organizations, and fact checkers have pointed out, President Obama has not cut work requirements for welfare recipients.

Welfare, formally known as the Temporary Assistance for Needy Families program, is administered by states within federal rules. Last month, the Department of Health and Human Services invited states to apply for waivers from some rules in order to run "demonstration projects" so that states could "consider new, more effective ways to meet the goals of TANF, particularly helping parents successfully prepare for, find, and retain employment."

Romney's ad doesn't mention that Republican states sought the waiver policy. In a release defending its waiver request from conservative backlash last month, the office of Utah Gov. Gary Herbert (R) said, "Utah's request for a waiver stems from a desire for increased customization of the program to maximize employment among Utah's welfare recipients."

The ad also doesn't mention that the Republican Governors Association asked Congress for even broader welfare waivers in 2005, in a letter signed by 29 Republican governors, including Romney.
Forgot you signed that letter? Just having a little memory problem? You may want to get that checked, it seems to happen a lot. Of course there is the other possibility. You know. You've lied so often that if you were Pinocchio you wouldn't be able to get your head up by now.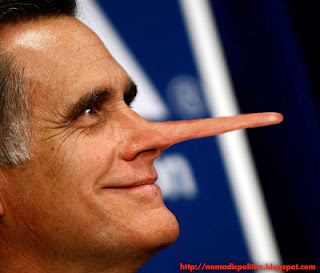 Yet you have the arrogance to describe those who point out your less than comfortable relationship with the facts as "vituperative" and "vicious" and "absurd," all while you play the, yet again, obvious race card.
But there's a few problems with that. You see, most of the people on welfare look like this.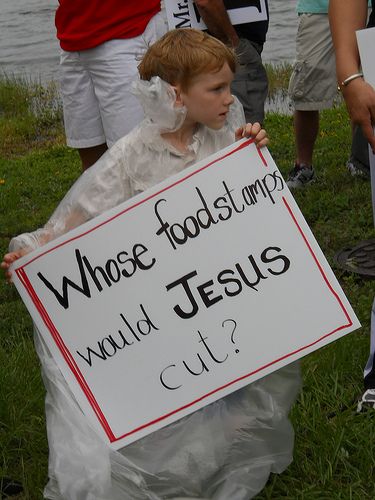 [a huge h/t to Lenny Flank for this great photo from his diary
Some of the people needing food stamps do so because their moms and dads look like this.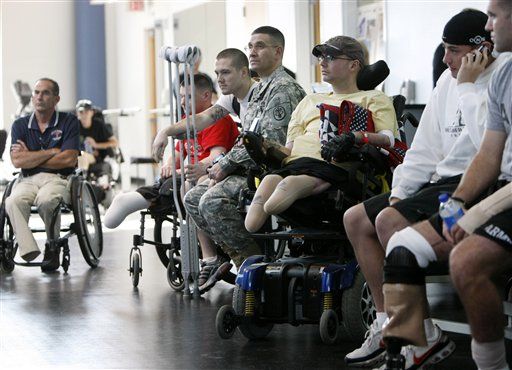 Some of the people needing welfare are our grandparents.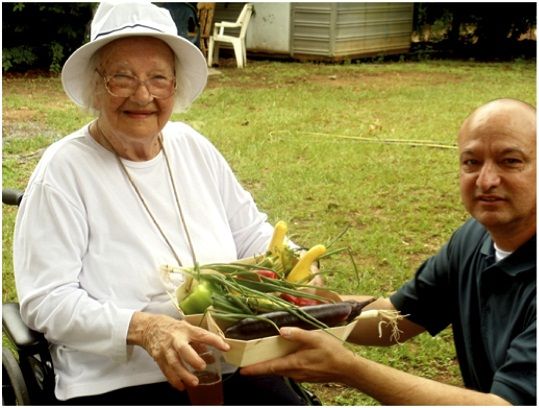 http://alabamapossible.org/...
So you meant to say that President Obama is trying to appeal to "his base" of white folks, right? His base of children, seniors, our veterans, the disabled and those in the middle class who lost everything in the economic crash? Right?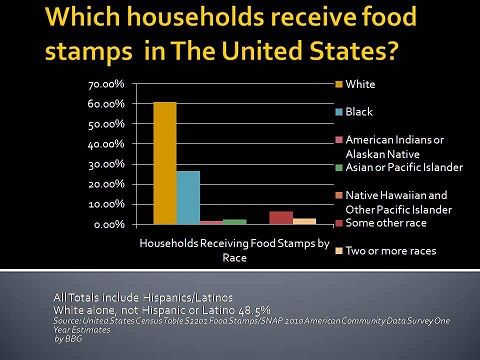 I didn't think so. No one does.
You were race baiting in the most blatant manner possible. It's something that in spite of Mr. Reince Priebus's protestations this morning on MSNBC, you and your party have been doing for a very long time.
You probably should be more aware about what has been happening to the American people, but won't deign to make the effort. I don't think you give a damn about any of us, just the fortunate few. The only thing that matters to you is your bone deep conviction that you are entitled to be in the Oval Office.
But just so you can't say that you don't remember or didn't know or have to look it up, here's a few of those crucial facts.
Nearly 46.5 Million Americans Participated in SNAP in May 2012


Caseload Growth Linked to Economic Hardship

SNAP national participation in May 2012 rose to 46,496,788 people, an increase of 222,157 people from April 2012, and 1,086,103 people higher than in May 2011. The number of people participating in SNAP in May 2012 was nearly 29.6 million more persons than in July 2000, when program participation nationally reached its lowest point in the prior decade (16.9 million individuals).

Unemployment and underemployment in most states and efforts to enroll more eligible needy people have contributed to SNAP caseload growth in recent years. More than one in seven Americans receives SNAP –that percentage (15.1%) is comparable to the percentage of the American workforce affected by unemployment or underemployment (14.8 percent according to US Department of Labor's Bureau of Labor Statistics U-6 Measure).

http://frac.org/...
You may want to read the bolded portion a few times, just to help memory retention.
You see there's a direct correlation between the number of people who can't get work and welfare.
Remember all the jobs bills Congress passed? The stimulus package that would have put people to work repairing our roads, dams, bridges, schools, and yes, the leaking dome of our Capital building?
No? Neither do I. Know why?
Because your Vice Presidential pick and Republican Congress voted them all down.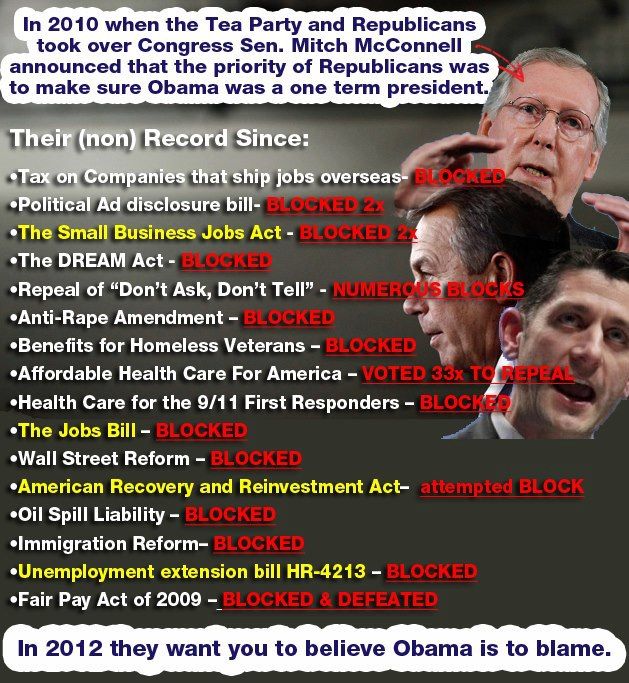 You don't want to put America back to work. Not for ourselves, our families and communities anyway. You don't care that more and more Americans are going hungry.
Yes, hungry! Lets call it what it is just once, shall we? That gnawing feeling in your belly. The inability to focus, the lack of energy, vulnerability to illness, constant worry, the empty fridge and cabinets and the children's drawn faces. In this country. Right now!
Nearly one in five of the people you claim to want to serve are going hungry. But of course, you don't know anything about that. Just like you don't know anything about the cost of war our Veterans carry. And you could care even less.
You and your Party just want the black guy out of what you see as your house, no matter who pays the price.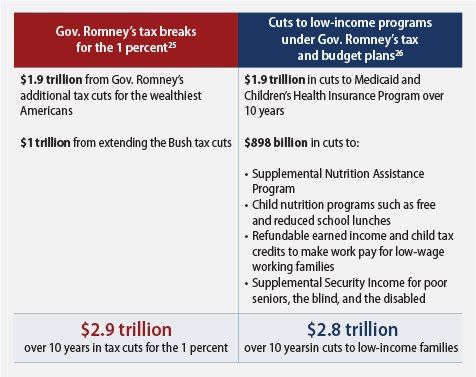 If there is anything despicable going on here, Mr. Romney it is your willingness to pit the American people against one another. The middle class against the poor. White against black. Men against women. The healthy against the disabled. etc, etc, etc. It's all an old ploy, one that Republicans have used for decades to divide and conquer.
Well, Mr Romney, we're just not that stupid or selfish. It's rather easy to tell who actually gives a damn about us these days, who we'd trust our children and grandchildren with.
You've shown no reason for anyone to trust anything you say or do. You may have no qualms about playing with people's lives for your own gain. You may have no qualms about using our black sisters, brothers, and children to hide from your party's failed economic policy and war on women. We do.
What has become blatantly clear is that you, your Party, and monied supporters will take everything while leaving us with nothing but fighting over crumbs.
Facts matter. So does caring for one another.
You have shown no understanding of either.
11:43 AM PT: This picture was just reported for hate speech and violence on Facebook. This mindset is what you and your party are encouraging, Mr. Romney. This, through you and your Party's words, is what you've given legitimacy too.
How dare you.
2:07 PM PT: Apparently photobucket is much better at removing offensive images than Facebook. Even though I'd already deleted the picture that was in the first update from my PB album, they were able to remove it all together. I can't say that I'm sad about that. It was a very disturbing image.
I will not post it again, If you wish to see the picture in question please go to Mets102 diary. http://www.dailykos.com/...