I recently received a post card from my Secretary of State's office stating... "You may be eligible to vote, but don't appear to be registered." The only problem... I've been registered for 16 years. I've been kicked off of the voter registration list and I don't know why.
Here is the baffling card: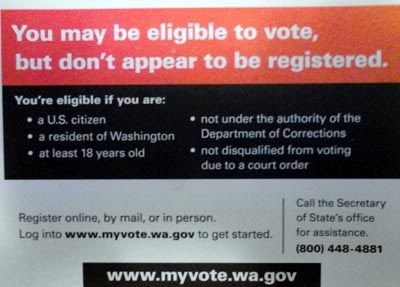 I intend to call the Secreatary of State's office Monday and ask some pointed questions. But, how could I have been unregistered?
I have lived at the same address for 8 years.
I have had no change of name or legal status.
My husband and I have voted in the same elections for years and HE didn't get a postcard.
I received a mail ballot (along with everyone else in the state of Washington) for the last election.
So, how did I get unregistered and why now?
I found a blog by another state resident who claimed she had been sent a similar post card recently.
http://horseknuckle.wordpress.com/...

Somehow, their records of my birth month were inaccurate by 2 months. Not my birth year and not my birth day. Just the month. And she indicated it had been wrong for the full 12 years that I have been a Washington registered voter.
Hopefully I will learn my own tale on Monday. But, I am angry. It would be one thing to contact me and ask me to correct any sort of discrepancy. It is another entirely to wait until just before a presidential election, UNREGISTER me as a voter due to no fault or action of my own, and force me to RE-REGISTER.
Maybe I'm angry for no good reason. Maybe I should just re-register and get on with my life. But, I'm wondering how many of these post cards were sent... how many other people with lives only slightly more hectic than my own will miss the post card, or ignore it because they KNOW they are registered and have not done anything that would cause them to be unregistered.
I will update if and when I get more information about my specific situation.
Mon Oct 01, 2012 at 6:51 PM PT: I called the Secretary of State today... and it all appears to have been a misunderstanding. I am indeed still registered to vote, but under the wrong birth month.
The office said they are doing voter outreach, it doesn't sound like they are removing anyone from the voter rolls. They sent me a postcard because the name and date of birth on my driver's license did not match that of any registered voter. This explains why it said I was not registered when I checked the web site. The lady on the phone said she'd correct my birth month, and it had probably been incorrect in the system for the past 16 years.
I can say the post card was VERY misleading. I certainly would have advocated for another means of voter outreach!