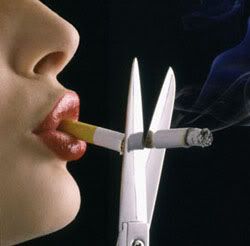 GUS (Gave Up Smoking) is a community support series for Kossacks in the midst of quitting smoking. Any supportive comments, suggestions or positive distractions are appreciated. We avoid discussion of political issues. If you are quitting or even thinking about quitting, please -- join us! You can add GUS to your stream by clicking on the ♥ next to the GUS tag. The GUS Library at dKosopedia is organically evolving, and stocked with free-range information: quit-smoking links, and helpful GUS writing tips.

"A message to all quitters: you don't have to avoid GUS if your latest attempt to quit didn't work out. We won't give you a bad time and we consider the attempted quits as practice for the real quit." (h/t FG)
I've pretty much stuck with the format I used last year. I've grouped things I went out and bought (on disc. Don't say it. I know.) in the first list. Following after is a list of 20ish additional discs that deserve further consideration (and a possible purchase later on). I've tried my best to link directly to the artists' websites whenever possible, coded so that it opens in new tabs. Choices in both of the lists are in no particular ranking order, except for the deliberate placement of the first in each.
If you've followed along since last week, this once again is an exercise in positive distraction while improving writing skills, sharpening formatting techniques, and overcoming fears.
If you've followed along since last year, wow, thanks! Feel free to share while being considerate towards me, my musical tastes, everyone else, everyone else's musical tastes, and ... so on and all that. These are my opinions and I don't claim to be an expert in anything.
This has absolutely been a labor of love.
I've spent ... some time putting this together but it never ever seemed like work.
And here we go ...
Madonna - MDNA [Deluxe Edition] ) It should come as no surprise to anyone who knows me that Madonna commands the top spot on my year end, best of list. There is no weakness here. Song writing, lyrics, musicianship, engineering and production (William Orbit, Benny Benassi, et al.), guests (M.I.A., Nicki Minaj, et al.), presentation, and supporting tour. Madonna works her ass off, touching on familiar themes of love, religion, sex, violence, fun, & empowerment and delivers masterfully. She is the Queen of Pop, a title she's earned, and continues to deserve.
Pet Shop Boys - Elysium ) I like Tenant and Lowe a lot and I was apprehensive with the the lead single Winner and some of the initial reviews but I've warmed up nicely to this offering. Leaving is as strong a single as they've ever done, IMO. It's very much reminiscent of "Behavior" in some regards. Understated, revealing itself after several listens with Neil's clever wit and Chris' musical complexity all there. A worthy addition to the 10 studio releases preceding it.
Scissor Sisters- Magic Hour [Deluxe Edition] ) This band's decade long development has me enthralled. Their first three releases have all been great and their version of "Comfortably Numb" still ranks as one of my favorite covers ever. This time around Calvin Harris, Pharrell Williams, Diplo, Alex Ridha, and Azealia Banks collaborate and there is never any doubt that everyone is having a blast throughout. The singles Shady Love, Baby Come Home, Only The Horses & Let's Have A Kiki are jam packed full of dance-y, toe tapping, butt shaking, sing along-able goodness and showcase a band "spawned by the scuzzy, gay nightlife scene of New York."
Barbra Streisand - Release Me ) I got goosebumps when I first listened to these 11 gems. I can't think of a worthy superlative to accurately describe her voice. Culled from the complete master tapes and acetone collection of a 40+ year career that she owns herself. Ponder that and then add this mind bender to go along: Some of these were done in one or two takes. For a variety of reasons she set them aside. Some she didn't think were good enough. From the liner notes, regarding her personal vault: "It is nothing less than the repository of a series of dreams that evolve from youthful exuberance to adult resolve ... and the thousands of hours of work it took to get there." Simply stunning. A Volume 2 is promised.
Public Enemy - Most Of My Heroes Still Don't Appear On No Stamp / Evil Empire Of Everything ) One of 2012's Rock & Roll Hall of Fame Inductees, with guest appearances from Ziggy Marley, Tom Morello, Henry Rollins, Gerald Albright, DMC, et al., PE deliver a hard hitting, funky double disc dose of politically, socially, racially, economically, sonically, topical music that's as relevant as they've ever been. Let I Shall Not Be Moved & Riotstarted hammer that point home.
Rock Of Ages - Original Motion Picture Soundtrack ) There'll be no apologies for my choice here. Tom Cruise's involvement would be enough for me to include this, but he actually does a really good job of mastering his role and the singing required. With a cast that also includes Catherine Zeta-Jones, Alec Baldwin, Julianne Hough, Diego Boneta, Russell Brand, and Mary J. Blige. It's a sing along to some of the schlockiest 80's rock we all know the lyrics and guitar solos of (and secretly love) Rock on.
Doris Day - With A Smile And A Song ) Following on the (high?) heels of 2011's release of the first "new" material in nearly 20 years, a slightly different, but no less rewarding, result occurs when Ms. Day helps to compile a 30 track set of some of her most favorite and well known songs, from 1948 through 1966. Disc 1 is from her films and Disc 2 is from her singing career. She embodies the very definition of a class act that's no act. Que Sera Sera
Divine Fits - A Thing Called Divine Fits ) A collaboration between Britt Daniel, lead singer of Spoon, and former Wolf Parade / Handsome Furs guitarist Dan Boeckner, that turns out to be extremely well formulated indie rock tending towards minimalism with just a hint of Austin, TX mixed in. They both owe it to each other to seriously consider working together further. Video of Would That Not Be Nice. (On Merge Records which deserves special mention for the strength of their 2012 lineup, with new releases from Tracey Thorn, Dinosaur Jr., Redd Kross, and a lot more. They're a great indie label)
Bobby Womack - The Bravest Man In The Universe ) Damon Albarn has been working with Bobby for a while, since Gorillaz's Plastic Beach sessions, and the two have developed a really good working relationship. Bobby has been doing his thing since the early 60's, starting out with the Valentinos & Sam Cooke, and Damon lets him do exactly that here, with a light yet guiding touch as a producer that enhances both his, and Bobby's credentials. The seemingly motionless, imperceptible passage of time in Please Forgive My Heart & the futuristic message from the past quality of Whatever Happened To The Times really serve to reinforce the whole album feel of timelessness.
Spiritualized - Sweet heart, sweet light. ) J. Spaceman (Jason Pierce) knows what he's doing. Working for four years since his last release and devoting a full year to mixing this, (while battling unspecified liver problems with chemotherapy) he's created a masterpiece of his signature brand of melodic, layered, swirling sonic atmospheres, filled with fuzzed out distorted guitars that would be the perfect soundtrack to the perfect acid trip at the beach on a warm summer day. A summer day where we hang with Dr. John for a time, because trips are weird like that, and then peak with direct and personal pleas to Mary and Jesus that are nothing short of a breathtaking spiritual experience, for J and the listener.
Meshell Ndegeocello - Pour une âme souveraine - A Dedication To Nina Simone ) This makes the tenth release from this singer songwriter & bass player and Meshell tackles a daunting subject with style and respect, while never falling into hero worship. The piano lounge bar feel of the opener Please Don't Let Me Be Misunderstood, the gospel revival of House Of The Rising Sun and the North Carolina rootsy-ness of Nobody's Fault But Mine & Be My Husband are all great but my personal favorite is See Line Woman which boogies along with flute and sax twirled into it, compliments of Tracy Wannomae. Other guest appearances from Sinead O'Connor, Cody CestnuTT, Lizz Wright, and Toshi Reagon.
The Fixx - Beautiful Friction ) Not a comeback, for they've been playing and touring consistently for more than 30 years, The Fixx produce a solid performance with their unmistakable sound. With four out of five original members and Dan Brown as the longest running bass player, the band exhibits a real, crisp, tightness that only comes from friends working together for the better part of three decades. Cy Curnin's distinctive vocals carry the same sense of brooding urgency. Check out lead single Anyone Else.
Hot Chip - In Our Heads ) This goofy geeky London group delivers one of the best platters of 2012, with smart clever songs about love. And dancing. And how (the) two might intertwine. Or fall apart. Unforgettable grooves and moves. And please please please let Sarah Jones, from New Young Pony Club, continue to play drums on a regular basis. Additional quirky perks in Night And Day provided by super model Lara Stone, comedian Reggie Watts and Supreme Chancellor Valorum while computer generated sportscasters accurately report "oh no, we've entered another dimension," "yes it seems to be a dimension of dance" in "Don't Deny Your Heart."
Joss Stone - The Soul Sessions Vol. 2 [Deluxe Edition] ) Youthful, soulful exuberance. Revisiting the successful formula of her debut from 2003, when she was 16, this Grammy & BRIT Award winning woman stays true to these originals, from artists like Sylvia, The Dells, & The Chi-Lites, while making them her own. Add Ernie Isley playing lead on 11 of 15 tracks, one of the truly great '70's soul r'n'b rock guitarists ever, and it makes it all that much sweeter."come on and get your overdose, collect it at the borderline"
Trampled By Turtles - Stars And Satellites ) I bought this on a whim and am anything but disappointed. Hailing from Duluth, MN and now ten years young as a band, this five man ensemble are one of the best representatives of the burgeoning folk / alt.country scene. Presenting songs "as deep and beautiful as Lake Superior" (someone else had to of said that before) with an instrument lineup consisting of guitar, bass, mandolin, banjo, fiddle, harmonica and vocals. The songs are full and rich with tradition. Lead vocalist Dave Simonett: "we decided that this was now going to be more than a casual side project, this was going to be our attempt to carve out a sound of our own using the same instruments people have used for centuries in order to express their lives in their times." Mission accomplished.
Searching For Sugar Man - Original Soundtrack [All Songs By Rodriguez] ) Granted, these are not new recordings, but this compilation is, and the movie it corresponds with is a life affirming story of the power of artistic expression. A story where one person's words and music changes the world. His voice is Dylan-esque and the music has a 70's feel, which makes sense since these songs are from the 70's, but that doesn't diminish the insightful nature of the lyrics or the quality of the music.
Stars - The North ) I saw Stars in 2008 when they were supporting In Our Bedroom After The War. (BellX1 opened) Vocal duties are split between Torquil Campbell and Amy Millan, and the interplay between them is magical. Dreamy, elegant, eloquent, indie pop with hooks like harpoons, and sharp, poignant, lyrics that kick you hard in the heart. "Take the weakest thing in you, and then beat the bastards with it, And always hold on when you get love, so you can let go when you give it." First video Backlines is a great representation.
Slash Featuring Myles Kennedy & The Conspirators - Apocalyptic Love ) G'n'R was a long time ago and this is about Slash making a powerful statement on his own terms, with a vocalist who complements in Myles Kennedy, and a solid rhythm section in Todd Kerns and Brent Fitz, who he's worked with for a number of years, both on tour and on his 2010 release, while still holding onto that good, hard edge, Sunset Strip vibe. Exhibit A: the animated and probably NSFW video of Bad Rain. Exhibit B: You're A Lie.
Santigold - Master Of My Make Believe ) A four year break since her first release, Philadelphian Santigold provides an exotic, genre mixing, modern dance oriented effort, full of social commentary that defies easy explanation. There are inevitable M.I.A. comparisons, which isn't a bad thing, but she's obviously uniquely different. Stellar production in the form of Diplo, Switch, David Andrew Sitek of TV On The Radio and Nick Zinner of the Yeah Yeah Yeahs. I like her. The Keepers is pretty sharp.
Photek - Ku:Palm ) DJ / producer / musician Rupert Parkes, a d'n'b pioneer, expands upon that original premise, following up on EP's from 2011, with results he himself describes as some of his best work and I have to agree. I especially like the strength of the piano in "Munich," the high flying adventure of "Aviator" and the darkly driven yet bouncy dance-ness of "One Of A Kind." Guest appearances from Ray LaMontagne, Breakage, Veronica Coassolo, & Linche. Icing on his cake in the form of a 2013 Grammy nomination for his remix of "Lie Down In Darkness." (available on Moby's 2012 Destroyed - Remixed release).
Aimee Mann - Charmer ) I give Aimee Mann a lot of credit for carving out a solo career that now spans 20+ years, with a smoothness and gentleness that's never come across as weak or forced. An artist that's matured but not gotten old. In spite of the negative connotations she attaches to being charming in the title track, she is charming and endearing. Indeed, through those title track lyrics she reveals attributes common in all of us and the rest of the disc flows well with Shins founder James Mercer and husband Michael Penn lending support. And I love that the video for Labrador is a shot for shot remake of 'Til Tuesday's 1985 hit Voices Carry, creating an arc of her past to present.
Van Halen - A Different Kind Of Truth ) This is/was one of the best reunions ever. Ever. These songs rock, and the whole disc makes for a great workout. Say what you will about what happened in the past. And speculate all you want about if and when the rest of the tour will be rescheduled. Having had my own share of digestive issues this year, I can totally understand what Eddie is going through, in that regard anyway. Put all of that aside and listen to Diamond Dave shine again, albeit with a little age in his voice, Eddie play some of his best riffs and solos, Alex thump it out & hold it all together, and Wolfgang more than live up to the part in his dad's band. Their history is indelibly inked.
iamamiwhoami - kin ) It's been said that writing about music is akin to writing about colors or smells, and I can't think of a more apt comparison to convey what's going on here. A lot. The songs work well enough on their own, a sort of electronic pop, at times cheery and at times foreboding, with Swedish singer Jonna Lee sounding like ... it's really unfair to compare her to anyone. And watching the accompanying DVD, with videos of all nine songs that flow together as a whole piece, it opens up a whole new visual performance arts dimension, reaffirming that nothing is in black & white, everyone has their own perception of "square" or true, and any attempts to compartmentalize life are less than successful. Hypnotic, unusual, and intriguing.
DJKiCKS, now 44 releases in, (with 2012 sets from Photek, Maya Jane Coles, Hercules & Love Affair, and Digitalism), and Late Night Tales, with a catalog of 30, (2012 entries from Belle & Sebastian, Tom Findlay, Metronomy, and Friendly Fires), are each wonderful series in and of themselves, with something for everyone but I copied and pasted this next recommendation essentially unchanged from last year because it still remains the premiere series of modern club / DJ oriented music for me:
Best Monthly Series, Hands Down, Across The Board, In All Ways
Fabric & Fabriclive
5 out of 5 for music, artists, DJ / compiler,
artwork, package design, price, digital support and club tie in
Label celebrates 11 years and club celebrates 13
Catalog now 130+ deep
As a disclaimer I have a monthly subscription. I don't want this to seem like a sales pitch because it isn't. It's about me sharing a great source for contemporary music from a globally recognized name, label and place. I really can't say enough good things about this series. It's a wonderful underground pipeline to one of the world's premiere clubs and I anxiously look forward to every release. It's one of the best musical "secrets" I've stumbled onto and I've never been disappointed. Given the nature of the music business, taking into account the past & what's passed, and knowing that some ideas, melodies, chords, notes, moves, beats, trends... really can last "forever," this series will reverberate for lifetimes. That's not an overstatement. Trust me.
The Buddy List:

1BQ, 3rdGenFeminist, A Man Called Gloom, Abra Crabcakeya, Actbriniel, addisnana, AfroPonix, aishmael, Alise, Alpha99, ambeeeant, American in Kathmandu, amk for obama, andsarahtoo, angry marmot, Anne933, anodnhajo, aoeu, AoT, aquarius2001, arcadesproject, Archie2227, arodb, Arthur Wolf (in memoriam), assyrian64, awkawk, b4uknowit, bamablue, BARAKABETH, barnowl, b barrie, bdizz, beatpanda, beefydaddy18, BFSkinner, bgblcklab1, BigAlinWashSt, Bike Crash, BirderWitch, BJKay, bleeding heart, blingbling65, blue husky, Blue Intrigue, bluedust, BluejayRN, BlueJessamine, Bluerall, bluestatedem84, BoiseBlue, boudi08, Brahman Colorado, breedlovinit, BrenP, Bronxist, BrowniesAreGood, bsmechanic, buddabelly, bumbi, BusyinCA, cactusgal, Carol in San Antonio, CathiefromCanada, CathodeRay, CDH in Brooklyn, cee4, Cen Den, ChiTownDenny, ChocolateChris, ChurchofBruce, ciganka, cinnamondog, citizenx, ClapClapSnap, claude, Cleante, Code Monkey, codobus, Coldblue Steele, Colorado is the Shiznit, coloradomomma, common green, commonmass, Common Sense Mainer, congenitalefty, coppercelt, dadanation, dangoch, DarienComp, dauber, Dauphin, Dave in AZ, Dave in Northridge, David54, deedogg, demkat620, Dexter, Diana in NoVa, Dickie, DiegoUK, Dingodude, dirtdude, distraught, djMikulec, docreed2003, dolfin66, donnamarie, Donna O, dotsright, Dr Teeth, DRo, droogie6655321, Dube, duckhunter, Eclectablog, Eddie C, EdgedInBlue, effervescent, elbamash, El barragas, el vasco, entrelac, ericlewis0, Everest42, Ex Con, ezdidit, fhamme, Fineena, fiona2, fishhawk, Flea, flumptytail, Friend of the court, fritzi56, FrugalGranny, Garrett, Gator, gchaucer2, GDbot, Geiiga, GenXangster, glorificus, glpaul, gooderservice, gooners, gravlax, GreenMountainBoy02, greylox, grndrush (in memoriam), GrumpyWarriorPoet, gzodik, Haole in Hawaii, HappyinNM, henlesloop, HeyMikey, hideinplainsight, High Tide, hiliner68, history first, hold tight, Hugh Jim Bissell, hulibow, I love OCD, I said GOOD DAY sir, Im a frayed knot, imisa, Indexer, indubitably, indyada, Interceptor7, Inventor, Isaacsdad, itsbenj, Jahiz, JamesEB, janl1776, Janeo, jarbyus, JayinPortland, jayjaybear, jbou, Jeffersonian Democrat, jillwklausen, jmadlc55, jmonch, Joes Steven (aka Steven), john07801, johngoes, johnny wurster, jsfox, JVolvo's Mom, jwinIL14, Kai99, kailuacaton, Kamakhya, kat herder, katchen, Kelly of PA, kestrel9000, khloemi, Khun David, Kitsap River, kittania, KrazyKitten, Kristina40, Ksholl, labwitchy, Lady Kestrel, ladypockt, Lahdee, langerdang, LarsThorwald, LA rupert, last starfighter, LaughingPlanet, Laurie Gator, Leo in NJ, Lipstick Liberal, litoralis, lmdonovan, lockewasright, Lonely Liberal in PA, Lonely Texan, longislandny, Lorinda Pike, luvsathoroughbred, maggiemay, magicsister, mango, Marc in KS, Marjmar, Mark E Andersen (Kodiak54), marknspokane, marsanges, maryabein, Matt Esler, Maxiemax, mdemploi, Meteor Blades, Micburke, michael1104, MillieNeon, minerva1157, MinervainNH, Missys Brother, mjbleo, MnRaindog, mntleo2, Morague, MotoGP, Mr Bojangles, mrsgoo, mskitty, msmacgyver, MsWings, Murphoney, nannyboyz, ncsuLAN, NearlyNormal, Nedsdag, Nick Zouroudis, nokkonwud, notgivingup, NY brit expat, oceanview, OleHippieChick, Olkate, one pissed off democrat, Onomastic, operculum, OrangeMike, Ordvefa, Overseas, Over the Edge, Pager, paige, PaintyKat, paradox, parryander, paulitics, peglyn, Pennsylvanian, phrogge prince, Positronicus, post rational, PowWowPollock, Proud Mom and Grandma, psycho liberal, ptolemynm, Purple Priestess, PvtJarHead, racheltracks, randallt, ray bob, real world chick, red mittens, Reepicheep, regis, relentless, revelwoodie, revsue, Rex Manning, rexymeteorite, RiaD, rickeagle, ridemybike, rightiswrong, Rileycat, rincewind, rkex, roadlion, Roger Fox, Rosebuddear, roses, rscopes, Rudini, Safina, SallyCat, Sanuk, Sark Svemes, sboucher, scooter in brooklyn, Scrapyard Ape, seenaymah, sfbob, sgary, Shahryar, sheddhead, shesaid, Shifty18, shmuelman, shopkeeper, sidious666, sidnora, slowbutsure, smartcookienyc, smeesq, Smoh, snoopydawg, snorwich, SnyperKitty, SoCalHobbit, sofia, soonergrunt, sostos, sowsearsoup, SpecialKinFlag, spmozart, spotDawa, SpotTheCat, StateOfGrace, Statusquomustgo, stiffneck, stonekeeper, suesue, sunbro, Super Grover, Syoho, tallmom, Tay, tdslf1, teknospaz, theatre goon, The Eyewitness Muse, TheGeneral, TheStoopingRabbit, TigerMom, Tim DeLaney, tiredofcrap, TomP, tonyahky, Toyotabob7, TracieLynn, TreeFrog, triciawyse, tripodisblack, trs, trueblueliberal, ttanner, Tulsonian, Turn VABlue, Turtle Bay, Tyto Alba, uc booker, UncleCharlie, Unduna, Unforgiven, ursoklevar, USArmyParatrooper, VA02 femocrat, Vacationland, valadon, Vayle, vc2, Vetwife, vgranucci, Village expects idiot home soon, vulcangrrl, waytac, webranding, weelzup, Wes Opinion, Whimsical Rapscallion, willy be frantic, willy mugobeer, Wood Dragon, wolfie1818, Wordsinthewind, Wreck Smurfy, x, xopher, yet another liberal, Zotz
Have you had some experience with the effects of smoking, and want to write a GUS diary or host an open thread? Please sign up in the Butt Can (Tip Jar), and name the day and time that works for you (AM, PM, late-night, early-bird...) Regular diarists' names have been treated with contrasting radioactive dyes turned into a giant Junior Jumble game glitterbombed!! flavored with bacon bolded for your viewing pleasure. Click on the link coming up at the end of this very sentence to learn how to write a GUS diary the easy way. It's really easy. Did I say it's really easy? It is.
It's . really.
"Seriously, it doesn't have to include specific elements or require all sorts of fabulous diary formatting skills. The regulars will make sure stuff gets carried over from diary to diary, so if you want to just tell your story and host for a few hours, that's cool too." (h/t Vctnld)
The schedule for the week





Mon AM: we have lift off
Mon PM: bgblcklab1
Tue AM: gchaucer2
Tue PM: open
Wed AM: open
Wed PM: Vacationland
Thu AM: open
Thu PM: FrugalGranny
Fri AM: flumptytail
Fri PM: open
Sat AM: effervescent
Sat PM: open
Sun AM: gchaucer2
Sun PM: open