Look, up in the sky! It's a blazing catastrophe of DOOM!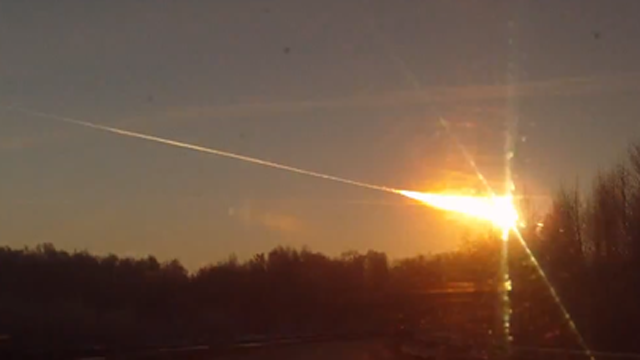 Quick, hurry up -- Someone ... DO SOMETHING!

K Street lobbyists leap to the planet's defense after asteroid scare
by Kevin Bogardus, thehill.com -- 03/14/13
The commercial asteroid-mining company Planetary Resources has hired K&L Gates to represent it in Washington, with an eye on new opportunities -- including, perhaps, the chance to defend life on Earth.
[...]

[Bart] Gordon, a former House Science Committee chairman who served in Congress for 26 years, is part of a four-person lobbying team for Planetary Resources that includes Daniel Ritter, Stephen Roberts and Paul Stimers, according to the lobbying registration from K&L Gates.
[...]

Scientists say the threat to Earth from space is very real. They estimate that 20,000 potentially hazardous asteroids travel close to Earth, bringing with them the potential for massive destruction.
[...]

"You just become a little bit startled and frightened about how many asteroids are out there and so few are being tracked," Gordon said. "The odds just keep growing that there could be a problem in the future."

Congress is taking the threat seriously.
[...]
Unfortunately Climate Change, although equally threatening to life as we know it, in the long run --
Climate Change has No Lobbyists
working the halls of Congress, for it.
Unfortunately, most in Congress can't be bothered by the impacts of Fossil Fuel by-products -- because that would mess up their Big Oil Lobbyist donations, doncha know.
Science has no special "cred" in those hallowed hallows -- not unless its printed on cloth paper that has the color: GREEN!




But those crazy scientists just keep doing their crazy science anyways. Someone has to ... has to be mindful of future threats.

EPA -- Climate Change -- Our Official Government Site

Climate Change Indicators in the United States. REPORT (pdf 13 MB)
US Environmental Protection Agency, 2010.
[pg 4]
Summary of Key Findings

The indicators in this report present clear evidence that the composition of the atmosphere is being altered as a result of human activities and that the climate is changing. They also illustrate a number of effects on society and ecosystems related to these changes.


Greenhouse Gases

1) Greenhouse Gas Emissions.

2) Global Greenhouse Gas Emissions.

3) Atmospheric Concentrations of Greenhouse Gases.

4) Climate Forcing.


Weather and Climate

5) U.S. and Global Temperature.

6) Heat Waves.

7) Drought.

8) U.S. and Global Precipitation.

9) Heavy Precipitation.

10) Tropical Cyclone Intensity.


Oceans

11) Ocean Heat.

12) Sea Surface Temperature.

13) Sea Level.

14) Ocean Acidity.


Snow and Ice

15) Arctic Sea Ice.

16) Glaciers.

17) Lake Ice.

18) Snow Cover.

19) Snowpack.


Society and Ecosystems

20) Heat-Related Deaths.

21) Length of Growing Season.

22) Plant Hardiness Zones.

23) Leaf and Bloom Dates.

24) Bird Wintering Ranges.

[Click the bug for the nitty-gritty details.]

If Scientists held the same currency as Lobbyists, oh what a land of opportunity we'd truly have ...

Scientists across five federal agencies were instrumental in providing indicator data and/or reviewing the indicator descriptions.

In particular, the National Oceanic and Atmospheric Administration's National Climatic Data Center provided key assistance for this report's chapter on weather and climate. EPA also received essential support for this report from scientists at a number of universities, nongovernmental organizations, and international institutions.


Data Providers and Indicator Reviewers -- U.S. Federal Agencies

Centers for Disease Control and Prevention

Environmental Protection Agency
EPA -- Office of Air and Radiation
EPA -- Office of Water

National Oceanic and Atmospheric Administration
NOAA -- Climate Prediction Center
NOAA -- Earth Systems Research Laboratory
NOAA -- National Climatic Data Center
NOAA -- National Environmental Satellite, Data, and Information Service
NOAA -- National Oceanographic Data Center
NOAA -- National Ocean Service
NOAA -- Pacific Marine Environmental Laboratory

National Snow and Ice Data Center
U.S. Geological Survey
University of Southampton
Here is the updated version of this EPA report, documenting the many planet-impacting threats to the Earth's interwoven ecosystems.
Threats which up to now most members of Congress have decided to intentionally ignore ...

Climate Change Indicators in the United States. REPORT (pdf)
US Environmental Protection Agency, 2012.

Too bad the Earth's climate didn't have a K-Street firm, making the case for them, down at the House where money makes the wheels go round.
But maybe, just maybe, the Planet has a new "reluctant lobbyist" down at Pennsylvania Avenue though:
Obama Will Use Nixon-Era Law to Fight Climate Change
by Mark Drajem, bloomberg.com -- Mar 15, 2013 [H/T to cordgrass ]
President Barack Obama is preparing to tell all federal agencies for the first time that they should consider the impact on global warming before approving major projects, from pipelines to highways.
[...]

In taking the step, Obama would be fulfilling a vow to act alone in the face of a Republican-run House of Representatives unwilling to pass measures limiting greenhouse gases. He'd expand the scope of a Nixon-era law that was first intended to force agencies to assess the effect of projects on air, water and soil pollution.

"If Congress won't act soon to protect future generations, I will," Obama said last month during his State of the Union address. He pledged executive actions "to reduce pollution, prepare our communities for the consequences of climate change, and speed the transition to more sustainable sources of energy."
[...]
Maybe if Climate Change effects arrived in the form of
an asteroid swarm attack
, maybe then --
they'd get off their legislative ass?
(as the Speaker puts it.)
Maybe if Climate Change effects led to Billions and Billions in potentially untapped income -- like those space rocks -- maybe some K-Street Lobbyist firm would be hired, to kiss it. ... The GOP's continuing charade at leadership.