Ray Archuleta, a conservation agronomist with the National Resource Conservation Service, spoke at the National Conference on Soil and Cover Crops in Omaha this year.
Ray delivered an authoritative and inspirational address to the conference about agroecology and the importance of holistic design in landscape management.
How do we learn from the more than 3 billion years of evolutionary knowledge embedded in nature when we observe a forest or prairie?
"It is covered 24/7, it is diverse, and they have animals in the system" -Ray Archuleta, conservation agronomist
Folks, this is agroecology going mainstream. This is everything we need going mainstream.
The UN knows it, governments know it, farmers are beginning to know it, but do you know it?
(Hint, spend some time with your favorite search engine and compare the returns for climate change & livestock versus returns for agroecology or agroforestry and get back to me on whether or not environmentalists are actually taking this seriously or not)
Some say that they don't need to know anything about farming, the land, or how human beings actually sustain their existence. They are wrong.
Changing the way we interact with the natural world- embracing it and working with it- will be the only way we can begin to regenerate this planet and solve the systemic problems of poverty, biodiversity loss, water shortages, and all the other plagues that stem from our culture of make believe.
The only way we will save ourselves is if people talk about this. If they spread the knowledge. If they embrace what innovative farmers, landholders, gardeners, and scientists have been demonstrating for decades now: diverse, integrated agroecosystems work. Acknowledging this may be difficult for some in environmental quarters due to the well-deserved abominable reputation CAFO operations have.
However, overcoming our instinctive disgust for an unethical, immoral, and unsustainable system is absolutely necessary if we are to embrace the polar opposite to those systems: agroecology. Agroecological systems work best when they are integrated with livestock. This has been demonstrated again, again, and again.
"We want to go away from control and command agriculture. I want to go to this: livestock as a proxy, mimic it [natural ecosystems]." -Ray Archuleta
Here is the video:
Right around the 20:00 mark, Ray has two audience members come to the front to demonstrate the difference between conventional till and biocide soil and soil that has been no-till for decades and has very reduced inputs. Jump to the 20:00 mark and watch as the conventional North Carolina soil disintegrates within seconds when subjected to water. Notice how for the next few minutes, the no-till, reduced input soil holds together remarkably.
Did I mention that the no-till farmer also uses animals? This farmer is not contributing to erosion, nutrient loss, and countless other plagues of modern industrial farming. They are also sequestering carbon and combatting climate change while reaping the benefits of an integrated system.
My family lives in North Carolina. My first permaculture garden is still there. I have seen these benefits with my own eyes: and I have seen the other side. Just 200 yards from my garden is a heavily tilled, never cover cropped, disaster. More studies into this will be welcome, but they are not necessary. The world needs progressives to understand that we need to fundamentally alter our relationship with the earth and that farmers and livestock together will be making tremendous contributions to regenerating our planet.
April 8, 2012. Farmer's field just a few hundred yards away.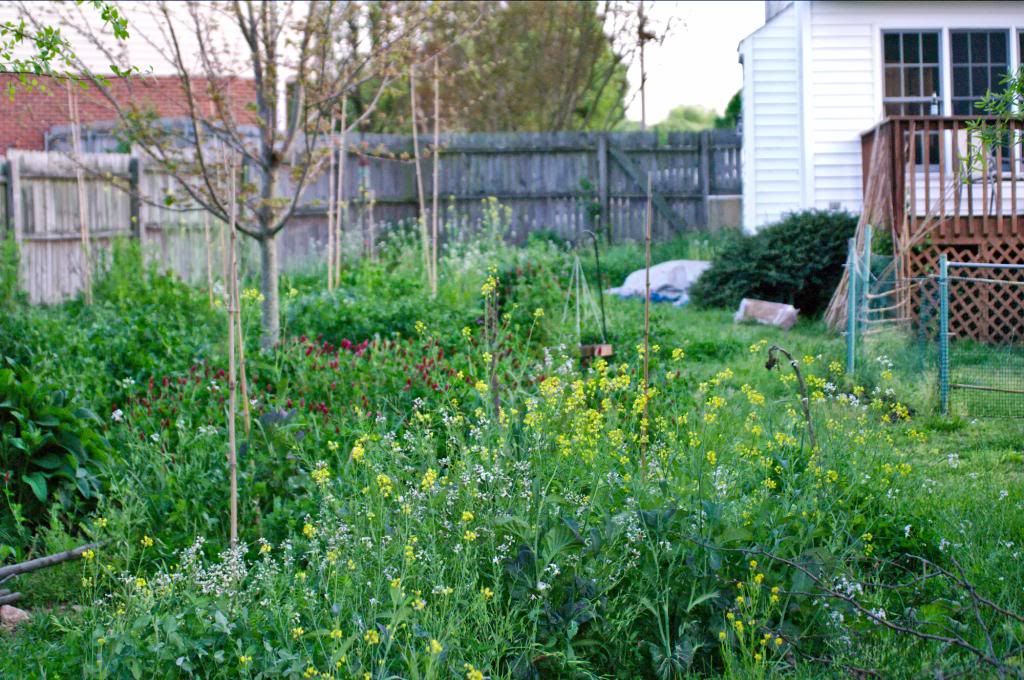 April 9, 2012. Just a section of my garden emerging from a very mild winter. Cover cropping in its full glory.
The benefits of cover cropping are obvious. I have even written about this before here, back in September of 2012.
Special thanks to Raymond Covino for submitting an initial news report to PermacultureNews.org about the conference. If you want to see a full list of presentations, you can go to the SARE (Sustainable Agriculture Research & Education) on the conference here.
Progressives, liberals, conservatives, everyone can get on board with these practices. I witness it in my own life where people of all political persuasions come together around the remarkable ability of the earth to regenerate itself.
Doom and gloom has nothing on the ability of the earth to regenerate itself with human help. Spend some time with the links I have provided here and see for yourself what happens when human beings embrace their ability to place resources in the right place at the right time for maximum effect. Nothing short of astounding. Now get out there and let people know what we are capable of for Pete's sake!
Additional Resources
Agroecology Diaries
Sept. 14 2013. Introduction to Agroecology: Is it Anthropogenic or Bovigenic Climate Change?
Sept. 21 2013. Agroecology: "Rehabilitation of degraded land has the potential to double [...] agricultural land"
Sept. 29 2013. Agroecology: "...Outperform[s] the use of chemical fertilizers in boosting food production..."
Oct. 6 2013. Agroecology: "Wake up before it is too late"- UNCTAD's TER13 Report.
Oct. 27 2013. Agroecology: 1- Study Nature. 2- Facilitate Natural Functions. 3- Rediscover Abundance
Book Reviews
Reviewing (in my own way) George Monbiot's "Feral." Link.
Large Scale Damaged Ecosystem Regeneration [Diary]:
Excellent, must see documentary: John Liu's Green Gold- extended version of "Hope in a Changing Climate" that was presented at the recent Rio summit.
Another good article by John D. Liu. Finding Sustainability in Ecosystem Restoration.
Holistic Management [Diaries: First, Second, Third, Fourth]:
The Savory Institute.
The Africa Centre For Holistic Management.
Holistic Management International.
Seth Itzkan has put together a very good reference list for Holistic Management, here.
Permaculture:
The Permaculture Research Institute is excellent (Updated: formerly PRI Australia). With almost daily updates from the world of permaculture (an ethical design system that utilizes agroecology [diary]), this site is on my "must check list" daily. Good news to be found here.
There are some excellent video presentations from 2011's International Permaculture Convergence held in Jordan, which followed a permaculture design course taught at the world-renowned "Greening the Desert Part II" site in the Dead Sea Valley. Here is a link to the documentary about the site, and here is a photo update from Spring 2013.If you scroll to the bottom of this webpage, you will find links to video presentations given at the convergence.
[Above links may be broken]
Also, check out Permies.com and Richsoil.com/permaculture for Paul Wheaton's permaculture empire.
Ecological Gardening
Here is a list of diaries I wrote that covered some of the very basics.
I. Basic Garden Ecology
II. Soil
III. Layers
IV. Polycultures
Plant Databases
Plants for a Future. Absolutely massive database for useful plants.
Documentaries:
The first diary of this series revolves around three documentaries.
The first is a TED talk by Willie Smits about rainforest restoration to provide habitat for orangutans and a standard of living for the local people using agroecological methods. Not only was the project highly successful, but climate moderation was demonstrated via satellite imagery.
The second, The Rebel Farmer, is about Sepp Holzer, a very famous Austrian who practices his own version of permaculture. He has also written numerous books in addition to being in demand across the globe.
The third presents "Greening the Desert"- which covers both sites in Jordan where Geoff Lawton and the Permaculture Research Institute have been applying permaculture with great success.
YouTube Channels:
In no particular order:
John D. Liu: pioneering large scale damaged ecosystem restoration.
What If We Change: John D. Liu's project to inspire others to share their efforts to combat climate change and other problems.
Whole Systems Design: operating from Vermont, Ben Falk's permaculture design firm. Excellent site overview and talks on agroecology. Also a must see video from Hurricane Irene.
Permaculture News: PRI's YouTube branch
Permasolutions: Offering permaculture inspired solutions to problems
Toby Hemenway: Author of Gaia's Garden and permaculture designer. Great talk on horticultural society.
Al Baydha: Pilot project in Saudi Arabia to regenerate "bare bones" landscape for Bedouins.
Eric Toensmeier: Author of Perennial Vegetables, coauthor of Edible Forest Gardens, and plant guru. Has an upcoming book on perennial agricultural solutions to climate change.
Paul Stamets: World famous visionary mycologist who will change the way you see the world. You'll never forget fungi after his speeches regarding their potential use and place in the ecosystems.
Books:
My favorite books:
Edible Forest Gardens, Vol I and II. David Jacke with Eric Toensmeier. Chelsea Green, 2006.
Sepp Holzer's Permaculture. Sepp Holzer, translated by Anna Sapsford-Francis. Chelsea Green, 2010.
Gaia's Garden. Toby Hemenway. Chelsea Green, 2009 (2nd edition).
Let the Water Do the Work. Bill Zeedyk and Van Clother. The Quivira Coalition, 2009.
The One Straw Revolution. Masanobu Fukuoka. Link will point you to a decent review.
Akinori Kimura's Miracle Apples. By Takuji Ishikawa, translated by Yoko Ono. This is an absolutely fantastic story. My favorite part is towards the end, chapter 22, when Kimura is told of his family's first success. Give it a read!
Feral: Searching for enchantment on the frontiers of rewilding. George Monbiot. Allen Lane, 2013.
The Resilient Farm and Homestead: An Innovative Permaculture and Whole Systems Design Approach. Ben Falk. Chelsea Green, 2013.
For a much fuller list of books on the subject, see Toby Hemenway's Permaculture Reading List.
Other:
The Land Institute. Their goal is to develop highly productive perennial staple crops which will produce a living system as stable as natural prairies. This is the kind of pioneering research we should be funding. H/T to sfinx for bringing them up.