CBS reports that Israel's "pinpoint" targeting has resulted in over 560 deaths in Gaza as reported in, Palestinian death toll tops 560, Gaza officials says, most of which are civilians. Israel report 27 deaths, which include 2 civilians, have been killed. A top Gazan leader rejected calls for cease fire, demanding that Israel's 7 year blockage against Gaza be ended first.
All of these deaths on both sides are tragic and sad.
CNN has just issued a traveler advisory warning Americans not to travel to Israel, the West Bank, or Gaza.

For the second day in a row, the daily Palestinian death toll surpassed 100 on Monday, pushing the total number killed since the new round of fighting began on July 8 to at least 566, Palestinian officials said, adding that some 3,350 have been wounded.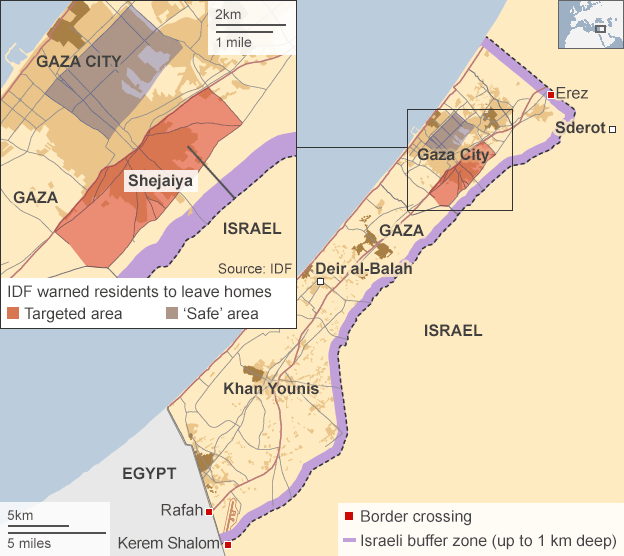 In the Gazan town of Khan Youris, 24 members of the Abu Jamea family were killed when their house was destroyed.

"Doesn't this indicate that Israel is ruthless?" said family member Sabri Abu Jamea. "Are we the liars? The evidence is here in the morgue refrigerators. The evidence is in the refrigerators."

Hamas leader, Ismail Haniyeh, explained their goal of getting the seen year crippling blockade of Gaza lifted.
He said the aim of the battle is to break the 7-year-old blockade of the Palestinian territory, which was imposed by Israel and Egypt after Hamas overran Gaza in 2007. Over the past year, Egypt has further tightened restrictions, driving Hamas into a deep financial crisis.

Haniyeh said in a televised speech that "we cannot go back, we cannot go back to the silent death" of the blockade." ..."Gaza has decided to end the blockade by its blood and by its courage," he said. "This siege, this unjust siege, must be lifted."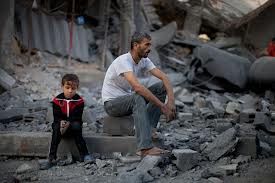 In Amnesty International we read Israel/Gaza: Prevent further war crimes after Israeli ground assault, reports that Philip Luther, Middle East and North Africa Programme Director at Amnesty International called on both Israel and Hamas to stop committing war crimes, and for the war-crimes to be the subject of an international investigation.

Israel's relentless air assault on Gaza has seen its forces flagrantly disregard civilian life and property, which must be protected under international humanitarian law

"
The military wing of Hamas and other armed Palestinian groups in Gaza, which have fired more than 1,500 indiscriminate rockets into Israel, must immediately stop such war crimes
"

"Targeting civilians and direct attacks on civilian property cannot be justified. Both sides, which have repeatedly violated international law with impunity, must be held accountable, and the first step towards that is a UN-mandated international investigation," said Philip Luther.

Amnesty International reports that "more than 1,780 homes have also been completely destroyed or rendered uninhabitable by Israeli attacks, leaving at least 10,600 Gazan residents homeless."
The BBC reports Gaza crisis: UN calls for ceasefire as deaths pass 500. Israel says 20 Israelis have died during the 13 day "incursion" into Gaza, 18 of them soldiers

Sunday's late-night UN Security Council session was convened at the request of Jordan, which is understood to have proposed a strongly worded draft resolution for consideration.

However, the 15-member council instead issued a statement to the media, with Rwanda's UN ambassador calling for "an immediate cessation of hostilities".

UN Secretary General Ban Ki-moon had earlier spoken out on the situation, describing an Israeli assault on the densely populated Shejaiya neighbourhood of Gaza as "an atrocious action".

More than 60 Palestinians alone were killed during heavy shelling in Shejaiya, in what Palestinian President Mahmoud Abbas called "a massacre".

Abbas called the Israeli attacks against Gaza "intolerable" and "crimes against humanity."
The BBC reports that the UN says 83,695 people have now been displaced in Gaza.
How incredibly sad.
Our hearts and prayers go out to all the victims, their families and loved ones in both Gaza and Israel.
Let's hope we can find a peaceful way forward as soon as possible.

3:26 PM PT: As I proofread this article I noticed that I have not sufficiently represented enough of the Israeli points of view.
Herb Keinon of The Jersusalem Post offers an analyis in Analysis: Kerry intent on a Gaza truce

On arrival, Kerry is likely to find that the urgency he feels is not shared by the main protagonists in this military drama called Operation Protective Edge. And this must fill him with a sense of deja vu. ...

And, as former National Security Council head Giora Eiland pointed out on Monday, the three main sides to a cease-fire – Israel, Hamas and Egypt – don't at this point have an overwhelming sense of urgency.

Israel, having made the agonizing decision to launch a ground incursion – and now paying a heavy price as a result – is unlikely to want to stop until it has destroyed the bulk of Hamas's terror tunnels. And, as Defense Minister Moshe Ya'alon said on Sunday, that will take two to three days.

Israel, now that it is fully engaged on the ground inside Gaza, will not want to stop until it has significantly degraded Hamas's operational capabilities so it will take numerous years, not just two or three as has been recent experience, to rebuild them and again pose a threat.

3:38 PM PT: Also The Jerusalem Post reports the U.S. State Department travel advisory in US issues travel warning for Israel, West Bank and Gaza


WASHINGTON - The State Department warned US citizens on Monday against traveling to Israel, the West Bank and Gaza, citing the fighting between Israeli forces and Hamas.


"The Department of State recommends that US citizens consider the deferral of non-essential travel to Israel and the West Bank and reaffirms the longstanding strong warning to US citizens against any travel to the Gaza Strip," the State Department said, adding the warning replaced a previous one issued on Feb. 3.

"The security environment remains complex in Israel, the West Bank, and Gaza, and US citizens need to be aware of the risks of travel to these areas because of the current conflict between Hamas and Israel," the statement added.

3:39 PM PT: Does anyone know how to fix the formatting of this CBS embedded video.